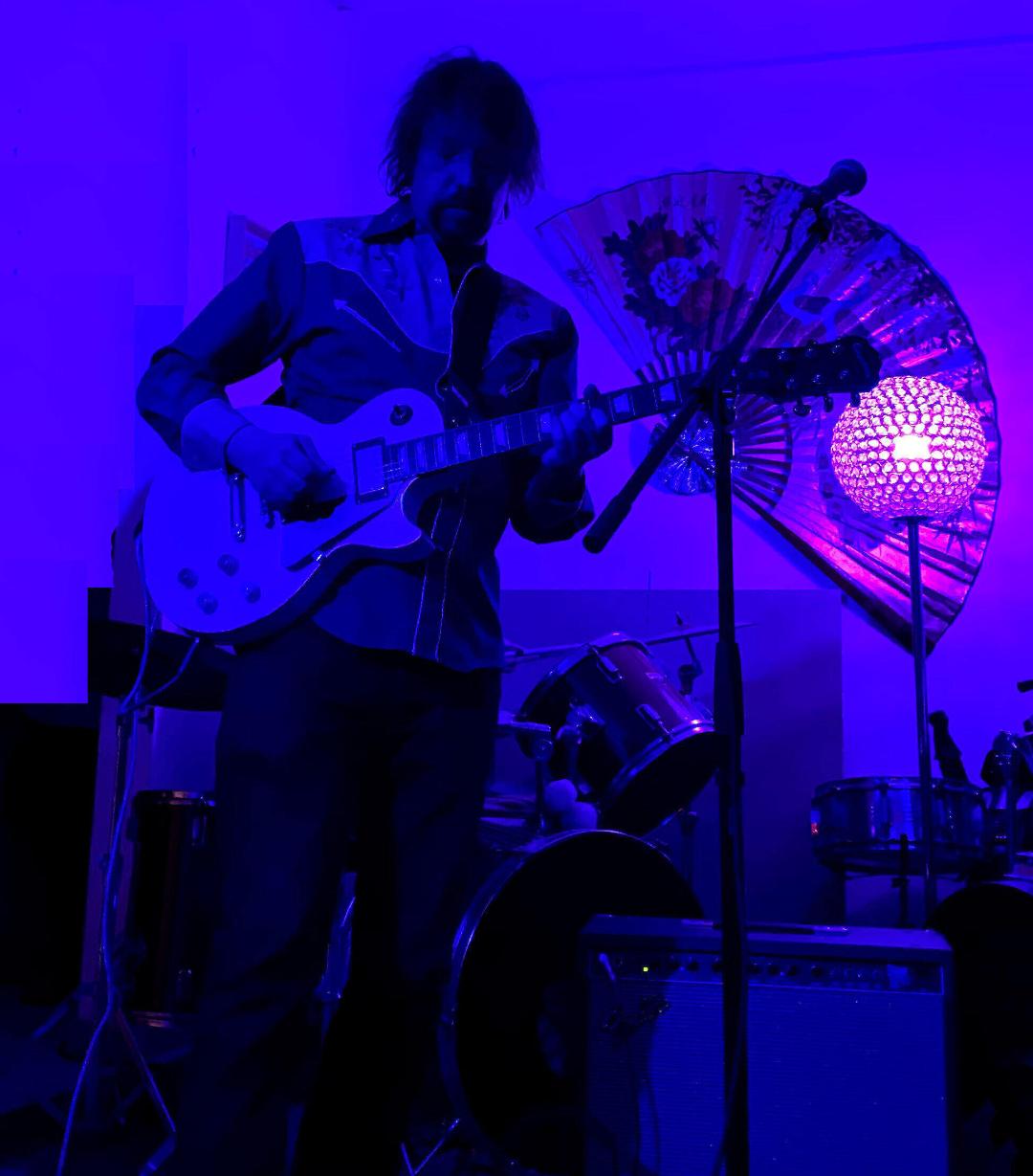 18 April 2023
Toronto-London experimental pop/space rock collective The Flowers of Hell will soon release the first vinyl pressing of their cult classic Odes album via Space Age Recordings (whose tightly curated roster includes Spacemen 3, Spectrum, The Telescopes, and Acid Mothers Temple). Timed to occur on April 22nd for Record Store Day UK, this record will be available roughly two weeks later in North America and elsewhere. They've also released a video for their cover of Joy Division's "Atmosphere" featuring vocalist Lisa Conway.
If the band's name doesn't sound familiar, likely the name of one of the band's most famous supporters certainly will be – The Velvet Underground's own Lou Reed. The legend (RIP) spent much of the final episode of his BBC6 / Sirius-XM radio show playing tunes from this album, praising the band and their vision. Co-produced with Grammy winner Peter J. Moore (Bob Dylan, Joni Mitchell, Neil Young), Odes also involves members of British Sea Power, Bat For Lashes, Plastic People of the Universe, and more.
Never one to set his ambitions too low, frontman Greg Jarvis announced that the band's first album in six years, previewed by the track "Foray Through Keshakhtaran", will be released on May 12th. A 42-minute recording blending ambient, psychedelic, world music, and space rock, this commendable effort involves 20 artists.
Ahead of these releases, I spoke with the collective's mastermind/curator Greg Jarvis.
As someone relatively new to The Flowers of Hell, can you describe the nature of the band/orchestra and tell me how it all came together?
It's a 16-piece trans-Atlantic experimental orchestra that came together in the boozy, druggy days of early-2000s London, where I met friends who were up for mixing the sounds of Spacemen 3 and The Velvet Underground with classical music. And with the Spacemen's Sonic Boom himself mentoring us along, we pulled it off! (I'd sent him demos saying I'd be passing through his town and had some good weed. He replied, "I like the music, and I'm out of weed. When can you come?")
The new album, Keshakhtaran, marks the first new music in six years. Was there anyone creative urge or event which instigated the album, or was it just that the time felt right to write in this form again?
Toronto spent 13 out of 18 months in hard lockdowns, and I really had to escape my brain. We were told to meditate, but I quickly discovered meditation music is mainly just shit made by non-musicians with Enya synths. So I enlisted my similarly caged-up bandmates & friends in creating a sonic world we could all drift off into.
There is a very meditative and ambient quality to the music. Can you explain the term Keshakhtaran and what you wanted to capture in sonic form?
Keshakhtaran is an urban dictionary term for "Reaching Nirvana by meditating to music, especially when you're stoned." To me, it also sounded like a great name for a fictional sonic land! The goal really was to make a world of sound to journey through and to stack it with bits that'd set one off in a great way if psilocybin tripping.
Some remarkable people have come into the fold for this recording. Can you tell me about them and why you extended the invitation?
Rishi Dhir (Elephant Stone, Jonestown, Black Angels) is an amazing sitar player I've long known, so he was the first choice to add some of that! I've long loved the records of accordion legend Angel Corpus Christi (Spiritualized, Suicide, Dean Wareham) and having met her on Instagram during the lockdowns. I thought it'd be great to get her on it. And Sarah Pagé is a Montreal harpist whose Dose Curves albums we've used as pre-show music – truly an artist doing new things with a thousands-year-old instrument!
The Flowers of Hell are spread between London, Toronto, and elsewhere. Does this cause any particular problems when writing and recording, and are there also advantages to balancing those out?
When we tour, it's usually as a six-piece – so having a chunk of the band on either side of the pond certainly helps. Sadly we've never had the funds to bring everyone together on one continent all at once; that'd really be a dream show.
Looking back to, Odes, it's getting a new pressing for Record Store Day. Being a series of reimaginings of some well-known songs, how did you decide what went on to the record?
It forever blows my mind that Lou Reed loved that album, especially as his influence is all over it. We tried a bunch of songs live & in rehearsals, and listening back, we were surprised that the big-name tracks we'd taken on, like The Velvet Underground's "Heroin", Dylan's "Mr. Tambourine Man" and Joy Division's "Atmosphere" all bested obscure but beautiful songs like Jack Kerouac's "On The Road," The Paradise Motel's "Daniel," New World's "Tom Tom Turnaround," and Dollar's 'Shooting Stars." So it ended up being a record of mainly big cult songs, and the record itself became rather cult.
How much did the players available to you dictate how these covers sounded, or did you know how you wanted them to sound already and steer the playing to achieve the final sound you had in mind?
Music first, players second! Old jazz records have a "Sat Out" credit next to some players' names, which recognizes sometimes a group member's greatest musical contribution can be playing nothing. An electric bass player of ours, Ronnie Morris, told me about that after he opted out of playing on our third album, a 46 min orchestral-ambient piece called O where his instrument would have jarred.
Are there plans to take Keshekhtaran out as a live performance, or does such a large ensemble of players make that a bit prohibitive?
I'd love to do it live, and it's scalable to pull it off with as little as six players or as many as sixteen – but whether we actually do is dependent upon us getting an appropriate booking for it. In the meantime, it tends to be our more guitar-rooted early tunes that form the core of our live set, though we'll drop a little conducted segment of Keshakhtaran in.
Beyond this current album, what does the future hold in store for you personally and The Flowers of Hell?
I'm currently working on a book based on my '90s journals from when I was a young record exec in Eastern Europe, watching their society transform while working with a lot of big acts and having a lot of risky travel adventures.
Thanks for taking the time to talk to me, and best of luck with everything.
Website
Bandcamp
Facebook
Instagram
Twitter
Soundcloud
YouTube
Spotify
Apple Music
Wikipedia