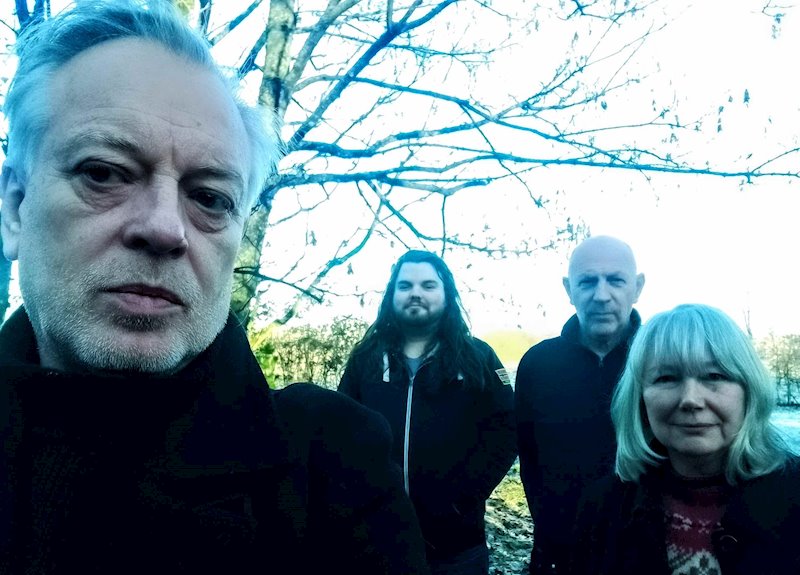 22 August 2023
Given that these are the first new recordings in nearly four decades, what made you return to The Room, and what had you been doing in the meantime?
After the 1985 version of The Room split, Becky Stringer and I immediately began writing songs for a new band with drummer/ guitarist Joe McKechnie and guitarist Robin Surtees. Benny Profane released four 12-inch EPs and two albums, Trapdoor Swing and Dumb Luck Charm, between 1986 and 1990. We recorded three John Peel sessions, toured the UK with The Fall, The Mighty Lemon Drops, and Aztec Camera, as well as supports with Loop, Spacemen 3, My Bloody Valentine, and Echo & the Bunnymen. We toured Europe and even Poland and the former Soviet Union in 1989.
The band split in 1990, and Becky and I started a new project, Dust, which had several guitar and drum line-ups and recorded two cassette-only albums. Dust toured with The Lemonheads and The Wedding Present.
In 1993, I went to University to do a BA in English and Creative Writing, followed by an MA in Screenwriting and a Ph.D. for which I wrote a novel and dissertation titled "Personal & Cultural Mythologies in the Creation of a Fantasy Novel'" I started teaching creative writing at Liverpool John Moores University in 1999 and work there to this day.
Dust became Dead Cowboys, with the addition of new guitarist Greg Milton, playing mainly around the North West of the UK, but did not release an album until 2000 (Comings and Goings) on the Viper label. A second Dead Cowboys album, Twin Evil Stars, was released in 2005.
When Becky and her husband moved from Liverpool to Ulverston to start a microbrewery, John Head, formerly of The Pale Fountains and Shack, approached me about producing an album under my own name. We wrote and recorded it with our friend Tim O'Shea and Cathedral Mountain came out in 2010. We played a few local gigs, and then John and Tim left to concentrate on their own stuff.
After this, I hooked up with guitarists Robin Surtees and Greg Milton to play Cathedral Mountain material live, and we revived a few old Benny Profane tunes to our two guitars – no drums or bass – style. In the meantime, I adapted my fantasy novel as a screenplay for a low-budget feature film called "Violet City," shot and edited between 2010 and 2016 and initially released via Indie Rights on digital platforms. Dave Jackson & the Cathedral Mountaineers released an album, Red Fin Sunset in 2016.
In 2017, I began working on new material with Paul Cavanagh (of the 2nd incarnation of The Room). Under the name The Room in the Wood, we recorded and released two albums in 2018 and 2020 on the German label, A Turntable Friend. The last album, We're the Martians, Now, came out just as Covid lockdown hit, and during that period, Paul decided to retire from playing.
In 2021, Darren Brown asked me to sing a guest vocal on his band Decibel's album. We hit it off and started writing the songs that would become Restless Fate. We asked Becky to come and join us on bass, and she brought along her son, Ethan, on keyboards. We decided to reclaim our original name, The Room, and played our first gig at Shiiine On festival in November 2021 using a drum machine. We recorded the album in 2022 with guest drummer Tom McCabe and signed to the local Liverpool label, 9×9 Records.
Meanwhile, I discovered that "New Dreams for Old" was a minor hit in the Philippines and was invited to go and sing old Room songs with Filipino band LVNA at a New Wave festival in Manila in July 2022. It was strange but fun to sing those old songs after so long. We decided to include "Things Have Learnt to Walk that Ought to Crawl" and "New Dreams for Old" in our live set amongst the new songs from Restless Fate.
The term post-punk means many different things to different people. How do you describe your sound, and has it changed much since the band's first incarnation?
My original influences for The Room were Patti Smith, Wire, The Velvet Underground, Television, The Only Ones, Talking Heads, PIL, Magazine, David Bowie, and the early Cure. Later, Joy Division and The Fall were influential too.
I also liked singers like Frank Sinatra, Mel Torme, Elvis Presley, Johnny Cash, Hank Williams, and Roy Orbison. Above all, I have always been into storytelling songs. My earliest memory of learning lyrics was singing along to "Riders in the Sky," for instance, a gothic cowboy song that sticks with me to this day. Tom Waits, Nick Cave, and Bob Dylan are also big influences. I think my influences and interests are always changing as I absorb new material. I suppose that the 'post-punk' era of the late 70s and early 80s was the period when we first developed a style. So, that stays with us. However, I think that my projects with Becky and under the name The Room have always changed and developed over the years.
Regarding the term Post Punk, I realize that we live in an era of tags and labels, so we kind of go along with the term, but to me, the term refers to the diversity that came after punk's somewhat straight-jacketed 'Year Zero' response to what went before. It does seem an odd term to use for contemporary bands 40-odd years later.
Many bands return to the fray to play their old songs and entertain existing fans. How important was it for you to move things forward with new recordings rather than rest on your past glories?
It's essential for us to keep writing new stuff. That's always been the real buzz for me – the creative bit. Sometimes we may have even gone a little too far in that. For instance, the 1983-85 version of The Room didn't play any songs by the 1979/1982 version. And, apart from some cannibalized lyrics, Benny Profane didn't play anything by The Room. One of the things I loved about The Fall was that they would often be playing songs off their next, as yet, unrecorded LP in their live set.
Much has changed in the interim. What are the main differences between being in a band and recording the first time around and doing those things today?
Tape is probably the main thing. Our early recordings were on multi-track tape, and you got more tracks depending on how much money you spent. Digital recording is much easier and quicker, and there is so much more available. Being the singer and not an instrumentalist, it isn't that different for me in a performance sense, but computerized desks and digital possibilities have changed the process. Although, as I've continued to record pretty regularly ever since I first started, the changes haven't come as any sort of shock. It is just something I recognize, looking back.
Lyrically, are there things that you still want to communicate with the listener, the same things that you wanted to talk about in the eighties, or have perspectives changed much?
I am still very much into storytelling and creating visual images. I think that is what drew me to screenwriting. I like the idea of songs being little screenplays for the ears. My cultural beliefs tend to leak into my songs. I do not much like religion, for instance. Similarly, though I love science fiction, fantasy, and horror and their multiple subgenres, I dislike magical thinking when it is applied to the real world. I do recall being seduced by some nonsense occult or conspiracy ideas when young. So, that has changed. I suppose that reading lots of fiction may help to inoculate one against conspiracy theories and urban myths because you recognize them as just stories.
Having played extensively in the past across the UK and USA, are there any plans to get back out there? Or are you content for this to be a studio project?
We have played five gigs so far and plan to do a lot more when we can sort out a schedule. Clive Thomas, our original drummer, has recently re-joined the band. He lives in Devon on the south coast, about a 5-hour drive away. Becky and Ethan live 2 hours north of Liverpool. But we manage to get rehearsals in, and we are all eager to play as many gigs as we can in the future.
From the work of Francis Bacon to bereaved swans and from media misinformation to the World Islands of Dubai, where do your lyrical ideas come from, and is there anything in the way of a recurring theme in your writing?
Death is apparently a recurring theme. I had not realized until Ethan pointed it out during a rehearsal. I think I have always been drawn to darker themes. I would have made a good Goth if I could be bothered with the hair and makeup. Art and books, films, and newspaper or online articles all influence me. I can be a bit of a magpie in terms of taking bits and pieces from different sources.
I have always loved and been fascinated by the work of Francis Bacon, ever since my teens when I wanted to be a painter. One of his paintings influenced the cover of our first single, "Waiting Room." The songs "Sensation" by The Room in the Wood and "Bull in the Doorway" by The Room are my responses to his attitude to life and the look of his work.
I love writers like Gabriel Garcia Marquez, Cormac McCarthy, J G. Ballard, Angela Carter, Jeff VanderMeer, Raymond Chandler, Michael Moorcock, M. John Harrison, China Mieville, Susanna Clarke, and Mervyn Peake. The films and TV of David Lynch, Film noir, and the German Expressionist movies of Fritz Lang and F. W. Murnau, are other influences. But, whatever happens, to catch my interest at a particular time when a melody line needs some lyrics.
And what does the future hold for you and the band in general?
Clive Thomas is back, so we have three-quarters of the original line-up. Sadly, Robyn Oldlum, our original guitarist, died several months ago. We are planning on more live gigs and are open to offers. We are currently working on songs for a new album, which will be a song cycle that tells a novella-length tale of folk horror. Therefore, we will be going into the studio to record a couple of songs at a time over the following months building towards getting the 12 songs done for the next album.
Thanks for taking the time to talk to me, and best of luck with everything.