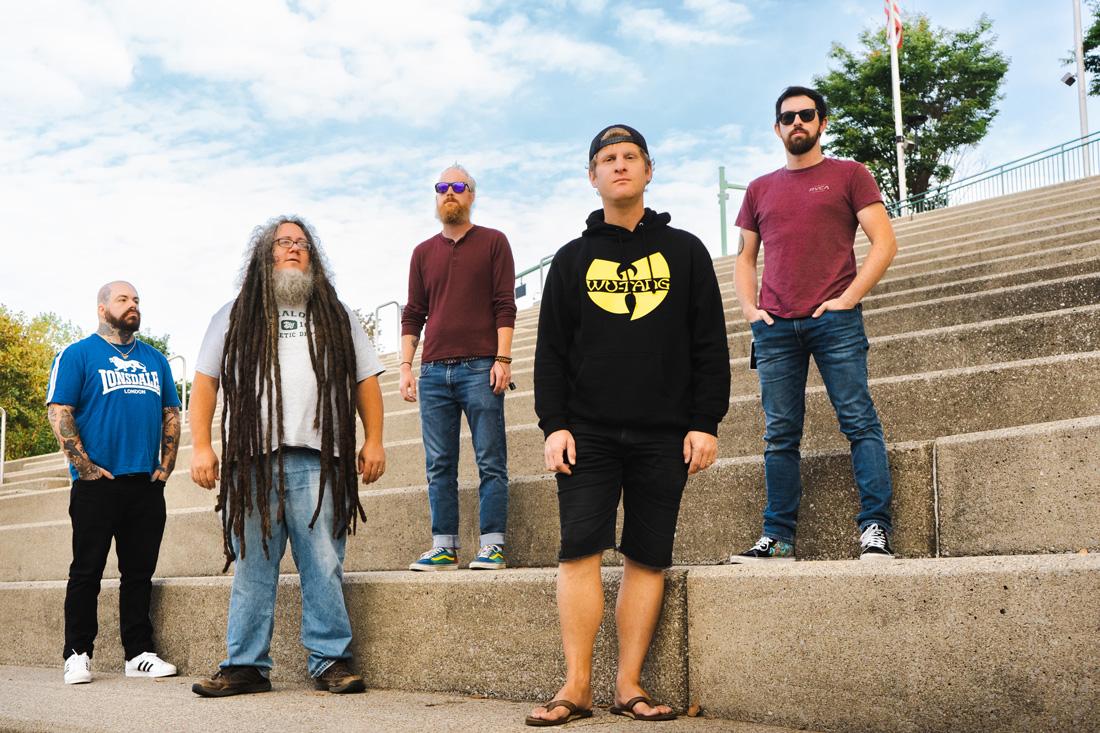 9 May 2023
With their new EP, Live At Sugarshack Sessions – Volume 2, just released, it was the perfect time to sit down with Bumpin' Uglies singer, Brandon Hardesty.
Let's start with a bit of background. How did the band come together, and what has the journey been that got you to where you are today?
I started the band around 2008, playing local bars in my hometown of Annapolis. I linked up with Wolfie in 2010 from hanging at the same local dive, and that's when we started touring. I went through a few different drummers before we linked up with TJ in 2015. He had played in a band out of Philly, and we'd done some shows together. Ethan joined in 2021 when we needed a new keys player.
We'd done some gigs with Ethan as a trombone player prior to that, so the multi-instrumental aspect was a huge bonus when I was looking for a new player because I have always wanted this band to have full-time horns. Finally, I brought Will in a little over a year ago. I knew him from around the way and heard he was a ripping sax player. We did a gig with him, and he killed it, so I offered him the spot.
I'd wanted to bring on a full-time horn player for a while, so it was no brainer when we linked up with him. He also is a very solid guitar player, which adds a nice layer to the dub reggae songs that we do.
Can you talk a bit about your influences? As a Brit, I see a lot of echoes of the late seventies Two-Tone movement, but that seemed a scene unique to this country, so what bands and styles have helped forge the band's sound?
Our drummer TJ is super into all that Two-Tone stuff and all the traditional reggae, like the stuff you find on the Trojan Records box sets. I'm really into hip-hop and singer-songwriters. I love lyrics and storytelling. Sonically, the thing that got me into this genre of music was Sublime, and I credit a lot of that to the hip-hop drums you hear on so many of their songs.
What would you say is the secret of your sound? What is it that keeps people coming back for more?
Honesty and relatability. Also, everyone in the band is a ripping player. We just try to play fun music that people can dance to. Melodic hooks that get stuck in your head but aren't cheesy or pandering. From a songwriting perspective, I write everything from a personal place, and I try to make sure that every song has a reason to exist, as opposed to writing something just because it's time to make another album. I take lyrics very seriously.
I'm the least talented musician in my band, but I think I've gotten pretty good at writing songs, and I think a lot of that is due to the amount of thought I put into the lyrics and the storytelling.
Given such an infectious sound, how hard is it to capture that vibe when recording, or are you happy that a live show and a recorded album are different beasts?
One of my favorite things to hear on the road is that we're a better live band than we are on record because I think it's the opposite for a lot of acts. We're constantly improving our studio game, and I'm very proud of the quality of music we release, but we keep it pretty humble and low budget while not compromising the quality. The only thing we go into a studio to record these days is drums; everything else is done at home.
We're working-class musicians and have never felt the need to travel and record in some expensive studio when we have the resources to accomplish it at home. We're focused on sustainability and longevity—steady improvements over the course of a long career.
My first taste of your music was via the latest release, Live At Sugarshack Sessions – Volume 2. How did that recording come about, and what was the experience like playing live knowing that you were trying to capture the essence of the band on record?
Sugarshack has been a staple in our scene for almost ten years, and we've done a lot of work with them. They're based out of southern Florida and we ended our fall tour in southern Florida, so we really wanted to make a session work to record some of these new songs.
It was honestly a pretty low-stress situation because the Sugarshack guys are such pros, and we'd been playing those songs for months, so we had them tight and ready to go. The caliber of their work is such top-notch; we knew if we got a good take that they would crush the mix and the video, which they did. I really feel like we captured lightning in a bottle with that session; I'm very proud of it.
And if, like me, this was someone's first taste, how representative would you say this album is of your sound?
It's a little bit on the tame side since it's acoustic. The focus is on the musicianship and the songs, which is nice. Our normal live show is much more energetic and chaotic, way more in your face. But the groove is always there. We try to make the live show a party. Treat every gig like it's the audience's Friday night.
And, finally, where next for the band, and what does the future hold?
We're just wrapping up a national tour. We've got a few weeks off at home before we start hitting some East Coast dates leading into the summer. We have our festival Weekend at Wolfies coming up in June. We're releasing an acoustic album that I recorded live in the studio later this summer, and we're wrapping up some tracking for some full-band stuff that I hope to release later in the year.
Thanks for finding the time to talk to me, and best of luck with the new record and everything else you are doing