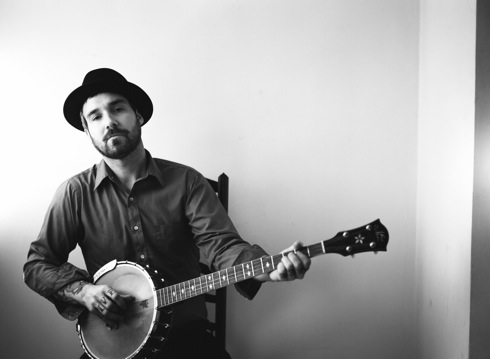 7 August 2011
In my years of interviewing musicians, I can hardly think of one who impressed me as much as William Elliott Whitmore. Mr. Whitmore, a native Iowan, has quietly made a handful of beautiful records, based around simple arrangements, often using nothing more than his husky voice, a guitar, or, more frequently, a banjo. His most recent release, Field Songs, released this summer on Anti- Records, has garnered near-universal critical acclaim. It is, also, as you will read, the record he has wanted to make for years, and even more impressive, it's a very brief album as well, one that gets its point across in eight songs and barely a half-hour.
Talking to Mr. Whitmore was equally a pleasure. He has a lot to say, and the soft-spoken tone of his voice is a contrast to his husky style. It is the voice of a man who understands the soybean commodities market, who gets up at 4:30 every morning to watch the farm report, and who knows and understands the importance of the weather on his crops. It's hard not to think that music is entirely secondary to Mr. Whitmore; while an important outlet, he would just as soon be content working on his farm as he would be playing a dark, smoke-filled bar. He is the sort of man one wishes could have collaborated with Studs Terkel as well; his respect of the common-man is clearly borne from his understanding of what it means to work with one's hands, while displaying the quiet intelligence that is often overlooked or unknown to those that sadly might dismiss working-class folk from the Midwest as "flyover people." I felt it a great privilege to speak with Mr. Whitmore, and I hope you, dear reader, feel it as well.
BT: Whats interesting to me, I've followed your career for some time now and even though it continues in the same vein as what you've done before, Field Songs definitely seems different.
WW: That's a great compliment. I do have themes and metaphors that I sort of return to and some of this ground I've covered in different ways before. For this, it's the album I've wanted to make for years and years. I've touched on many of the themes of the record on all of my records, but I simply decided to go for it with Field Songs. It's really stripped-down, intimate, and almost acoustic, though I play kick drums on a couple of songs. I specifically tried to make the songs stripped down and raw, to let the lyrics stand on their own.
BT: Was it difficult to do, pairing things down in such a way?
WW: Not really difficult, but it was different, that's for sure. I recorded the album in a studio I built with my cousin in Iowa City, Iowa. It's an easy-going work environment, just working with my cousin. We've worked together on music for years, so we know each other pretty well, and so his studio is a pretty conducive pace for creativity. It was different not having anyone come in to do organ tracks or drum tracks and bass. All my other records have additional instrumentation, and it's fun to do that, and it's fun to work with other people in a collaborative way, or even with a band. It's fun to have your friends come in and pay with your friends, and in that process of having fun and making music, it can change a song into something different, something you hadn't necessarily expected it to be. But for me it was just different, shunning that to a certain extent. I've been working hard on my lyricism; I've been trying to improve it. I didn't want to muck it up with anything extra.
BT: What struck me about Field Songs is that even though you're known as a renowned banjo picker, the banjo just isn't as prevalent here as on your previous records.
WW: There are a few banjo songs on there, but you know, as much as I really enjoy the banjo, I enjoy the acoustic guitar, too. I started playing on that for a few years and then I got into the banjo when I was 19, and I kind of ran with it. For Field Songs, it's about half and half, I'd say, but I see your point about it not standing out. Heck, there's even an electric guitar on here, which is different. I bought a Fender Telecaster a year ago, I've been playing on it and it's been fun writing on it and recording with it, just seeing what I can do in electric form. For a guy like me, I have to admit it's hard to keep things interesting. I know that for "singer-songwriters" like me, you try to throw out some curveballs whenever you can—different instruments, different arrangements, things like that. When you're a guy like me and you only know a few chords guitar or a few chords on the banjo, you really want to do what you can to make things different for the listener, so they won't feel like they're getting the same thing over and over again. (Laughs) Different textures, different tones, I wanted to make it sound different.
BT: The album also has a brevity to it, at only eight songs. You look at records by Mickey Newbury or Willie Nelson, whose best records were very concise and very meaningful, but were over in less than a half-hour.
WW: Brevity was something I wanted for Field Songs, and it's cool that you noticed that. I had a handful of other songs that I recorded and at the time I thought would be good for the album, but when I sequenced the album, they didn't quite fit in with the theme and what I wanted to say. Yeah, it's only eight songs long, but I wanted to put a lot into those eight songs, where I would have a lot to say, but not overwhelm the ears. Some of my favorite records, like Neil Young's On The Beach, it's only eight songs, and Bruce Springsteen's Born to Run, it's only eight songs long, but both records say a heck of a lot in those eight songs. There's just something to that number, eight. Putting together eight powerful songs into a thirty seven, thirty-eight minute statement, it is not an easy thing to do, even though it might seem otherwise. I mean, those records, they have a definite beginning, middle, and end, and there's nothing extra to take away from the overall statement.
BT: What inspired the theme, and what led you to making a record of field songs?
WW: I am inspired by the environment around me. I was born and raised on a farm, and in fact still live on the same farm I was raised on here in southeast Iowa. Home has always been inspirational for me, and it has always come across in my music. My last album, Animals in the Dark, had a lot more instrumentation on it, and it has more of a theme that is overt and political. For Field Songs, I drew backwards and just wanted to make songs that had to do with rural living, hard-working farm life. People who live the day to day life I live, man, it's difficult. Getting up every day to go out and dig ditches, or to follow the weather and uncertainties that nature brings, or to work in a factory making heavy machinery—it is not easy living. That's the sort of thing I do, that my family has done, and many of my friends here have done, and we've done these things for generations. Hard-working folks, it's not just labor. If you work in a cubicle or an office or a boardroom— that is hard work, too, just different. I'm using my personal experiences from what I know about working hard every day, and I am hoping that the listeners out there get a chance to hear that and think, "Yeah, I know about that, I know how you feel." I guess it all comes back to that statement every artist or writer learns when they first start out, that "go with what you know." What I know is living on a farm in the country in a rural area, but I know that others don't, but yet I know that a 40-hour work week is a 40-hour work week, regardless of what it is you do for work.
BT: Are you a Wobbly?
WW: (Whitmore admits to not being aware of the term, to which I explain.) You know, I definitely have feelings that lean towards that sentiment and though I am not familiar with the whole background or history of the Wobblies, I think it falls into a common theme, especially with "folk" music, yet like I said before, "work" is not an exclusive thing for anybody—those millionaires, those wealthy people, it might seem all easy, but making it to that point isn't, it requires the same kind of work and effort that a guy hanging drywall faces, though it might not be as physically challenging. Springsteen singing "The River," it's the same sort of theme you find in songs like "40-Hour Week" or "Eighteen Wheeler" by Alabama, or you even find it in pop songs like (Sheena Easton's) "Morning Train" or (Dolly Parton's) "9 to 5." Those songs are different, some of them may sound cheesy, may not be your style of music or may reflect a different set of beliefs for the listener, but they all have that common theme. Songs about hard work and the labors of the day aren't exclusive to Pete Seeger or Bob Dylan or Bruce Springsteen or folk musicians or labor folk. When I think about how hard people work from day to day, I think saying "thank you" in song is the least I could do, to show that no matter who you are or what you do, you are part of a larger cycle, and you are important. It's easy to forget that in the modern, technological world we live in. I hope the listeners enjoy my thanks.