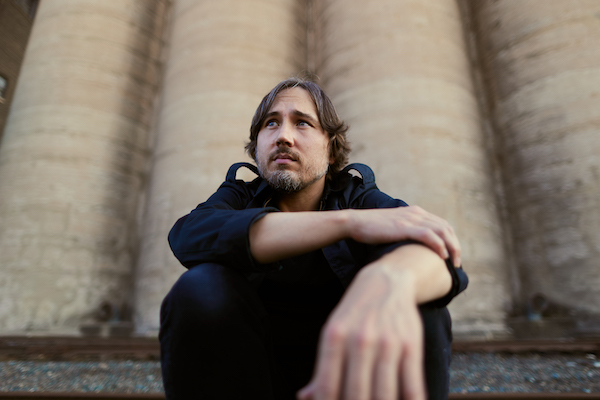 25 January 2022
Hurrah a Bolt of Light – Photo Credit: Dallas Currie
New York City-born, Twin Cities-based indie rock band Hurrah a Bolt of Light is a living portfolio documenting the constant evolution of its main songwriter, Wil Farr. Whether it's sound, format, or home base, change is considered fundamental to Hurrah's creative process.
To date, Hurrah has released two full-length albums and numerous singles. Its previous album was a shiny, pop album recorded in LA. Its latest release retains Hurrah's penchant for hooks, but does so in a darkly alluring context that subverts all pop conventions. An/Animal, out Friday, is Hurrah's long-awaited "visual album." It's an ambitious artistic offering that pairs a 16-minute piece of music to be released in four movements with a stunning long-form video. The EP is an immersive experience brimming with haunting visuals, abstract and emotionally evocative lyrics, and a mesmerizing swampy sensibility.
Farr is the sonic curator of Hurrah, and he is a multi-instrumentalist with a rock background and an affinity for abstract soundscapes. He started Hurrah over a decade ago in New York City, but Farr relocated the project to Minneapolis, Minnesota, believing the vibrant music scene there would be the perfect place to start the project's next phase. Farr's work seeks to balance artistic fearlessness and creative wanderlust with a reverence for pop music.
"I'm interested in evoking feelings with my music," Farr shared to the Big Takeover. "Young-adult science fiction had a profound effect on me. The stories weren't always very clear, but they brought forth strong emotions. That approach really influenced me."
Hurrah's music has been favorably described as "pop music for sad people." It's an aptly broad description that fits Farr's restless creativity, which defies genres, though Farr's songwriting has drawn comparisons to Bruce Springsteen, Tom Petty, Modest Mouse and Kings of Leon.
Hurrah has earned critical accolades from such outlets as the Deli Magazine, BreakThru Radio, Time Out New York, QRO and Radio Free Chicago. Live, Hurrah is frenetic and sweat-soaked, with Farr as the lightning-rod epicenter, leading his ensemble through a catalog of songs that feel instantly familiar and anthemic.
Hurrah tracks are artfully impressionistic, making them well-suited to visual placements. Songs have been featured on shows such as "Teen Mom," "The Voice," "Last Call With Carson Daly," "Baseball Tonight," "Counting Cars" and "Nate Berkus Show," among many others.
An/Animal presents its audience with four songs strung into one narrative, made complete by the eerie visuals of its accompanying short film. Fans are invited to consume An/Animal in its entirety or in pieces. The music features imaginative arrangements, ethereal to explosive dynamics, primal urgency, deceptively catchy hooks, and elements from gospel, indie, rock, prog, country, ambient and, as always, an infectious pop sensibility.
Thematically, the lyrics are poetic, obtuse, and alive with desperation. The single "An/Animal 3" is a wild ride of a composition with gnarly garage-rock guitars, prog-rock instrumental breaks, tense build-ups, bold electronic textures, and moments of breathtaking serene musicality.
An/Animal is a stunning DIY feat. Farr played most instruments on the album, and sang the vocals all the way through as if the album was one 16-minute song. Despite having no film experience, Farr wrote, acted in and edited the film, though he is also joined on- and off-screen by a group of talented, enthusiastic film professionals, actors and friends.
The movie component documents a man being kidnapped and stuck in an endless loop of horrors. It's a fantastical, disorienting, and wildly fishtailing epic with cultish overtones of transformation. The music almost feels like an audio representation of the protagonist's inner feelings. Moments of despair, tragic solitude, pangs from a fear of death, and confusion course through the densely-layered and cleverly-arranged music.
Regarding the single, "An/Animal 2," Farr told the Big Takeover that it "is a reflection upon the man-made systems in the world that reign over us and hold us back from achieving our true potential. The song was written from multiple perspectives of sadness, anger and rebellion. I wanted to explore the idea that, even when we free ourselves from an oppressive force, we often settle into new ways to hold others down, even with the best of intentions. Human nature is an uncompromising force — it is cyclical and often proves unable to escape its darkest forms. This song is also fun to dance to!"
 

Hurrah a Bolt of Light-related links:
Facebook
Instagram
Twitter
Website