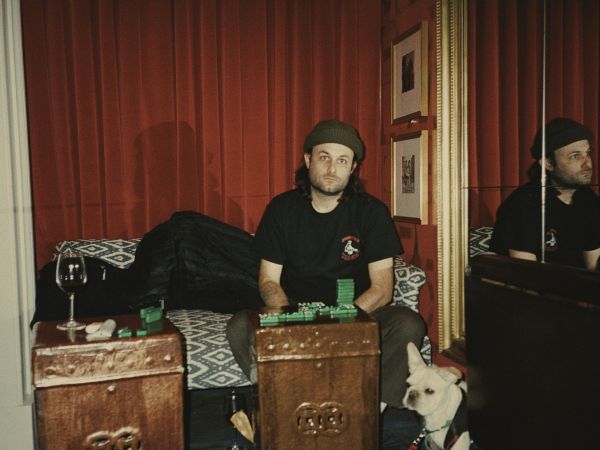 6 March 2020
Andy Craig of The Gloomies – Photo Credit: Rebecca Burns
Andy Craig formed The Gloomies in a sun-bleached surf town in Southern California. Taking cues from the Southern California surf scene, the band is influenced by the sounds of Unknown Mortal Orchestra, Ariel Pink, and Lana Del Rey.
Now based in NYC and SoCal, The Gloomies are self-releasing their second album, ARE WE GETTING BETTER?, and The Big Takeover is pleased to be hosting its premiere in full. Not sure if it's a thing, but the songs on this album are saturated with a hazy, downtempo popwave vibe.
Part hazy synth/electro-pop, part laid-back surf-soul, and part chill trip-hop – all blended together, ARE WE GETTING BETTER? drifts on hauntingly ruminative emotional waves and spare, slowly unfurling compositions that sway with a soulful groove.
Craig's sharply pitched, yet softly delivered vocals burn with a wistful glow as he reminisces on the past and contemplates the present and future. The lo-fi production delicately holds together the tendrils of melody, rhythm, and emotional longing.
Album singles "Moonlight" and "Sick Like You" came out last year, as well as "Sideways" this year, serving as tasters for the full course. The Gloomies also dropped a video for "Nightlight" this past January.
The Gloomies broke onto the scene in 2015 with the single "LSD." The surfy track was only posted on SoundCloud for friends to hear, but ended up on countless music blogs and eventually landed them "Buzz Band of the Week" in NME.
After receiving praise from Noisey, DIY, KCRW, and many others, and after completing months of touring, The Gloomies released their Blackout EP in 2016. This was followed by the 2017 single "Space" in collaboration with Cults singer Madeline Follin.
In 2018, they returned to New York to complete work on their debut LP, Romance. The band spent 2019 in New York recording new music, creating a hypnotic collection of songs that showcase their original vision. The result is the low-key, but captivating ARE WE GETTING BETTER?.
Craig gives some insight into the album's title and themes, commenting, ""I am really proud of this album, it felt like a coming to form for the band. I haven't felt this inspired after finishing a record in a while. The album title is really a social commentary, asking ourselves about the time we are living in right now and where we are headed as a society. Thought it was fitting with what's going on around us in the world; also thought the idea of the band asking if we're getting better in a musical sense was kind of hilarious, making light of the situation as well."
Tour Dates
3/6 – Manhattan, NY – Lola (record release show)