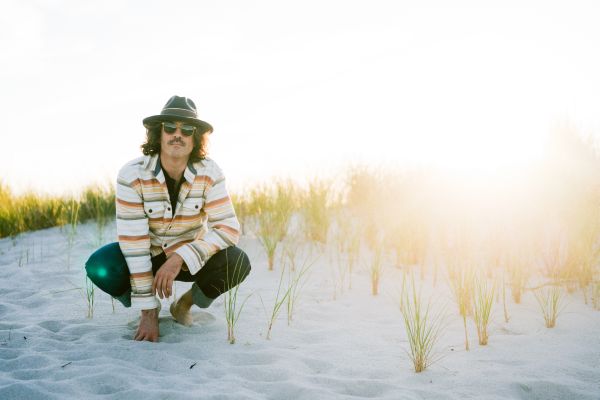 15 February 2021
Kimon Kirk – Photo Credit: Jenny Moloney
Over the span of a decade, Kimon Kirk established himself in the Boston music scene as an essential, in-demand musician sought after by a multitude of award-winning artists, including Aimee Mann, Lori McKenna, Gaby Moreno, Alejandro Escovedo, Sarah Borges, Amy Correia, and Session Americana. His excellence and intuition on bass and vocals have graced many recording sessions, live performances, and tours.
It's never a given that even the most top-notch session musicians can also carve out the time to nurture and develop their own songwriting and producing skills that result in an outstanding record. But Kirk has done exactly that and more, sustaining and attaining high artistry within his atmospheric debut album Altitude.
To celebrate this achievement, The Big Takeover is deeply pleased to exclusively premiere Kimon Kirk's new LP in its entirety, a few days ahead of its official release date on February 19th.
Kirk's Altitude is a gorgeously contemplative work of art. His impressionistic songs draw upon all states of mind between earth and stars (and in one song, literally suspended in the in-between, "Stranded" on an airport tarmac with much time for alt-folk reflection).
So many standout songs include the poignant and emotive "What Do I Know" which tugs at the heart-strings, the Matthew Sweet-like harmony-laden "Trampoline," and the super-catchy, yet bittersweet "Baby Who Knows," co-written with renowned, Grammy Award-winner Aimee Mann.
"I Think Of You" is a delicate rumination floating on light synths notes and hushed guitar chime that actually gives off the vibe of being at a high altitude. Kirk kicks out the jams on the dynamically rockin' "The Girl I Used To Know." The record ends with the softly nostalgic "My Old Neighborhood," which focuses on gentle acoustic guitar strum and Kirk's wistful, storytelling vocals.
Kirk manages to be true to his own artistic vision while musical influences such as The Beatles, Beck, Brian Wilson, and Aimee Mann are sprinkled throughout his layered arrangements and warm vocals. Kirk explains, "When I hear Wilson's voice in old studio outtakes, he is like a favorite teacher—someone who guides you to an answer or reveals something within you."
"Working with Aimee," Kirk adds, "has really taught me to strive for the best version of a song, a lyric, an emotion, a vocal harmony, a performance. She sets the bar very high."
As for Aimee Mann's perspective, she comments, "Altitude could have been the lush, melodic record that was playing on the stereo in 1992 at the party your friend took you to where you first met the person who would later break your heart into a squillion pieces."
Kirk's virtual CD release show is set to stream at Boston's Club Passim, on February 18th at 8:00 pm ET.
Website
Facebook
Instagram
Twitter