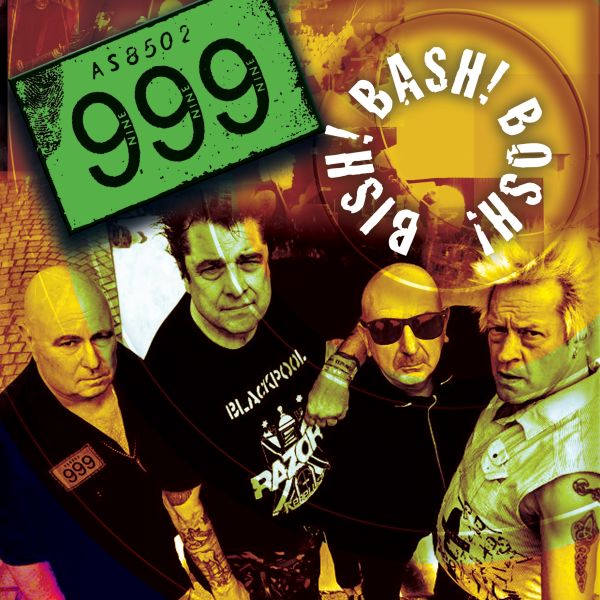 24 April 2020
999 – Bish! Bash! Bosh!
It's been 13 long years since their last album, but premier UK punk rockers 999 are back on the attack with their ferociously stormin' new album Bish! Bash! Bosh!, released today via Cleopatra Records.
999's founding members vocalist Nick Cash and guitarist Guy Days, are still at the controls, along with longtime bassist Arturo Bassick (The Lurkers) and new drummer Stoo Meadows.
Big Takeover is mighty excited to host the premiere of Bish! Bash! Bosh! in its entirety on its release day.
Bish! Bash! Bosh!, as the title exclaims, is all about potent punk rock sonics and attitude. Strong emotions, raw lyrics, and dynamic music run riot through the LP's 15 original songs. Each track crackles with high-voltage energy, nervy verve, and inspired songwriting.
Highlights include the determinedly chugging lead single "Crazy Tuesday World," the antic, frantic, and punk-tastic "Shoot," the spoken word malcontent confessional "I Hate It All," the kicky and melodic "My Dad Trashed My Submarine," the explosive, menacing energy of "Dr. Nick," and the Motorik grind of "Statue."
The socio-politically spot-on last track on the album, "The Pit and the Pentagon" may be new, but it's classic and timeless 999. The song's lyrics describe the formation of the band at a time when America had a "power-crazy military" (wait, did that ever stop?) that gives "the rest of us a worryin' time." Seems like history always repeats itself…
This album continues 999's long and storied career. Last year 999 celebrated 43 years together as a band! The reason for their longevity is not airplay, massive publicity, or hype, but word of mouth which now extends to nearly every country on the planet.
999 were first conceived in late 1976, when Nick Cash and Guy Days who were at school together, decided to form a group. Within a couple of months they had teamed up with Jon Watson (bass) and Pablo Labritain (drums) and 999 were officially born.
Their first gig was at the Northampton Cricket Club in January 1977. Interest in the band was immediate, and constant gigging around London brought with it critical acclaim, and a hardcore following of supporters from Southall calling themselves "The Crew". These ranks soon grew to crews based out of other major cities including Manchester, Birmingham, Edinburgh, Munich, Vienna, Zagreb, Stockholm, Oslo, Berlin, New York, Los Angeles, Toronto, Philadelphia, and San Francisco.
The frenzy and raw energy of the early days were captured by their debut single "I'm Alive" on the band's own Labritain label and sold well enough to become a minor hit. Next, through their association with United Artists records, the second and third singles, "Nasty Nasty" and the now classic "Emergency," were released, confirming 999 to be one of the major forces in the British New Wave movement.
The first album simply titled 999 was released and was greeted with impressive sales and critical acclaim. Extensive touring took them throughout Britain and Europe where they played to packed crowds. The second album Separates was released and immediately the single "Homicide" leaped straight into the UK Top 40 without any radio airplay and was banned by the BBC and most radio stations.
Early 1979 saw the band embarking on their first U.S. tour, which was an achievement in itself, as they were still without a record deal in America at the time. Response to the band was ecstatic, all the venues being filled and import albums being sold out in a rush of enthusiasm. The band was immediately booked for a return trip.
Since leaving United Artists, 999 has recorded another 18 albums, with Bish! Bash! Bosh! being the latest salvo in their extensive arsenal.
Jon Watson left the band in 1986 and was replaced by *Danny Palmer(, and subsequently by Arturo Bassick in 1991. Stoo Meadows is currently helping out on drums in Pablo Labritain's absence.
To date, the band has completed 17 U.S. tours, 137 London gigs, 54 UK tours and 37 European tours; visiting Finland, Sweden, Norway, Germany, Belgium, Holland, France, Spain, Portugal, Italy, and Yugoslavia, as well as Japan, Argentina, and Brazil.
Nick Cash sheds some light on the meaning motivation behind 999's music, revealing, "Bish! Bash! Bosh! is about cooking up a storm with our music. There's one thing that it has always been about in everything that we have ever done and that's freedom, and of course dancing."