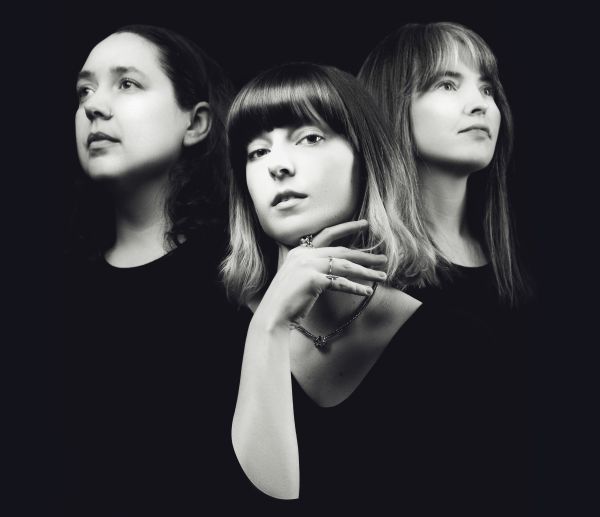 23 April 2021
Blood Lemon – Photo Credit: Matthew Wordell
Blood Lemon's self-titled debut album is a flinty and socio-politically relevant 40-minute affair that, thanks to the mastering work of Mell Dettmer (Earth, Sunn O))) and Black Mountain) and inspiration from Sleater-Kinney, Hole, Earth and The Breeders, is heavy in so many ways.
Tackling the modern state of discontent through topics like climate change, American politics, social justice, and navigating adulthood as women, Blood Lemon have deftly created their own gripping alternative sound and vision.
The classically trained Boise, Idaho-located trio of singer/guitarist Lisa Simpson (Finn Riggins, Treefort Music Fest), singer/bassist Melanie Radford (Built to Spill, Marshall Poole), and percussionist Lindsey Lloyd (Tambalka) formed in 2018 out of a medley of mutual admiration, a cover band called Mostly Muff, and a unanimous love of Kim Deal and '90s Riot Grrrl music.
They had no idea they would soon be writing a thematically perfect soundtrack to kick off 2021. What they did know was that they were eager to play music with kindred spirit women; they wanted a sound informed by '90s stalwarts like Pixies, Sleater-Kinney, and Veruca Salt; and they were eager to get more political.
Big Takeover is pleased to host the album premiere of potent Blood Lemon in full today, on its release date. The LP is a seriously good time, balancing important messages with cathartic emotions and dynamic to reflective Riot Grrrl, power rock, and grunge-inspired alternative rock.
Blood Lemon released three preceding singles, the rollicking rock 'n' roller "Burned," the harmonies-laden, guitar-driving, and environmentally charged "Black-Capped Cry," and the powerful and defiant anti-sexual harassment statement "Whistleblower."
Album-opener "Bruise" is a tuneful hard rocker that's propelled by clanging industrial percussion, but leavened by coolly airy vocals.
Slow-burning and melodically winding "Cut" is a delicately melancholic number about releasing pain that weighs so heavily on the psyche. It swirls with a restless bass line, guitar reverberation, and kinetic drumwork.
"Master Manipulator" is an exhilaratingly careening to heavily paced number with at times raging vocals, and at others beautifully intertwining harmonies that dives into hard rock headbanging and fiery guitar licks by the end of the track.
"One More Time" continues the blazing alt-rock vibe, moving between the interplay of a nimble bass groove and angular guitar line and then sudden whirlwinds of guitar conflagration and potently exclaimed vocals.
Blood Lemon was co-produced, engineered, and mixed by Z.V. House at Rabbitbrush Audio in Boise, mastered by Mell Dettmer at Studio Soli in Seattle, Washington, and the album artwork is by collage artist Ludzeg from Rio, Brazil.
The band members kindly took the time to run through their new album track-by-track, revealing insightful details about each song:
"Bruise"
Lisa: "I was playing around with concepts within a relationship from a work of fiction. Romanticism and violence, fire and ice. I was mainly focused on the female character with the imagery in the lyrics."
"Whistleblower"
Melanie "This song is about the inner dialogue, the back and forth, the fear, the isolation… everything that goes on in your head as you think about speaking out. This song means a great deal to me. I hope it brings people strength and a bright reflection."
"Cut"
Lisa "Written several years ago after finding out that someone close to me had engaged in cutting. It was a way for me to explore some aspects of mental health and societal expectations."
"Burned"
Lisa "This song is about a toxic person, someone who tries to make themselves look good but really is narcissistic and cruel. The idea is that despite the show, everyone will see them for who they really are, and no one needs to call them out. They'll do it to themselves."
"The Stone Castle"
"An instrumental. It's a variation on a theme from Pictures at an Exhibition: II. il vecchio castello (The Old Castle) by Modest Mussorgsky."
"Master Manipulator"
Melanie "Built on multiple riffs I had been sitting on for years, the song serves as a visceral warning to all master manipulators."
"Black-Capped Cry"
Melanie "A critique on how we (as a colonial society) have mistreated our planet through industrialization and how society has ignored the truth of climate change. The song is built around a bass riff inspired by a call from the Black-Capped Chickadee."
"One More Time"
Melanie "This song comes from the perspective of someone who is using substances to avoid dealing with their issues and the world around them, ultimately becoming a product of their own destruction."
"Leave the Gaslight On"
Lisa "An ode to Greta Thunberg. Directly inspired by her speech to world leaders attending the UN Climate Action Summit in 2019. Also inspired by the approach many American politicians have taken when discussing climate change."
Blood Lemon
"Each song is usually written outside of the practice space by the lyricist and then arranged by the band. There is a lot of space for ideas and changes when it's worked out together. As a band, we have let the process be organic up to this point. "The Stone Castle" is the only exception to this and was written more as a group."
Purchase Blood Lemon at Bandcamp
Website
Facebook
Twitter
Instagram
YouTube