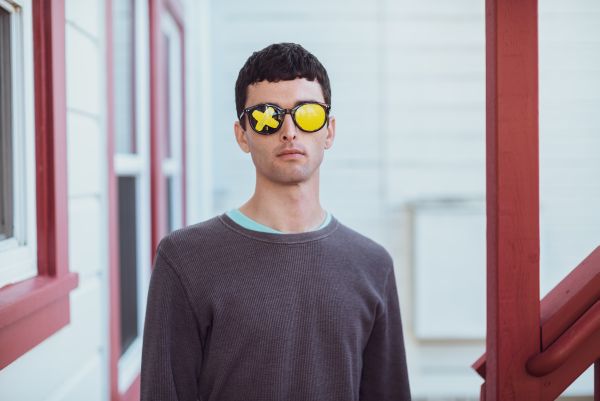 29 May 2020
Cough Drop Acid – Photo Credit: Vladi Turkov
San Francisco-based indie rock band Cough Drop Acid are releasing their debut self-titled EP today.
The group was founded by singer/songwriter Stephen Beebout just this year and features a roster of musicians that have performed on numerous releases put out by his independent label, Urban Scandal Records.
Beebout is an established solo musician. He has two EPs and a full length under his name, while also putting out 20 releases through his label from a variety of different bands.
His bandmates Joseph Sample and Bryce Fernandez were both in The Band Ice Cream (on Urban Scandal Records) until early last year, and Lucas Siobal has played in numerous groups, including his main gig as the drummer for Derek Ted (Pure Noise Records).
Thanks to the combined efforts of Beebout (guitar, vocals), Fernandez (bass), Siobal (drums), and Sample (lead guitar, keyboards, backing vocals), Cough Drop Acid delivers a concise indie rock debut that harks back to the sound of indie legends like Elliott Smith and Bob Mould.
Beebout's perceptive lyrics and gently melodic vocals are supported by the laid-back, but precise instrumentation. On EP-opener "Tell You," Beebout sing-talks in hazy reflection while the the swaying rhythm is punctuated by scintillating cymbals crashes.
The contemplative mood carries over into the smoothly flowing, but emotionally pensive "Divorce." Brisk acoustic guitar strums are contrasted with the slower pull of strings and lower bass line undertow. A crestfallen Beebout reveals, "Can't help you live your life / Can't help you all the time / I just need somethin' that I can call my own."
"Brink" moves at a staccato pace and with ruminative intention, while "Surprise, I Lied" balances on delicate emotions, but more robust sonics. The mellifluous "Trust" rounds out the lyrically poignant batch of tracks, chiming with more upbeat and intricate guitar interplay and quickly hit drums.
Cough Drop Acid was Recorded by Joseph Sample, mixed by Derek Ted, mastered by Justin Weis, and written by Stephen Beebout.
Urban Scandal Records
Instagram
Spotify
Apple Music