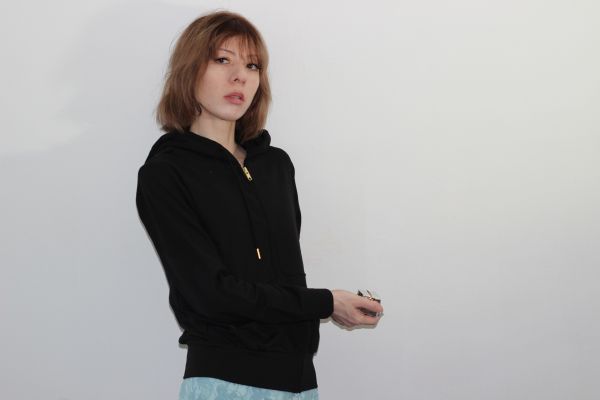 6 May 2021
R. Missing – Photo Credit
NYC-based darkwave duo R. Missing returns with new single "Crimeless" and its accompanying remixes, all packaged as the Crimeless EP that arrives today, May 6th, via Philadelphia, PA label Sugarcane Recordings.
R. Missing's vocalist Sharon Shy and musician Henry "Toppy" Frost are formerly of indie rock/pop outfit The Ropes. With this newer enigmatic project they delve more into the shadowy realms of darkwave, noir pop, and ambient music.
Crimeless features the original track "Crimeless," as well as three remixes of the song; two from Icelandic electronic music mainstays GusGus and one from acclaimed UK post-punk act The KVB.
R. Missing's music evokes the sonics/aethetics of such artists as Chromatics and TR/ST. Crimeless is the pair's first release since last year's "Placeholder for the Night" single and previous Unsummering EP.
Big Takeover is delighted to host the premiere of the atmospheric darkwave-driven "Crimeless" single and its accompanying remixes today.
The Original Mix of "Crimeless" is a darkly sparkling dancefloor thumper mashed up with the hushed and airy vocals from Sharon Shy. Glowing aero-synths scintillation shoots off smoldering sparks, while the clipped Motorik tempo adds a restless push. Sharon Shy's dispassionate tone disperses like diaphanous gauze over the glittering discotheque sonics
GusGus then put their spin on the track with their Unclean Mix that cracks the electronics into percolating shards wrapped up in Sharon Shy's slightly fuzzed-up vocals and the occasional hollow synths notes.
GusGus try their hand again on the song, also producing a Clean Mix that features a sharper electronics jangle, deeper low-end phasing, and the ghost of wavering synth notes.
The KVB twist their remix into a more traditional darkwave shape, forgoing the club-style beats and instead plying breathy, extended synth lines, a winding and gritty ambiance, and more clearly produced vocals from Sharon Shy.
GusGus have a forthcoming album, Mobile Home, due May/June of this year. The KVB are preparing an upcoming album, and band member Nick recently released a solo album under the moniker Saccades.
Crimeless can be ordered HERE
R. Missing
Website
Bandcamp
Facebook
Twitter
Instagram
YouTube
Sugarcane Recordings
Bandcamp
SoundCloud