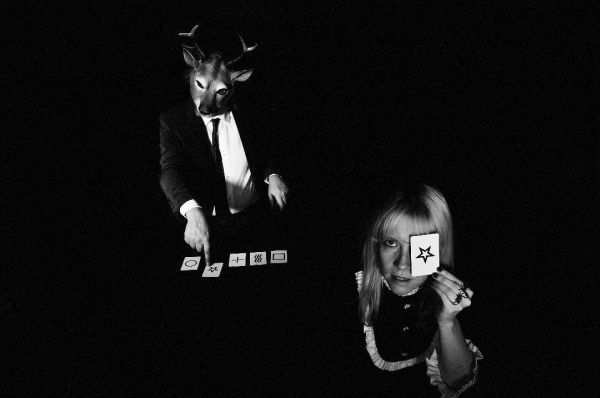 31 October 2019
Lulu Lewis – Photo courtesy of Lulu Lewis
New York City rock band Lulu Lewis is the husband and wife combo of Pablo Martin (Tom Tom Club, The Du-Rites) and Dylan Hundley (Metropolitan). As Lulu Lewis they've established themselves as one of New York's most prolific and versatile underground rock bands over the past three years, collaborating with artists like Brendan Canty of Fugazi and Sergio Rotman of Los Fabulosos Cadillacs and sharing the stage with a variety of musicians including Lenny Kaye and Richard Lloyd.
Lulu Lewis released their debut album, Genuine Psychic, this past July via Ilegalia Records. Drawing on influences ranging from post-punk to Goth to soul (what they dub "Harlem punk"), the album showcases the band as an inventive entity creating a distinct and potent sound.
Martin and Hundley are joined live by William Harvey (Urban Verbs), Jay Mumford (J-Zone, The Du-Rites) and Bruce Martin (Tom Tom Club)
On the genre-bending Genuine Psychic, haunting goth rock tracks live alongside cheeky, synth-driven New Wave, all connected by a sonic world of blazing guitars, a jumpin' rhythm section, and rough-cut production. The LP recalls rock sounds of the Bowery's grittiest days with a perspective that builds on the past, rather than copies it.
The Big Takeover is pleased to host the premiere of a new twist on this album – a dub version of Genuine Psychic entitled For Entertainment Purposes (Lulu Lewis in Dub).
For Entertainment Purposes (Lulu Lewis in Dub) is made in the classic tradition of old-school dance and dub re-mixes that used to be a somewhat standard post-album release to offer DJ's and the club crowd another spin and viewpoint.
The band explain, "12"s and the like with extended, dub, dance, or instrumental versions are our model here. Somewhat inspired by The B'52's "Party Mix" and The Clash's "This is Dub Clash" and albums like that. There are also nods to Black Uhuru and trip-hop greats like Tricky and Massive Attack."
Each dub spin is named differently from the original track, with the following run order for album: "Spacing Out" = "City Below the Hunter", "East Side Dub" = "The Sidewalks", "West Side Dub" = "Gone to LA", "Tacatac" = "Eternal Youth", and "Learning Slow" = "Moving Fast."
The dub versions all shape-shift the originals in ear-catching ways, with "Spacing Out" taking one phrase from "City Below the Hunter", dusting off the urban grit and tossing into into outer space. "East Side Dub" amplifies the funky groove of "The Sidewalks" with a more prominent emphasis on the rhythmic sonics that get chopped up and phased into a dreamstate.
"West Side Dub" deploys echoing vocal cycles that deconstruct the the original composition "Gone to LA," while "Tacatac" speeds up the beat of "Eternal Youth" and brings on the sporadic noise for a disorienting ride that still retains some of its original island vibe. The winding "Learning Slow" adds strong percussive clacks and deeply resonant vocal effects to the more reflective "Moving Fast."
Lulu Lewis will be playing at The Broadway in Brooklyn with Johnny Scuotto, Brian Starr, and Norman Westberg (Swans).on December 20th.
Lulu Lewis on Spotify