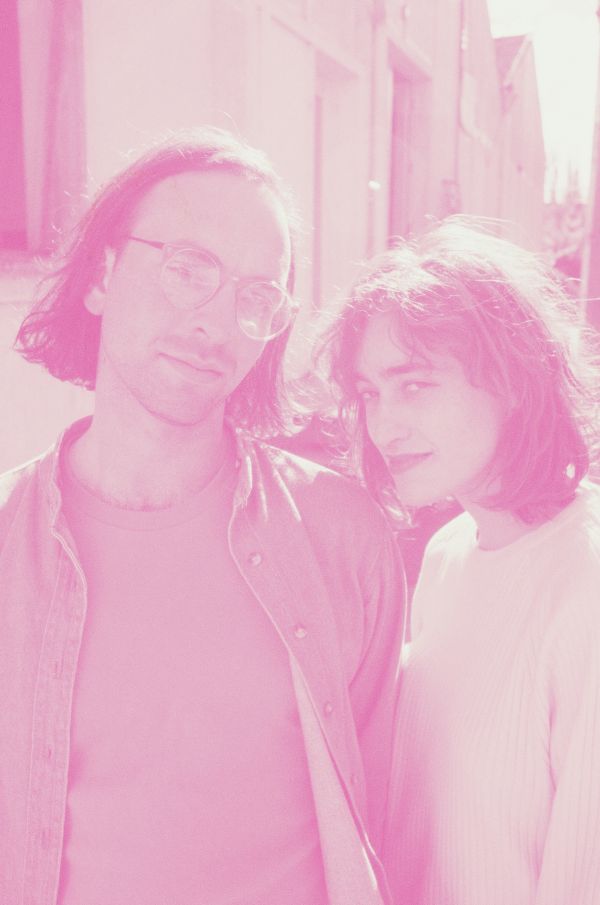 7 August 2020
Harry the Nightgown – Photo Credit: Omar Akrouche
Harry the Nightgown don't write songs like the rest of us. Using what they call "Toast and Punch" recording techniques, the duo improvise songs in the studio, the final track coming together in real time. The end result is fearless, and frankly fun, art-rock that veers from driving post-punk to delicate, brittle vignettes – music that invokes the unbridled energy of Deerhoof and the intimacy of a Broadcast song.
Big Takeover is pleased as (toast and) punch to host the premiere of the band's self-titled debut album today, on its release date.
Harry the Nightgown is comprised of Spencer Hartling and Sami Perez (who notably also performs with Cherry Glazerr and The She's). The two met in 2014 when their bands shared a bill at a nondescript dive bar in San Francisco. It wasn't until 2017, when Hartling moved to a remote property in the mountains of Guerneville that the ideas for Harry the Nightgown began to take shape, and eventually came to fruition during late night sessions at Tiny Telephone (where the two work as engineers).
The quirky band name comes from Perez, who bestowed the name upon a tree she says she befriended at the age of 5. It's an appropriate backstory for a band whose off kilter songs take oddball turns that feel surprisingly natural.
There's the stabbing synths that punctuate "Babbling", which bubbles along precariously before syncopated drum and bass bring everything together, only to collapse in a haze of warbled vocals.
Tender songs like "Tough Love" are juxtaposed against sinister bops like "March the Angry Man", which sounds almost like it could be a b-side off the Fantastic Planet soundtrack.
Nestled among the most experimental tracks are "Ping Pong" and "Pill Poppin' Therapist", two doses of driving, angular post-punk that wrangle the album's wide range of sounds into familiar shapes.
There's a playfulness across the album's 13 songs that invites you in, convincing you for a moment that you're in on the joke. When Perez shouts "Remedy! Come here!" you can hear how much fun they had making this record.
Album closer "What Makes Life So Hard" makes excellent use of open space, sprinkling sparse synths and glitchy effects around one of the record's most compelling vocal performances.
It's the perfect conclusion to such an eclectic debut, cradling you in its arms while you wake from a fever dream. Though we won't be able to enjoy the band live for some time, Harry the Nightgown's self-titled debut is without a doubt one of the most interesting records to come out this year.
Order Harry the Nightgown at Bandcamp