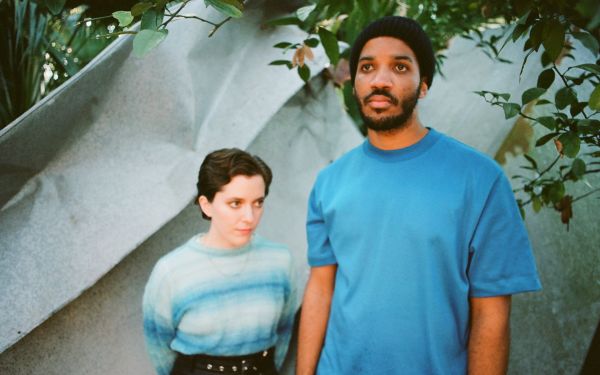 9 April 2021
People Museum – Photo Credit: Thomas McGovern
People Museum are an art-pop/electronic music band started by Jeremy Phipps and Claire Givens in the Treme neighborhood of New Orleans in 2016.
Inspired by Afro-beat, hip-hop, choral, and marching band music, People Museum has formed a sound that could only come from the eclectic byways of Louisiana. Created with the intention of bringing the state's intriguing nature into the future, Phipps and Givens combine the brass-filled past with the synthesizer-heavy, progressive underground sounds of New Orleans.
People Museum's debut EP, I Could Only See Night, arrives today and Big Takeover is pleased to host the premiere of the stylistically diverse EP in its entirety.
I Could Only See Night is a collection of songs that was made during quarantine in 2020, in addition to songs created in the first months of the formation of People Museum. The EP is a contemplation on our past, how we are making sense of where we have ended up, and learning to be more malleable with our visions of the future.
With these songs, People Museum try to light a way out of what has been some very dark times and open a space for the listener to reflect, dance, or feel joy.
On EP-opener "Ice," the duo do this through the use of buoyant electronics, contemplative to kicky percussion, peppy horn accents, Givens' rich, Kate Bush-like vocals, and at times a strict marching pace.
Darkwave dance thumper "Forever" pulsates with urgent energy, phased synths press, and Givens' sweetly trilling exclamations. "Butterfly" lands lightly with a punchy heartbeat rhythm, gritty synths, clacking percussion, swingin' horns, and marching band dynamics.
Dancefloor pumper "Rush" features skittering percussion, spare, but jumpin' synth notes, and Givens' short-phrase vocalizations, while the flowing "Sleep" glows with warm horns, cymbals scintillation and tap, winding synths, and Givens' yearning lilt.
The pair kindly reveal details about the EP's song with a Track-By-Track rundown:
"Ice"
Jeremy: "The instrumental to "Ice" was made by our drummer Mopodna. The name is very fitting to me, I can feel a cold loneliness to it. It was recorded at his house in 2019. The original demo felt really good, so we didn't change much. I added ambient trombone and Charles Lumar played tuba with the 808 to make the trunk rattle."
Claire: "Lyrically, it came from this idea of getting exhausted by opening up to people in relationships who continuously let you down, but ultimately "shaking off the ice'' and trying again one more time to connect with another person in a genuine way."
"Forever"
Jeremy: ""Forever" was written in 2016. It was one of the first instrumentals I made for People Museum. My concept was to make a trance track with horns. I used to hate trance music as a kid, I also used to hate avocados, but then I fell in love with both! In 2020 we revamped this song and it became this industrial pop piece. I'm super-proud of it."
Claire: ""Forever" is about loops for me – which came out of Jeremy's trance concept. Trying to break out of cycles of thinking or behaving that are detrimental to mental health."
"Butterfly"
Jeremy: ""Butterfly" was my attempt at making a New Orleans Brass Electronic mix. I wanted horns that really kicked you in the face and the drums are a play on the traditional New Orleans drum beat. We wrote this in 2016 as well."
"Rush"
Jeremy: ""Rush" we wrote together last year as a group. Aaron had a synth loop he showed us that we loved. He then added some random kitchen percussion. I left to get margaritas, came back, and Claire had already written and recorded vocals! It's the fastest song we've ever made, ironically enough. The song is meant to feel like something's going to happen, but never drops. One long build-up. That's what 2020 felt like."
"Sleep"
Jeremy – ""Sleep" is a part of the 2016 group. This song was meant to be a ballad. I used my 'sad boy' guitar and everything, but when we played it live the crowd would get so lit when the chorus hit. We leaned into the dichotomy of it. Our super-talented friend Cassie Watson added harp and transported everything to fantasy world."
Claire: "The lyrics for "Sleep" actually came to me from a dream I had about my mom. She's an incredible pianist and musician, but her family never really related to her or understood her talents. It always seemed like she was a bit of an outcast in her own home and never was appreciated for her gifts until she went out into the world. But in the dream I had, I visited her in her childhood home as she was just getting lost in this music that was only for her and seemed to feed her soul and let light into this dark environment."
Speaking about the EP as a whole, they comment, "I Could Only See Night is a collection of songs written in 2016 and 2020. These songs are a navigation out of darkness – a searching for hope and progression within ourselves and our community. [We] wrote half of these songs in 2016, and then collaborated with drummer and producer, Mopodna for the remainder of the EP."
"Our goal is to encourage movement, dancing, joy out of grief. We keep going back to the idea of second lines here in New Orleans. You have a second line for a party or for a funeral, but there's always this communal music and movement and undercurrent of celebration and love – a shedding of weight. That's what we are bringing with " Could Only See Night' – a way out of our darkness together."