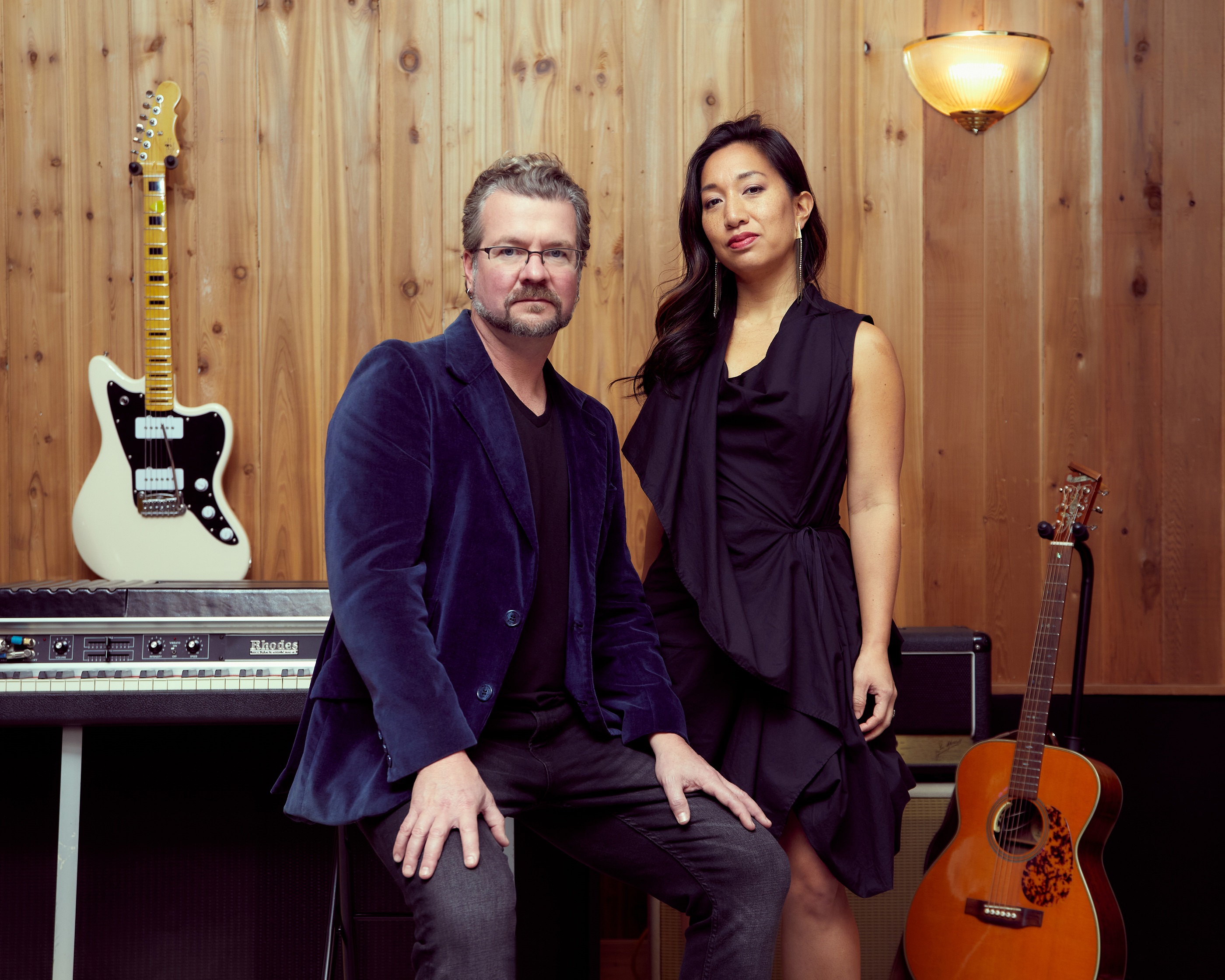 27 October 2022
Photo Credit: Ulysses Curry
Poignant, reflective, and deeply nostalgic, The A.M.s' debut album Ignite the Sky is a masterful depiction of seeking truth, connection, and identity that finds its expression in the indie-folk project composed by Adrian Libertini and Mariko Langan. Ignited by a deep sense of loss and searching for identity, the project unfolds in a comforting and introspective way, where genres blend with the duo's warm harmonizing.
The album revolves around themes of belonging and distance, developed together with the backdrop of Mariko's story of adoption paired with the solitude and longing experienced during quarantine. Through this, the album emerges as deeply personal and introspective, yet somehow relatable to the listeners – as it focuses on their own feelings of displacement, distance, and coming together. Nostalgic and reflective melodies in Ignite the Sky arise from the piano, emerging in powerful build-ups of drums, guitar and bass, and harmonies. Adrian and Mariko's vocals blend perfectly, alternating his dynamism with her ethereal and tender quality.
The album unfolds through three cinematic singles. "Torn Vine" sets the scene of longing and uncertainty, exploring the sense of searching for identity. "Smoke" reflects through instrumentation and harmonies, creating a slow-building folk rhythm and accompanying a reflection on memories. "Ignite the Sky," finally emerges in a moving combination of desolation and desire – a relatable quality to it that is sure to have listeners reflecting on their own ways of approaching affection and loss. Constellated by passionate, warm, and nostalgic songs like "Stone Walls," The A.M.s perfectly depict a sense of isolation and entrapment, to then liberate it through the dreamy rhythms of "Lightning", where Adrian sings "I always feel more comfortable dancing to the thunder, made me a little more safe."
A turbulent relationship with nature is a thread through the album; its disruptions, troubles, and ruptures are admired and made into metaphors. Leaving the idyllic sense of perfection of the natural world behind, in Ignite the Sky The A.M.s find solace in thunder, lightning, waves, smoke, and rain – meaning is found in gritty bursts and unrest.
The A.M.s brings a unique perspective to music-making; one that evolves in a back-and-forth of artistic collaboration at more than 1000 miles distance – one that manages to create a connection so harmonious and dynamic that it leaves Libertini commenting that "Spiritually, we've been a band way longer. Probably from a past life." The distance from Libertini's California to Langan's Washington is erased in their common way of producing introspective, soul-searching kinds of tunes with warm and raw sounds. They are a testament to the power of connection, one which extends to those far away as well as those who we have never met but are forever bound to.