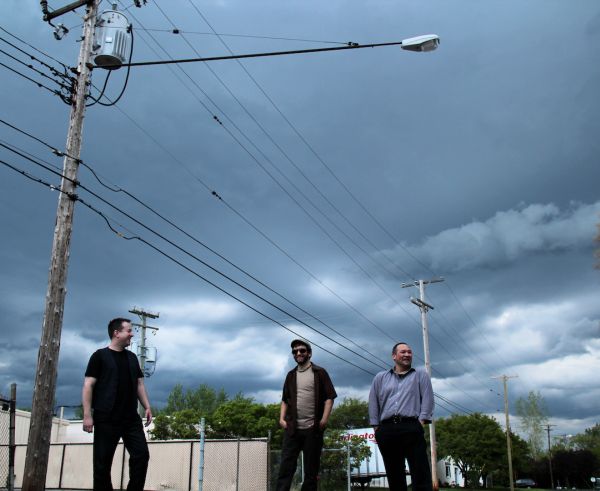 25 July 2019
Bus Stop Poets – Photo Credit:Brad Rambo
Bus Stop Poets play a particular type of engaging roots rock that incorporates the edgy sound of their Detroit environs and the smoother soul of Motown. The band is deeply steeped in the musical lineage of Detroit that includes the illustrious acts The Stooges and MC5 and musician Bob Seger.
The hard-working members of Bus Stop Poets are John Mabilia (vocals, guitar), Johnny Edick (bass, backing vocals), Randy Nelson (drums, percussion, backing vocals), and Cindee Lish (vocals, percussion). Some of the veteran musicians have been in other acts, including Some People's Children, Fat Astro, and National Ghost.
Bus Stop Poets are releasing their second album, Leave it to the Kids, on July 26th and The Big Takeover is proud to host the premiere of the entire LP.
Leave it to the Kids arrives several years after their 2013 self-titled debut album. Since that first LP bowed, the band has been building up its sound all across Detroit. Sharp songwriting, rousing compositions, and heartfelt emotions all play out big on Leave it to the Kids.
Experience, wisdom, grit, and wit flow through the ten tracks of the record. Earnest retro-folk opener "You Won't Miss Me (Here)" may feature bittersweet lyrics, but the honeyed vocal harmonies are pure sweetness. Traditional folk shines through on "Better", but it's also infused with upbeat piano notes and a funky groove.
"Blow" lopes on by in the light Western shadows with its cycling guitar line and extended synths strings pull, but then brightens with potent male and female harmonies. The reverb guitar goes deeper on "Pop Your Top", an ode to, of all things, beer! The lyrics are amusing and the drum beats are emphatic and shake it up with a rhythmic dance vibe.
Speaking of which, next number "Dance All Night" glides by with gentler step, steeped in a melancholic violin line and mellifluous guitar accompaniment. Reflective lyrics and vocals drift along and imbue the song with a nostalgic patina.
The title track drums it up with a kicky beat and wiry rock guitar angles. "Leave it to the Kids" comes across like a vintage rock 'n' roll track that was dusted off from a crate in the cellar, but the lyrics are very timely, with phrases like, "Can't see the future clear" and "…the end of it all… / one day it might be near / Living on borrowed time…"
Smoldering torch-type number "Don't Me Call Me Criminal" slides by with a slinky to strutting step, while the fun "Tractor Song" kicks up its heels with a giddyap drum beat and picked acoustic guitar. Bluesy guitar licks and piano bar casual-cool run through the aptly titled "Cool4U" as a deep bass line, tinkling piano notes, and flitting electric guitar curls move around plaintive vocal exclamations.
The album is capped off with "You Won't Miss Me (There)", a sincere folky reprise and twist on the opening track of the album. It's a joyful picker-upper, at least vocally and instrumentally, even if the lyrics remain wistful.