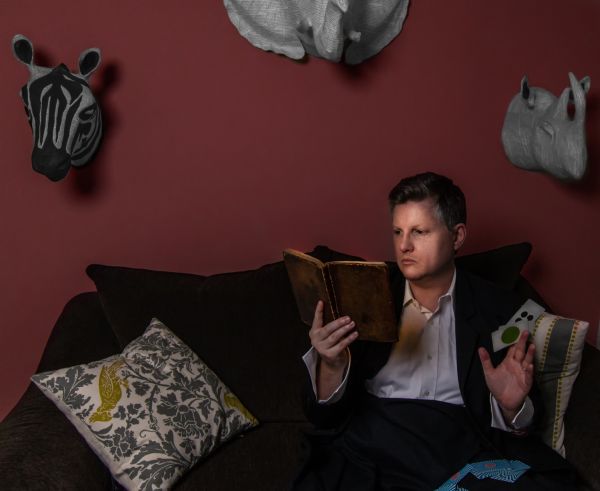 7 January 2019
Gabriel Walsh of The Earthly Frames – Photo Credit: Terrance Ragland
The Earthly Frames is the current exploratory psych/electronic/rock incarnation of Maryland-based musician Gabriel Walsh. For twenty-five years Walsh has been producing experimental pop recordings. He's played in the bands sad-songers Timesbold, freaky-improvers Wooden Wand & the Vanishing Voice, and Hebrew space-rockers The Solillians, and and created songs with his recording project Your Team Ring,
With The Earthly Frames, we can hear the through-line of layered, warped sounds that Walsh has been honing for a quarter century fusing with a fixation on disjointed, fictional worlds.
For example, the first Earthly Frames release was a USB drive with a one-of-a-kind narrative fragment. Owners of the devices had to choose whether or not to share their particular artifact with the others to complete the story or keep it to themselves – flipping the notion of music file-sharing on its head. The following release came with a card game and short film all set in the world of a billboard salesman who's having a nervous breakdown.
On Light Reading, The Earthly Frames second full-length, Walsh's powers of sonic and narrative avant-garde-ism are in their prime. The album follows the format of an imagined reading list. There's a corresponding song for each obtuse-sounding book. Titles such as "A Doorbell for Finite Beings" or "Dismantling Ubiquitous Monitoring Systems" offer glimpses into a parallel universe with exotic, yet obsolete, technology.
With each track, we hover briefly over the lonely worlds of ghost singers, failed philosophers, and dead ideas. It's a pile of books no one will ever read – a minority report filed away and forgotten. And yet, with Light Reading, The Earthly Frames remind us that knowledge, the reality that we don't throw away, is indeed powerful.
Gabriel Walsh reveals pertinent details about his new LP, which materializes on January 11th:
"For the longest time, I kept a folder that I used to capture strange any strange or unsettling PDFs I came across, aptly named "gabrielwalsh/Documents/weird texts." Every few years or so I crack open this directory and try to make sense of its contents. Who wrote them and for what purpose? Did the material have any similar ideas or themes running through them? I thought – Ah there's a project – Somebody working their way through a reading list and trying to discover a common thread. These .txt and .pdfs were almost all of pedagogical vibe – how to summon this entity, how to talk to plants, etc."
"So I thought I'd just roll some dice and randomly grab from books in the house with the hopes of maybe finding some more diverse, and hopefully more narrative, materials and create my own reading list to wander through. To my disappointment, here are the books I pulled:"
Parallel Universes – Fred Alan Wolf
The Ear of the Other: Otobiography, Transference, Translation – Derrida
Now, Wait for Last Year – Phillip K Dick
The Real Life of Sebastian Knight – Nabakov
Building Wireless Sensor Networks: with ZigBee, XBee, Arduino, and Processing – Robert Faludi
The Medieval Craft of Memory – Mary Carruthers and Jan M. Ziolkowski
Pierced by The Sword – Bud Macfarlane (a Christian Rapture Mystery dedicated to my dad for "teaching" the author to write – yikes!)
Teleological Realism – Scott Sehon
The Endtime Family: Children of God – William Bainbridge
I Could Have Sung All Night: My Story – Marni Nixon
Light Moving in Time – William Wees
"Light Reading indeed. So… I spent the next year or so of my life making a piece of music trying to explore not so much the content of the books but the space between them. Each song on the album corresponds to one of these books, the names have been changed to protect the innocent. I imagined my versions of these books to be even more obscure and rarely read, and during my time with them, I too drifted off to the land of lost knowledge, abandoned theories and forgotten lives."
Website
Twitter
Instagram
YouTube
Bandcamp
SoundCloud