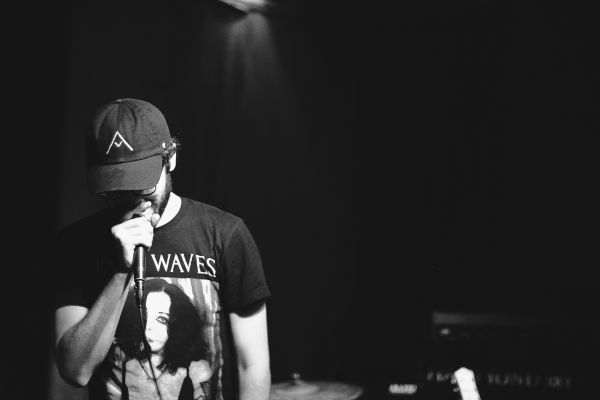 10 October 2019
Morsifire Live – Photo Credit: Kathy Parmisano
San Francisco-based alternative music artist Andrew Seely will drop his debut album, Metanoia, on October 11th under the moniker Morsifire. Seely moving through disparate music genres on his new LP, jumping between, or combining, gritty alt-rock, aggressive hip-hop, and vibrant electronic pop for a potent sonic mix.
Seely is lyrically direct, unfolding bold personal narratives from his past childhood experiences, including being raised by a drug-addicted single mother and losing his father and younger sister. These harrowing events led Seely to suffer from panic attacks as a young adult.
Thankfully, Seely found relief through creating music, which he pursues with an intense passion. After studying music at Berklee and in Spain, he returned to his San Francisco roots to run music-based workshops that teach kids how to record and produce music.
Seely finally decided to do the same himself, with the support of other San Franciscan musicians, including Emily Afton (on the delicately haunting "Contact"), Dogthief, Tony Fredianelli, and Arion Salazar (formerly in Third Eye Blind).
The new album's title, Metanoia, can be defined as the "spontaneous attempt of the psyche to heal itself by being reborn in a more adaptive form." It's Seely's way of saying that the music that he's created is his pathway to healing himself from the trauma that he's experienced in his life.
Metanoia is intense and thought-provoking, but can also be gentle and contemplative, and ultimately it's a cathartic journey, for Seely and the listener. On the tender, but rich alt-rock single "I Can't Stay", he plays his father's guitar, and on the powerful "Contact", he brings complex emotions to the surface when reflecting upon his little sister's passing.
On many tracks Seely questions the meaning and mystery of life, including on the vivid single "77 Skeletons" where he rattles off deep lyrics in a focused and fast flow, stating, "How much more can I lose / before I lose myself?"
Electronics-touched album opener "Slice" cuts with sharp lyrical fragments like " [I] destroy what I create", but it's couched in soft synths, darkly sparkling electo-notes, and wistfully longing vocals.
Dogthief guests on the nocturnal trip-hop number "The Hunter", which winds around with twisting vocals and is weighed down by heavy industrial reverberations.
On the subdued "What I Lost", Seely mulls his life and the lives of those he loves, supported by angelic harmonies. He confesses that, "I'm feelin' broken / but I'm focused here / on mending you."
It's that caring heart and selflessness that shines through on the album. Seely is mourning his personal loses, but his relatable struggle is one that we all face.
"Making this record helped me work through my grief," Seely confides, revealing that he often felt compelled to incorporate found recordings of the deceased into the song structure, most notably on album closer "A Letter". "My music is not something you flip on while you cook or party. It's not passive shit. It's involved."
Website
Facebook
Twitter
Instagram
SoundCloud