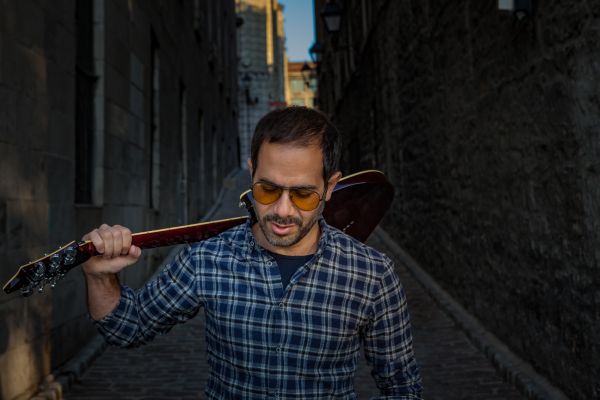 25 October 2019
Paul Farran of The Camino Side Project – Photo Credit: James St. Laurent
Hailing from Montreal – Canada, Paul Farran is an alternative singer-songwriter and the artist behind The Camino Side Project. On a continuing journey around the world which started in the '90s, Farran is inspired by those enduring impressions and memories, and has captured his life experiences in songs about places he's visited and people he's met.
His second release as a solo artist is in the form of an EP titled North America, which releases today, October 25th. The six tracks on the record focus his musical inspirations into a nostalgic call for and comforting feelings of home.
North America follows Farran's first release as a solo artist, the album of movement & music from 2018, which was inspired by journeys and travels through Africa and Asia.
Between 1996 and 2004, Farran was guitarist, songwriter, and co-founder of Montreal-based alt-rock band Pacer, which took its musical cues from '90s alt rock, grunge, post-hardcore, and '70s rock.
Since 2005, Farran has been travelling, working, and living in different regions of the world, on a voyage that has taken him from the US to Africa, Asia and Europe – and most recently Australia, giving him the honor of meeting and collaborating with a number of musicians along the way.
Farran's current musical influences are diverse and range from indie folk to alternative and hard rock, and to Americana, blues, and world beat, all of which resonating warmly in The Camino Side Project's music.
The Big Takeover is mighty pleased to host the premiere of North America in full. EP-opener "N.A." starts it off with a rich and mellow flow of shining glints of picked guitar and Farran's dusky vocal reflections. His pensive thoughts are buoyed by a bevy of female choral harmonies that lift the brooding atmosphere into burnished-gold, hymn-like territory.
Spacious and contemplative almost-instrumental "Autumn's Falling" features a sporadic echoed drum thunk and gilded guitar lines. The spare, but dreamy cascade of guitar reverberation is leavened by the heavier drum beat and Farran's ruminative delivery of the line, Outside so bright / Inside it's gray"
"Just Don't Be" runs on a slow trip-hop beat and lighter piano notes. A thoughtful Farran muses amid the haze, looking back in time at relationships he's formed and the need for truth and connection. The song rises near its end with pining vocal lines and a keening guitar line.
Acoustic beauty "Something About Home" sparkles with cycling guitar strum, bittersweet violin pull and Farran's deep, heathered vocals. The track floats like a nostalgic reverie as Farran recalls his days growing up in Canada.
A ponderous pace treads through the stark, shadowy "Absoluted" that steps with staccato guitar notes and a measured drum beat. Farran sing-talks his impressionistic words about a relationship like a poet at a reading. A wavering cello line comes in near the song's end, adding even more poignancy to the piece.
EP-ender "Free Yourself" is steeped in a ruminative glow of carefully played acoustic guitar lines, continual cymbals shimmer, low bass line pull, and a muted drum beat. Farren sings his lyrics like a mantra (that should be practiced every day!), murmuring, "Free yourself from your mind / free yourself from your grind / free yourself from your time / free yourself."
The North America EP and other music is available for streaming and/or purchase at Paul Farran's official website. In addition, the site provides links to major streaming platforms and social media.