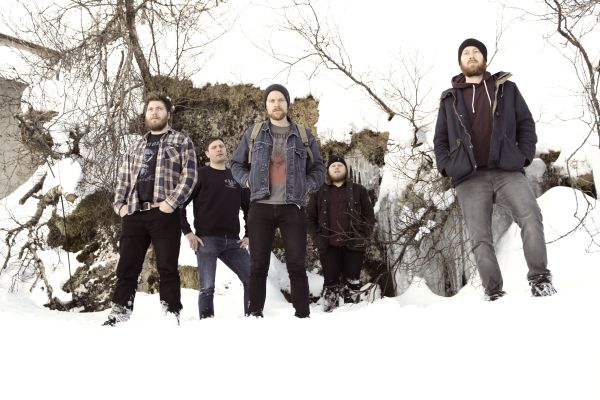 21 September 2018
Nyresvikt – Photo Credit: Ingelinn Skurtveit Sandanger
Nyresvikt is the Norwegian word for kidney failure, a disease that may occur with total destruction within a few days. In other cases, the acute disorder is benign with subsequent full healing.
In musical terms, Nyresvikt is a Norwegian punk, rock, and hardcore band that will kick you really hard, but will also help you back up afterwards. They create music that will be played way too loud, but should never be played any other way.
Interestingly, Nyresvikt is made up of three fathers and two brothers playing really hard and loud with their feet solidly planted in the hardcore genre, but also branching out into indie chords changes, hard rock riffs, and catchy, stadium-pleasing choruses.
It all started in a barn in a small village outside Bergen, Norway. After a couple of years of songwriting, Nyresvikt filled their travel bags with a bunch of intense compositions, angry riffs, and brutal vocals, and moved into new rehearsal studios in downtown Bergen. Through numerous gigs, they have perfected the energetic and explosive expression that you will experience at a current Nyresvikt show.
They released their debut EP two years ago, with their hit single "Kjör På" having been played on Norwegian radio, and is actually still is being played to this day. Three kids later, Nyresvikt has returned with new material. This time with a wider ranger of songs where the band members explore their melodic facet to an even greater extent without losing the energy from their debut EP.
The result can be heard in the form of the album Null Framtid, Null Stress (Zero Future, Zero Stress in English), which is available on all digital platforms on September 21st.
The very first taste of the LP was released back in February when they dropped their politically strong song "Hurra", and followed up with the super-fresh and ferocious "Folk Flest" (No, it's not a folk song!) in May.
Although Raindrops has released the two previous singles, this will be the record label's very first release on their brand new sub-label Icicles, which aims to be a worldwide provider of excellent music in the harder genres of music.
The Big Takeover is wild with excitement to have the U.S. premiere of the album in full right here. It's a raging blast of dynamic and incendiary punk/hardcore with tuneful chorus chants at times. LP opener "Folk Flest" unleashes in full force, careening to the edge of the cliff with some searing metal guitar riffs thrown in for good measure. "Drone Wars" amps it up even more with death metal shouts and a pummeling drum beat.
"Trøst" dials it down just a tad, showing of the more infectious side of the band while "Hurra" goes back to aggressive vocals, driving guitars, dangerously low bass line, and fast-punched drums. If you speak Norwegian maybe you'll understand the political lyrics. Otherwise just be blown away by the fury.
"Aldri Redd" is smoother a bit calmer with more alt-rock progressions than punk/hardcore/metal, but the overall sound is still menacing and urgent. Penultimate track "Intro" is the introduction of a new, reflective side of the band, filled with contemplative acoustic guitar strum…
but the lull only lasts for just over a minute – and is the intro for the last track, the titular "Null Framtid, Null Stress" which kicks it all back into high gear with stormy guitar whirl and heavy drum beats. Vocals are on edge and frustrated rushing into a throat-sore shouted chorus. The chugging rhythm builds into sonic conflagration burning everything to the ground. It's the end of the line, but hey, no future, no stress, right? Take those words with a mighty big grain of salt…
(Here are the English translations for the song titles: "Folk Flest" – "Most People", "Trøst" – "Comfort" (like in comforting), "Hurra" – "Hurrah", and "Aldri Redd" – "Never Afraid".)
Facebook
YouTube
Spotify
Raindrops record label Twitter