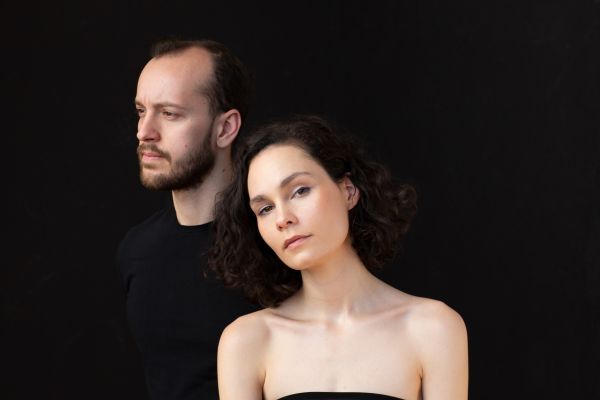 8 May 2020
Reliant Tom – Photo Credit: Corey Hayes
Dealing with the loss of a loved one is difficult and for Claire Cuny, lead singer of Reliant Tom, it was especially fraught with tragedy when in 2018 her father suddenly passed away in front of her. Another layer of this tragic event was the fact that it was the same day as the band's last album release.
From that moment on, there was a fusion between Cuny's personal life and her music. Now almost two years later, Big Takeover is proud to share Play & Rewind, the follow-up to 2018's Bad Orange LP.
The Brooklyn-based post-rock/electronic band has been lauded for their boundary-pushing material written by composer Monte Weber who leads the way with musical innovation, and Cuny who incorporates movement and dance into the band's live show.
With this new record inspired by such a stark and life-changing event, the duo had no choice but to make it their most vulnerable work to date. "I think I needed to get these thoughts out of my body, I could feel so much tension building up inside myself," says Cuny, explaining how the loss of her father provided the inspiration for the album in the most visceral way.
The result is a ten-song project that is full of raw passion as we experience an artist untethered by their emotions.
Each track lends itself to a moment of catharsis and evolution, both musically and subconsciously. Whether it comes in the form of sullen synths, layered electronic drums that skitter like fading memories, or Cuny's vocal prowess, we are left with the primal story of grieving.
The album-opener "Play & Rewind" almost feels like an exhaustive sigh of relief with ethereal twinklings and pillow-like melodies. In contrast, "The Sky is Falling" contains crunchy guitars and sharp vocal cries that embody pain and anguish.
We are taken through a full range of emotions and as the final strokes of the piano fade on "Just Play," we are left with an undying love for the ones that are no longer with us. It's a message that is hopeful in the face of sadness and so universal it will resonate in the hearts of every listener.
Play & Rewind is out now on Diversion Records.
Play & Rewind pre-save/pre-order HERE
Website
Facebook
Twitter
Instagram
Diversion Records