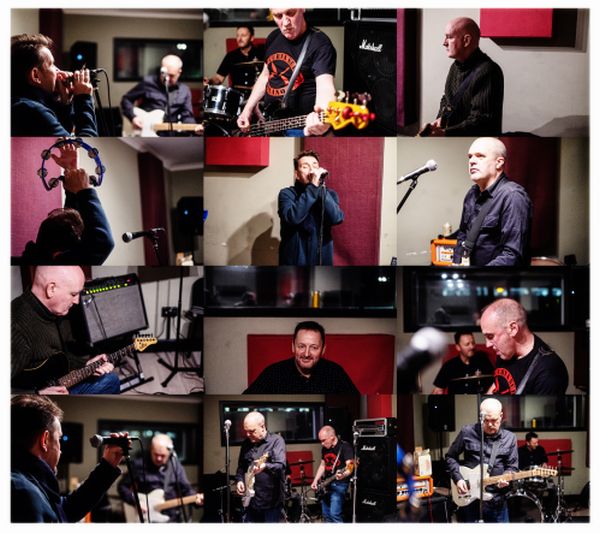 28 February 2020
Close Lobsters – Photo courtesy of Close Lobsters
Recorded between 2014 and 2019 and produced by John Rivers (producer of their 1986 debut album Foxheads Stalk This Land) Post Neo Anti Arte Povera in the Forest of Symbols finds Scottish indie pop/rock band Close Lobsters in shimmering and spirited form.
Post Neo Anti… (for short) is being released via Last Night From Glasgow today, February 28th, along with Shelflife Records (US release).
The album's cover features an original photograph from legendary photographer Brian Sweeney, inspired by the Arditi Del Popolo, a militant anti-fascist group from the 1920's.
The Big Takeover is pleased as punch to be hosting the premiere of this LP in full from a band that was formed in the mid-'80s in Paisley, Scotland.
Band members Andrew Burnett, Bob Burnett, Tom Donnelly, and Stewart McFayden kick-started their musical career with the track 'Firestation Towers' on the NME's C86 compilation. They signed to Fire Records and released their debut single 'Going To Heaven To See If It Rains' in October 1986. They released a second single 'Never Seen Before' in April 1987, which strengthened their reputation as one of the leading emerging indie bands.
Close Lobsters went on to release two albums: Foxheads Stalk This Land, which was released in 1987, and Headache Rhetoric in 1989. The band is known for their jangle pop sound due to the chime of their Rickenbackers, but they also are a tight until who compose strongly-structured, melodic songs.
Their popularity on United States college radio stations led to an invitation to the New York Music Seminar in 1989, which in turn led to an long American tour. They toured extensively in the UK, Germany, and the US and Canada.
Close Lobsters eventually took an extended break.
Their singles retrospective, Forever, Until Victory! was released in October 2009 on Fire Records. The title taken from the reputed last sign-off in a letter from Ernesto 'Che' Guevara to Fidel Castro, "¡Hasta la victoria siempre!"
In March 2012, Close Lobsters reformed to play the second Madrid Popfest Glasgow, the third Popfest Berlin, and the 2013 NYC Popfest.
In May 2014, Close Lobsters played the Copenhagen Popfest and released new EP, Kunstwerk in Spacetime. Lead single 'Now Time' received significant attention, and a further single followed in 2015, before a further hiatus.
The band are now back again and stronger and more tuneful than ever with Post Neo Anti…. From the peppy drum punch of lead single and album-opener "All Compasses Go Wild" to the shining-gold guitar tangle and psych-tinged vocals on "The Absent Guest (No Thing No There)," the bass line-driving "Bird Free," the swaying "Let The Days Drift Away" with its wavering organ press and sparkling cymbals tap, and the fluid and glistening, yet angular guitar pull of "New York City In Space," Close Lobsters lay out a full-course sonic smorgasbord of jangle pop, indie rock, and post-punk. Feast your ears below:
The band kindly took some time to go into each track off their album, revealing intriguing and insightful details about their literary-minded songs:
"All Compasses Go Wild"
"An 'enchantment, beautiful, mysterious, strange'. The continuation and acceleration of the 'A Prophecy' theme. Who are we, where are we going, and what do we have to be? What shall we do and how should we live? Those old hoary chestnuts. Forever dedicated to Susan who sang so wonderfully on the original 'Steel Love' version. RIP. The song has been welded to the 'times' since 1991 when it was originally recorded in a studio in Glasgow that no longer exists. It sort of says; 'Whoever you are, I fear you are walking the walks of dreams, I fear these supposed realities are to melt from under your feet and hands…Your thrift, knowledge, prayers, if they do not return in mockeries, what is their return? The mockeries are not you; Underneath them, and within them, I see you lurk' Walt Whitman. Sort of."
"The Absent Guest (No Thing No There)"
"Presence/Absence at all times and in all places. A song for Jackie. No thing, no there. Soyez réalistes, demandez l'impossible' Paris 1968. And, 'In a Society that has abolished adventure, the only adventure left is to abolish the society' Paris 1968. Tom offered that the title "The Absent Guest" was suggested by a line from "Celebrations", a 1967 novel by Alan Burns – one of the perks of working at the British Library being access to obscure novels by obscure novelists. 'Phillip pulled back his sleeve to look at his watch, he did it well, with confidence, his eyes on the other. His wife's mouth an absent guest. "Nothing but bad dreams." Whatever he was made of fell to pieces'. The lyric speaks of presence and absence and its importance for how we might see and perceive things. The extraordinary and inexplicable sense of distance."
"Johnnie"
"For our dear brother Johnnie. 24.05.60 – 08.02.92. Rest in Peace Brother. We used to go swimming in remission. God takes the very best first. I couldn't even begin to say any of this for some decades. The words simply refused to come out. 'Haudin' it in' writ large. A common condition associated with ascetic Calvinist cultures. The 1976 Scottish Cup Final lives forever in my soul, even though we missed the first goal. A cri de coeur for all the kind souls in heaven."
"Bird Free"
""I wasted time and now time will waste me" William Shakespeare. Time-wasters of the world unite! A matter, 'of course'. Free and succumbing to a restless ecstasy. As in Le fleurs du mal. Charles Baudelaire. Desire desires desire. Me and the Devil and the Deep Blue Sea. And all that carry-on. At the point at which we might settle, so to speak, either in contentment or as compromise. The notion of inverting and debasing the rock classics has always appealed tremendously. For the futurism of 'Rub-a-Dub' and 'A Love From Outer Space'."
"Godless"
"Close Lobsters 'Melancholy Soul' © art-form. A story of lament; the anticipation of unrealized liberation; and the forlorn call for the restoration of the commons. Young people in the West have nothing left but to take the place apart. William Burroughs. 'How can we expect righteousness to prevail when there is hardly anyone willing to give himself up individually to a righteous cause? Such a fine sunny day, and I have to go, but what does my death matter, if through us thousands of people are awakened and stirred to action?" Sophie Magdelena Scholl. The German Joan of Arc. 'There is an infinite amount of hope in the universe … but not for us'. Franz Kafka."
"Let the Days Drift Away"
"Fiume before the fall. Before (because) revolution became/becomes reactionary. The days run away like wild horses over the hills. So said Charles Bukowski. They really do. There once was a piece of poster art in a bar in Glasgow, a bar with no name called Chinaskis. An ode to the old world of the bel paese. 'Odyssey of Rancour' meets 'A Thousand Plateaus'. It was a young Arthur Rimbaud who saw the sun glisten with the sea. Emily Dickinson offers a perhaps more tranquil possibility: 'Ample make this bed, make this bed with awe, in it wait till judgement break, excellent and fair, Be its mattress straight, be its pillow round, let no sunrise yellow noise, interrupt this ground' 'She dealt her pretty words like blades'. Indeed. To a peace serene, free from the 'be-all-you-can-be' tyranny of modern life."
"Now-Time"
"Disco-Marxism, ghosts, vampires, and constant flux. The mystery of history, time, space and the errors of utopian thinking. 'All great historical events happen so to speak, twice – first as tragedy, then as farce. The traditions of past generations weigh like a nightmare on the living'. and all that dancing tables stuff. Marxian ghost stories suggestive of the need for '…the serenity and detachment promised by the Buddhist ideal of living in the now, freed from regrets about the past or anxieties for the future' Mike Jay. As the positive transformation of the hollow zeitgeist of late capitalism recognised by Walter Benjamin. Now-Time. The problem of the eternal present…From Apollinaire to Hausmann, a fateful brew. Autonomy please. Now. Inspired in part by Can and the Optimo desert storms."
"New York City in Space"
"Standing in the canyons of midtown Manhattan looking downtown in 1988 and 1989, and then looking uptown from the Bowery in 2013. The spatial imagination in process – spacing. The spacetime between Elvis and us. A song about the America within. The awe and wonder of the spiritual great frontier. It was originally entitled 'Chicago' because that's where we were headed at the time. In a bus. There's a good bit of Galaxie 500 and The Only Ones in there. All naturally passing through and on."
"Under London Skies"
"'Repression, I am a robot, I obey!' The Clash. The Owl of Minerva spreads its wings with the coming of dusk. Hegel. To London, the capital of punk rock insurrection and its renewed shambolic expression in 1986. As we in the North would seek to bid adieu, we salute and stand in solidarity with that London. That England. The England of The Clash, The Mob, The June Brides, Swell Maps and John A. Rivers. 'Love at last sight…' *Charles Baudelaire( on alienation in the city."
"Wander Epic Pt. II"
"'Of the fair land where the 'Sì' doth sound' Dante on the bel paese. Dedicated to Primo Levi and Antal Szerb. An unanchored restlessness unbound and put to song. Wanderlust reprise of the aimless stroller. Flanerie on the Milano Metro. Porta Genova, Andiamo. 'Develop action, thought, and desires by proliferation, juxtaposition, and disjunction, and not by subdivision and pyramidal hierarchization…It is the connection of desire to reality that possesses revolutionary force' Michel Foucault."