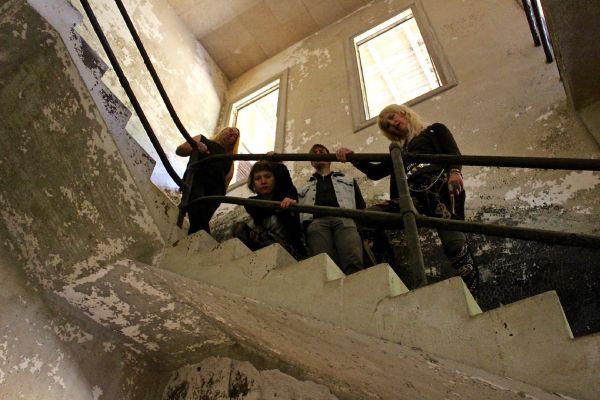 11 September 2020
Silent Era – Photo Credit: Morgan Stickrod
Silent Era, one of the Oakland/San Francisco music scene's most beloved current bands, are bowing their compelling and genre-busting new album Rotate the Mirror on September 15th via Nervous Intent Records. Big Takeover is thrilled to host the LP in its entirety before its official release.
Michelle Hill (vocals), Matt Badenhop (guitar), Booz Ullery (bass), and Greg Harvester (drums) play a distinct, high-energy take on moody, but melodic classic hardcore punk with occasional guitar elements that recall the new wave of British heavy metal and ominously dark post-punk aesthetics.
The band members share a musical lineage of playing in other groups before this one, including being part of Deskoncidos, The Slits, Sacred Shock, Brilliant Colors, Neon Piss, and The Grumpies. Since 2014 they have played up and down the West Coast, as well going on a six-week European tour in 2018.
In 2014 they released their debut collection of songs titled Tape and followed that up with a self-titled EP in 2016, and first album, O Horizon in 2017. Building strongly on their prior work, Silent Era unleash Rotate the Mirror, a full length that continues the outfit's tradition of blending '80s-era Norwegian hardcore-inspired stories with soulful and emotive vocals.
Silent Era don't fit neatly into the hashtag subgenres of the DIY punk scene, but their variety of classic hardcore and punk influences both fit in and stand out on any bill or playlist. The band's name originates from Hill (Brilliant Colors, The Slits) never having sung in a band until this one. She was always holding a guitar or bass, so the "silent" era ended for her upon becoming a frontperson – a role in which she excels, providing a powerful presence that has brought the band to a new level.
Silent Era's perceptive lyrics address relevant social/political issues that range from mental health care, anti-racism, and building up grassroots communities to anti-war ideals, feminism, and standing up for oneself.
The band divulge, "One of the themes of this record is examining one's own structures of creating personal safety that perhaps protected us in the past, but no longer serve us. Self-examination is vitally important in order to uncover and discard these fortifications. We must purge ourselves of these systems as well as (and in order to) do the same in society as a whole."
The album's title track, the first single out of the gate, was premiered at The Fire Note who say, "[It] starts with a loud hardcore punk guitar revving you up before the power chords of vocalist Michelle Hill takes over and sends this track into its top gear."
Second single and LP opener "Heart Lay Down" was premiered at No Echo, who comment, " a frenzied yet melodic burst of punk greatness that should whet you appetite for the rest of [the album]."
Thrasher "Say It Again" features fast-skeining guitar lines, bass line acrobatics, and hard-slammed drum strikes, and scintillating cymbal crash, all whipped up even further by smashed-together layers of Hill's passionate exclamations.
Dark post-punker "Dirge for the Pacifist" laments the death knell of the pacifist and rise of the capitalist, roiling with angular guitar jags, a stabbing bass line, and pushing drum beat, while an extremely frustrated Hill, exasperatedly asks, "How long will this carry on?"
Chugging riffs lurch through the staccato start of hardcore number "Unserving Lie," before zipping by in a hard-charging shark feeding-frenzy of zig-zagging sonics careening head-long into the void.
The pace gets even quicker on "Ecstatic Yes" as it zips by on a fleet bass line, sharply pointed guitar, and massively active drum pummeling. A gruff-sounding Hill modulates fervently over the sonic fray (including a lighting bolt slide of metal guitar), recalling Greg Graffian fronting old-school Bad Religion tracks.
Manically propulsive "The Hook" features Hill's vocals a bit clear in the mix, are she surf's over the instrumental fireworks, while album-ender "Future Dreams" speedily drives by with scrambling guitar lines and relevant lyrics about the state of our world. Hill emotes, "Humanity's dying with silent screams", but counters the negativity with a call-to-arms, "the revolution's inside you."
Order Rotate the Mirror at Nervous Intent Records' Bandcamp