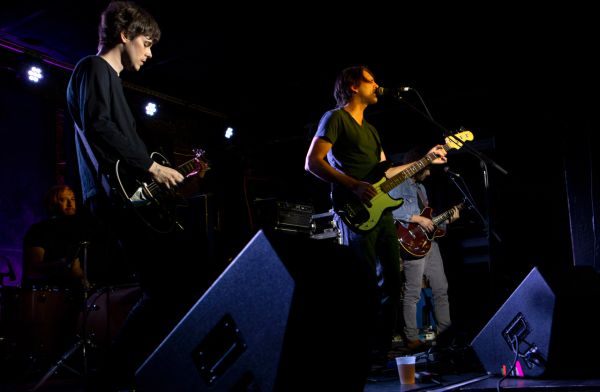 28 September 2018
Dead Heart Bloom – Photo Credit: Michelle Repiso
Following up the guitar-charged single "Lost In A Dream", which premiered here earlier this year, Dead Heart Bloom returns with the State of Mind EP, released digitally through their own recently launched Ephemeral Arts label.
This release combines the aforementioned single with 3 brand new tracks that explore broken hearts, future dreams, and the interior spaces of time and place. Musically shifting between guitar effect-laden bursts, merciful piano ballads, and subtle electronic psychedelics, the EP places Dead Heart Bloom firmly, as one reviewer maintains, "between the Beatles and 'The Bends'".
While "Lost In A Dream" displayed the band's affinity for what may be termed as 'heavy shoegaze', with soaring guitar riff atmospherics proudly on display, the EP reflects a wider sonic palette and an easy transition between upbeat urgency, delicate narrative, and brooding desperation.
"Ways To Go" pushes thundering drums against driven guitars in an economic 3 1/2 minutes that is not dissimilar in feel to the Helio Sequence. "Weight Of The World" appears to hang in mid-air, anchored by Boris Skalsky's spacey baritone and pulsing piano which is interwoven with reverberating ear candy. Final track "Forever" starts with gentle piano chords, but soon begins to seethe with electronic tension as filter-swept bass lines and creeping distorted guitar lines slowly overtake place and time.
Core members Boris Skalsky and Paul Wood produced and mixed the EP in their rehearsal/studio space in Brooklyn. Skalsky states, "The backing tracks were done over an extended period of time in various studios, including our own, but we opted to overdub and mix on our own this time as we felt a pretty direct connection to the music and had some specific ideas that we didn't necessarily want filtered through another set of ears."
Originally formed by Skalsky in the aftermath of the break-up of his and Wood's previous band, the DC-based Phaser, Dead Heart Bloom has released 3 full lengths, 7 EPs, and a string of singles.
In late 2017 the pair launched their own label, Ephemeral Arts, which has served as a vehicle for releases by Dead Heart Bloom as well as other artists' projects across a number of genres, including ambient folk, space rock, electronic, and experimental music, as well as visual and literary work.
State of Mind at Bandcamp