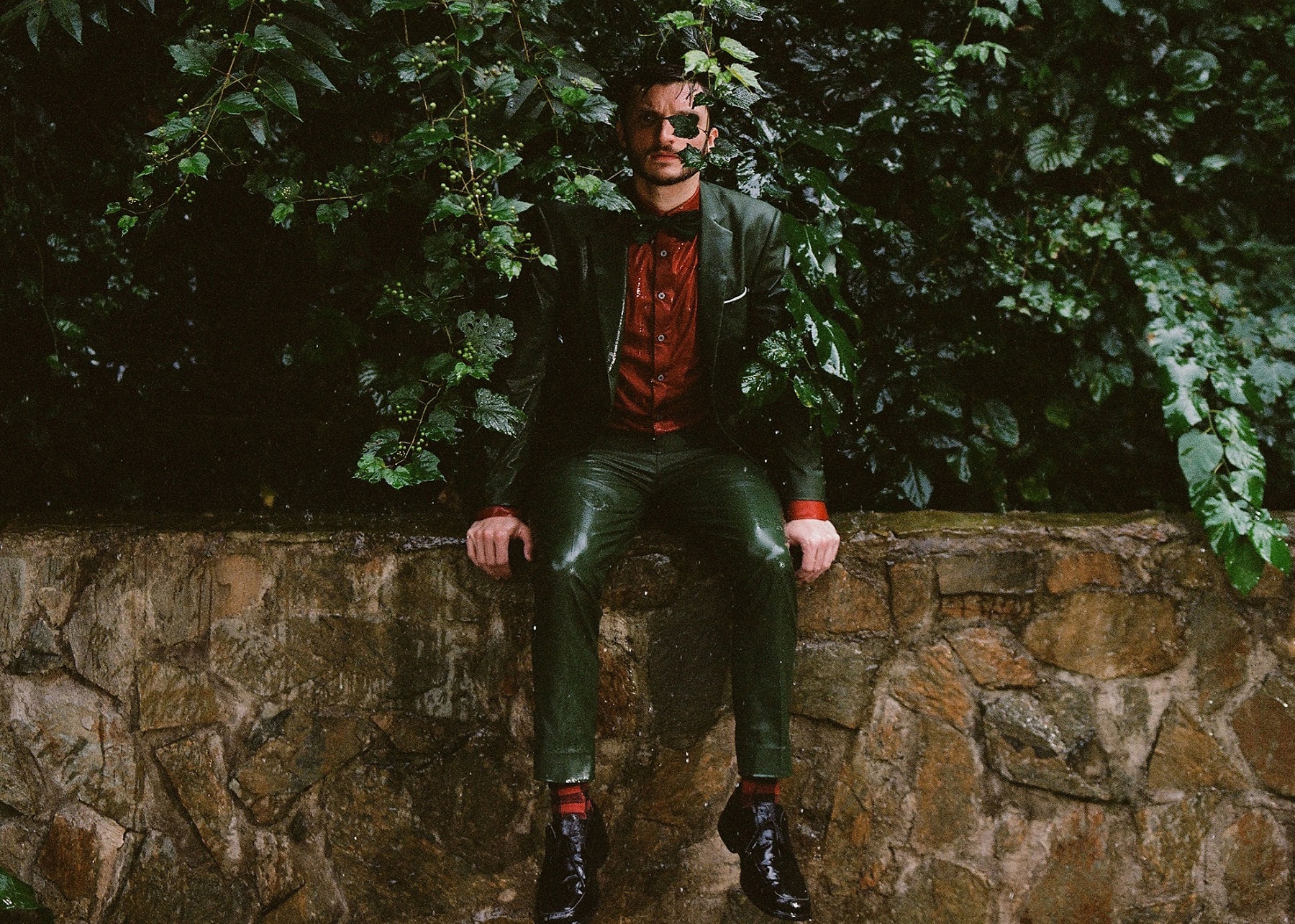 27 July 2022
State Of The Secretary mainstay Isaac Anderson experienced the type of galvanizing moment he would never forget just after a sparsely attended show. Story goes he was hanging out with his live band in an Airbnb having some real talk. They were chiding him for sitting on an album's worth of songs that were his life's work. The songwriter/singer/multi-instrumentalist/analog crusader took that moment to heart, and today announces State of The Secretary's self-titled debut.
The forthcoming album is an introspective and emotionally bold collection of songs aptly described as if "The Smiths and The Cure played music now, and took stylistic cues from 90s alt-rock." For the album, Isaac played all the instruments, sang every vocal, wrote all the songs, and kept the recordings as analog as possible. State of The Secretary was produced by Joe Reinhart (Hop Along, Beach Bunny), and recorded at Sonic Ranch Studios in Tornillo, Texas; Headroom Studios in Philadelphia, Pennsylvania; and Hopkins House Recordings — Isaac's home studio — in Zebulon, North Carolina.
"I kept psyching myself out about making this album because I cared so much about the songs," says the Zebulon, North Carolina-based artist. He continues: "And because I strongly believe in keeping everything I do as 'real' and 'genuine' as possible. This includes recording to tape with no digital editing, and extends down to keeping my videos largely digital effects free. It all seemed like a daunting task."
State of The Secretary specializes in indie rock with jangly guitar tones, dynamic drums, ethereal piano and synth passages, and honest storyteller lyrics that recall the classic country tradition. All of the music is done entirely on analog tape; using the limitations of the format as an instrumental tool to serve the song. Previously, State of The Secretary has released the single, "Toxic," and the Thrown Away EP which was also issued as a piano version.
State of The Secretary began in 2014, but actively began performing live in 2018. It's since become a buzzed about artist in the nearby Raleigh scene, bridging the gap between the thriving indie rock scene and the intimate singer-songwriter scene. Because of Isaac's multi-instrumentalist skills and the project's fluid membership as a live act, State of The Secretary appears on bills performing as an indie-rock band or a stripped-down piano and voice solo act.
Since he was 6, Isaac played piano in churches around North Carolina. He comes from a Southern Baptist household with a preacher father and a musically-oriented mother. He discovered secular music piecemeal. His exploratory journey began when his older cousin gifted him with a fully-loaded MP3 player, and continued on through perusing the internet and letting the algorithms inform his taste. "I remember downloading songs through a sketchy website and getting a surprise bill at the end of the month," Isaac laughs, recalling those formative years when he soaked in songs by artists as diverse as Tim McGaw, Bowling for Soup, and The All-American Rejects.
The album being recorded in Texas, Pennsylvania, and North Carolina imbues it with a many-moods dynamic. "The energetic songs were tracked in Texas where it was hot; the sadder songs were tracked in Pennsylvania where it was cold; and the laidback material was tracked at my home studio in North Carolina," Isaac explains. His analog obsession is a crucial component to the music. The parameters of analog recording have inspired him to be a stronger musician, come up with fresh ideas, and rise up to challenges that would be fixed by auto-tune and quantizing beats. He also favors the warm sounds of tape and the "in the moment" spirit of analog productions.
State of The Secretary opens with a grand strum of an acoustic guitar and then enveloping layers of ethereal synth ambience. This fanfare unfolds into "Sweet Dreams," a track brimming with yearning and bittersweet nostalgia. It functions as a concise vibe-setting forward to the album, showcasing its neo-new wave stylings and bold vulnerability.
Select album standouts include, "PeliCan," "Personal Therapy," and "Leave The Premises." "PeliCan" details a social faux pas with serrated alt-rock riffage and scathing vocals that turn humiliation into an outsider's anthem. The dynamically expressive, "Personal Therapy," melds punky venomousness with breathtaking ambient passages. The pent-up feelings here capture that moment when you ask someone out and they give you a copout response and it crushes your self-esteem. This song encapsulates lashing out at yourself and the one who hurt you after a romantic letdown. The album concludes with the dreamy, Smiths-styled, "Leave The Premises." Chock full of hooks and empowerment, it's a reminder to walk away from people who don't know your worth.
Exclusive Quote from Isaac Anderson:
"I have been working on this album for a long time. In 2014, I recorded the first version of this on a Tascam 688 MidiStudio. Those cassette tapes were the start of what this album eventually became. I was lucky to record this album with my producer, Joe Reinhart. His ear and sensibilities added a whole new life to these songs, and he pushed me to make them the best they could be."
"It is crazy to think that these songs are finally out in the world. This album is so special to me, and I hope it can be special for many others."