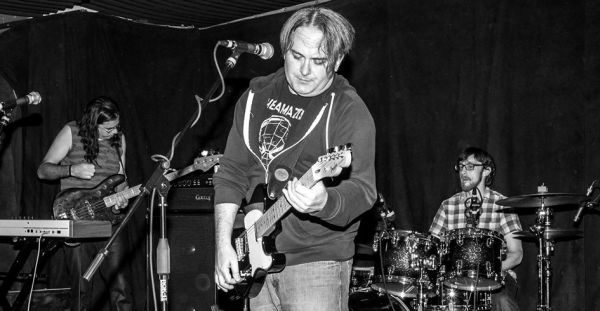 23 November 2018
Strange Monsters live – Photo courtesy of Strange Monsters
Pittsburgh-based indie rock band Strange Monsters return with their second full-length album, Strange Monsters II or How I Learned to Stop Worrying and Love the Strange Monsters, due out on November 30th via Pyrrhic Victory Recordings.
The LP title makes allusions to a famous film, and much like Dr. Strangelove, the experience is like riding an H-Bomb straight into the surface of the earth. There are hard-hitters like the lead-off track "Invertebrate", the punky love song "She Talks Me Down", and the overcharged "Pseudomania". Mellower tunes like "Satan's Xmas", "No Days Off", and "Modern War Fair" constitute the inescapable fallout amid the explosiveness of this sophomore accomplishment.
Strange Monsters (Don Strange (The Mastermind) on guitar and vocals; Mo Bajcz (The Mad Scientist) on keys, bass, and vocals; and Tim Kelly (The Magician) on drums and sometimes vocals) deliver the same witty and absurd indie rock as on their debut release, Destory All (sic).
The band explores their versatility further by pushing boundaries and collaborating more within songs as can be heard on the shared vocals of "Harveys" and the sprawling closer "Under My Own Power". Strange Monsters II zigzags and turns, speeds up and slows down, but most importantly, it provides a roadmap for navigating the ins and outs of the band's vision of current post-apocalyptic USA.
Pyrrhic Victory Recordings Website
Strange Monsters Bandcamp