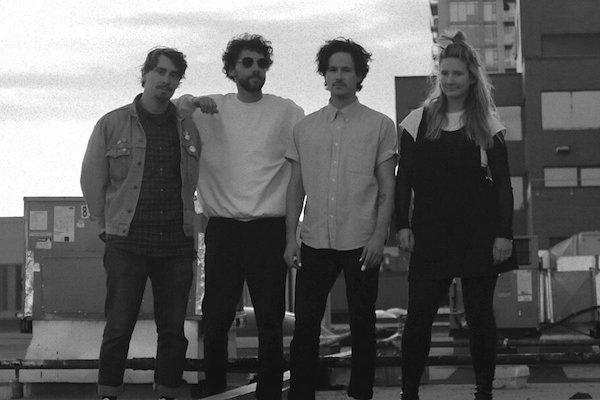 24 March 2022
Sunglaciers (Photo Credit: Purple Press/ Haley Gunn)
Tomorrow, Calgary's post-punk meets psychedelic pop outfit Sunglaciers will be releasing their new album, Subterranea, via Montreal imprint Mothland. Ahead of the album's release, the Big Takeover is happy to premiere an early album stream of Subterranea.
Listen here:
Subterranea is anchored in strange realities from our times. This new effort from Evan Resnik and Mathieu Blanchard (the pair behind Sunglaciers) is also laced with a certain optimism, perhaps the work of well-calculated psychedelic elements and headbanging rhythms, making for a most-rewarding listening experience.
Like their name might suggest, Sunglaciers' music blurs the boundaries between dazzling indie-rock melodicism and icy post-punk experimentation. On the Calgary quartet's sophomore album, Subterranea, co-produced by hometown hero Chad VanGaalen and mixed by acclaimed engineer Mark Lawson (Arcade Fire, Yves Jarvis, the Unicorns), they carve out new sonic spaces with laser focus. While past releases found the band exploring a maximalist approach, these 13 songs emerge and vanish in rapid succession, never outstaying their welcome.
"We tried to write vertically instead of horizontally," multi-instrumentalist Blanchard explained. "Our last album Foreign Bodies and the EPs that came before it had lots of long songs with different parts drifting back and forth. For this album, we decided to strip our songs down to two or three minutes with only a few ideas in each of them."
Sunglaciers initially came together in 2017 as a collaboration between Blanchard and lead vocalist Resnik, both of whom handle an array of instruments and co-production duties on Subterranea. As Blanchard completed his studies to become a doctor working in family medicine and addiction, and Resnik returned from a hitchhiking trip through France, the duo decided to form a new musical project. The past five years have found them steadily growing in popularity, sharing stages with acts such as Omni, Preoccupations and Daniel Romano, while topping the charts of campus radio stations in Western Canada.
When COVID-19 put Sunglaciers' tour plans on pause, they shifted their focus to songwriting, dedicating 40-plus hours per week to music in the early months of 2020. Subterranea was recorded in the unusual location of On Air Studios, a professional voiceover studio owned by former member Bruce Crews. This extended timeframe taught them skills in engineering, while also allowing for experiments such as swapping the instruments that each member typically plays (an oblique strategy used on Portishead's Third and David Bowie's "Boys Keep Swinging"). VanGaalen fleshed out the songs further with vocal and instrumental contributions, while the band welcomed other guests such as harpist Jennifer Crighton (Hermitess) and hip-hop/black-metal vocalist Louis Cza (Roman66, The Black Greek God).
The result is an urgent and cohesive full-length statement, drawing on influences from the high drama indie-rock of Deerhunter, Total Control's post-punk tenacity, and the woozy grooves of BEAK>.
The '90s rock sound of "Glue" shows off an entirely different side of Sunglaciers' sonic personality, merging triumphant Walkmen-esque trumpets with a ripping guitar solo from VanGaalen. "Draw Me In" toys with the formula to the greatest degree, as a sputtering Of Montreal-inspired dance beat propels Resnik's vulnerable lyrics about untying the noose of depression during his darkest days.
"The bulk of this album came together during the pandemic and the changing of gears that we had to do," says Resnik. "I was out of work and Mathieu was working half as much as usual, so we had lots of time on our hands. We flipped a switch and started playing music everyday. It's a good indicator of how we were writing at the time while we wrapped our heads around some new gear and saw what came out of it. Essentially, we took all of our favourite musical tendencies and put them together. We were listening to a lot of McCartney II at the time and loved how eclectic it was, which led to us mirroring that vibe."