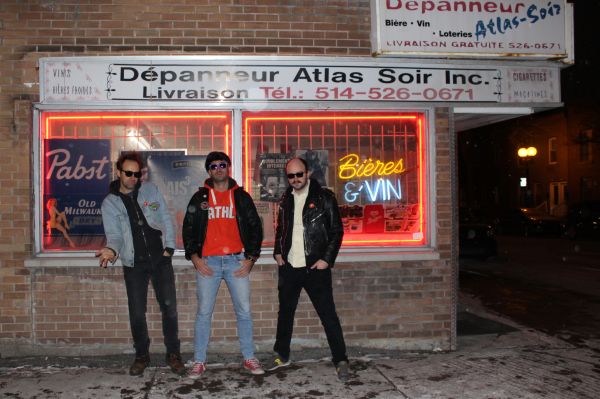 20 August 2021
Bambies – Photo Credit: Louis Beaudoin
Bambies are a 3-piece hailing from Montreal, Quebec by way of France and Costa Rica. These punk rock delinquents came running out of the garage to play fast and catchy power pop tunes.
Started from a Craigslist ad, band members Sami, Franki, and Feli recorded a cassette and a single before traveling to Mexico City to complete their debut album.
Bambies' first full length, Summer Soon arrives today via Atlanta's Spaghetty Town Records.
It was recorded by Diego Mier and Carlos Gonzales at Valenzo Studio and La Vista Studio, CDMX, mixed by Mier at La Vista Studio, and mastered by Harris Newman at Grey Market Mastering in Montreal.
Big Takeover is stoked to host the premiere of the raucous and rollicking LP in its entirety.
Summer Soon is jam-packed with twelve rousing and tuneful garage rock/punk tracks that never crack the the 3-minute mark, and will surely help to celebrate the end of a blazing-hot summer.
Bambies sounds like the sonic love child of the Barracudas,the Ramones, and the Beach Boys; a child that enjoys the thrills and spills of going on all the rides at an amusement park – and then doing it all over again.
Melodic summer pop collides with grittier rock 'n' roll and punk rock attitude and agitation on each catchy track, from reckless rompers like the sneering opener "Dirty Taint" and fun anthem "Party" to careening speedster "Summer Soon" and high-revving "Moonies."
Unstoppable energy, grimy guitar jags, lunging bass lines, flailing drum kit hits, and casually defiant vocals stamp each number with the unmistakable joy and release that only rock 'n' roll music can accomplish.
So slip on your shades, crack open your beverage of choice, and crank this record to the max!
Sami enthuses, "This is our debut LP, made with our hearts and guts. We hope listeners will enjoy all the adrenaline we have put into this."
"It was recorded in Mexico City, and the process was an adventure in and of itself. We hung out with the Ecatepec punk rockers at Casa Club Ramones and got blackmailed by cops."
"You might be able to hear the thrill in the music. We are super stoked to add another brick to the bastion of punk rock music!"
The band kindly digs into the details each of their songs below:
"Dirty Taint"
"This song is about answering the call of invisible forces, internal chemistry or whatever it is that brings you to the right place, at the right time to have a perfect night. It's an ode to dirt too. Because the perfect night is not a sanitized one."
"Summer Soon"
"Summer is always a blast for folks in Quebec. That feeling at the end of winter when the sun is out, the snow is melting and last season's accumulated garbage appears below! It's a promise for better days. The feeling is wonderful. Jamie from Pale Lips/Reta suggested we use this as the name for our LP, and Jamie only ever has good ideas. She is brilliant."
"Echo"
"In a way, echoes are mirrors of sound… I think that idea deserves a song, don't you?"
"Party"
"A great summer is nothing without a good party. Getting dressed and undressed is easy compared to in the winter too. And whether there's a pool or not, there is no shame in rocking a Speedo."
"Tear Off My Face"
"Relationships can be tough and can leave their scars. But as bad as they may be, sometimes, they're better than being alone, especially when it's cold outside."
"Stuck With You"
"When you keep very, very bad things inside to keep a social life."
"Teen Engine"
"It's about allowing the adolescent inside us to take over and get wild. We did a show once in front of a teenage crowd in a church basement. It was magic, our best show ever. All these boiling hormones exploding while we played made that night unique. The cops shutting down the place was the cherry on the sundae. The best part we keep inside as adults is what we keep alive from our adolescence. This is what this song is about. It's OK to grow up, but don't kill the teenager inside you!"
"Go Gore Boy"
"The border between horror movies and real life can be really thin sometimes."
"Runnin Through The Night"
"The world is so ugly so we choose to lose ourselves in fantasy. Running through the summer night, becoming one with it, and losing all care."
"Human Sake"
"This is about getting wild like an animal until you become one for real and quit for the boreal forest."
"RnR With You"
"It's hard to get out of bed when it's snowing, snowing, snowing. But for a little rocknroll with you, I'll do anything and everything."
"Moonies"
"It's cold in Quebec, but it's nothing compared to space. The cold won't stop us from going to space; neither will it stop me from making a life here."
Order Summer Soon at Bambies' Bandcamp