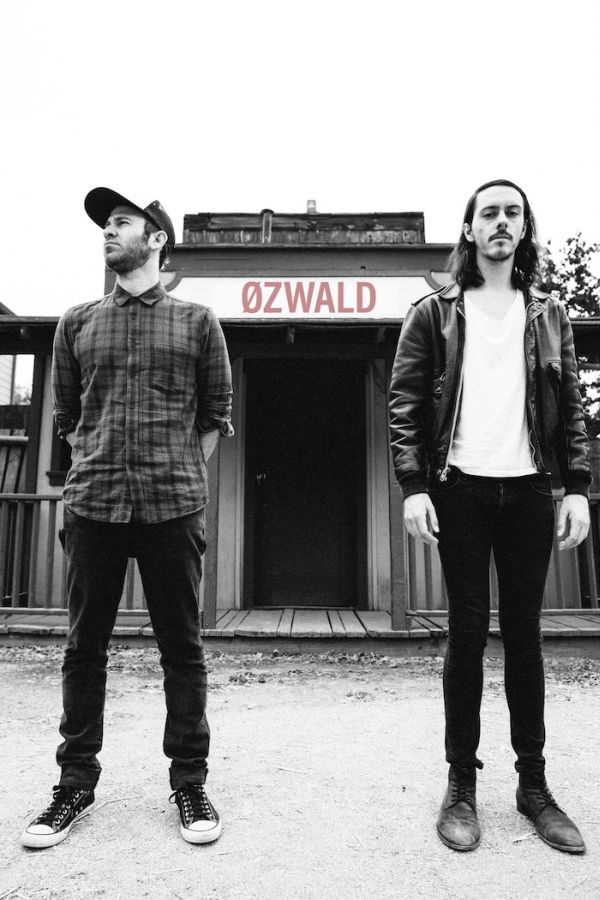 5 April 2019
ØZWALD – Photo Credit: Erick Frost
Los Angeles-based rock band ØZWALD brings together musicians Steve Stout (Blondfire, Lost Beach) and Lifehouse's Jason Wade where they add their own unique spin to the classic '60s & '70s rock and roll template.The band's debut full-length, Sweet Delirium, drops today via Allswell Records and it's a paisley-patterned, modern-vintage kaleidoscope of sound.
The Big Takeover is psyched to host the premiere of ØZWALD's first album. It was fueled by mutual heartbreak – the type of heartbreak where you "lose your lease, your car and end up living in your friend's studio", as the the duo so astutely put it. The twelve-song album was produced in only twelve days and the final product is a cathartic odyssey of rock and roll and reconciliation.
Sweet Delirium's opening track and lead single "Technicolour Sky" feels like a lost George Harrison number with languorous slide guitar, twangy progressions, and hallucinogenic lyrics that carry an air of melancholy, signaling that there's something more to this throwback rock duo.
"Dream Child", with shimmering acoustic guitars and vibrant hand claps, premiered recently at PopMatters. It winds around like a mystical desert anthem. Shrouded in reverb, the soaring vocals call out to all those who feel lost, like a beacon of light in the darkness to carry the listener to freedom.
Steve and Jason's expansive delirium becomes even hazier on the thought-provoking "As the Crow Flies." Age-old existential questions are explored in an effort to reconcile with life's mysterious ways. "Vacancy" conjures images of cowboys riding on the range in search of something more, and album closer "Always Be In Mind" showcases the duo's more contemplative side.
The duo delivers some insight into the theme and making of the record, revealing, "Sweet Delirium describes the bittersweet feeling of putting a troubled relationship behind you despite still being completely twisted about it mentally. It was under these circumstances that the record was written and recorded in just twelve days."
So take a tantalizing trip with Stout and Wade through vibrantly lively and hazily reflective aural terrain that begins and ends in a sweet delirium…
Sweet Delirium is available worldwide today, April 5th, via Allswell Records.
Facebook
Twitter
Instagram
Spotify