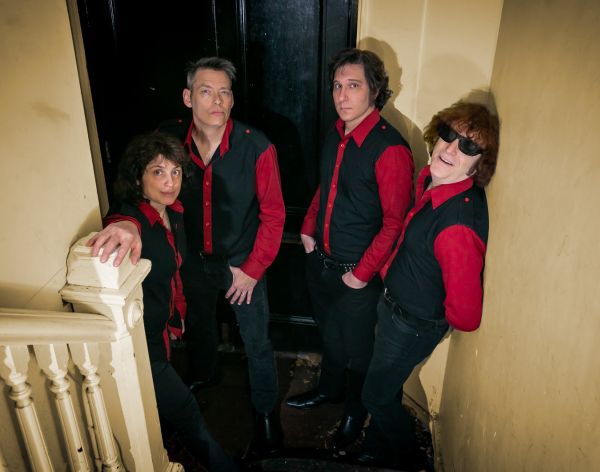 25 September 2020
Muck and the Mires – Photo Credit: Zig Criscuolo
Buckle up and prepare yourself for a rocket trip fueled on pure power pop! Boston's garage rock ambassadors Muck and the Mires return with Take Me Back To Planet Earth, a six-song EP of brand new songs all written while the band has anxiously been waiting to take their live show back on tour around the world.
Take Me Back To Planet Earth touches down today via Rum Bar Records and Big Takeover is pleased to host the premiere of the EP in its entirety.
On the EP Muck and the Mires steer their space ship back to a planet earth still reverberating with harmonic guitar tones straight out of 1964, '70s-era garage rock grit and growl, and a few songwriting tricks they learned from touring the world with legendary power-poppers like The Flamin' Groovies, and Paul Collins Beat.
Muck and the Mires achieved worldwide recognition after they were crowned #1 US Garage Rock Band by Little Steven Van Zandt on MTV. They group have performed coast-to-coast in the USA, UK, EU, South America, Canada, and Japan. They have shared bills with many of their heroes including The Sonics, The New York Dolls, Ray Davies (The Kinks), The Flamin' Groovies, The Stooges, and even a Beatle – Pete Best!
But like so many other artists, the group's 2020 world tour plans had to be put on hold. The band quickly focused their energy on writing and recording a new record. The result, Take Me Back To Planet Earth, is an EP whose tracks all celebrate Earth as it was before lockdown,
Muck and the Mires, who were previously courted by ex-Beatles Manger Allan Williams in Liverpool, recorded with rock legend Kim Fowley (the Runaways, KISS) in Hollywood and have once again teamed up with acclaimed White Stripes producer Jim Diamond for this fresh new release.
Take Me Back To Planet Earth is chock full of the band's signature dynamic and melodic sound. While not exactly a concept record, half of the songs do focus on the consequences of the current pandemic. "6 O'Clock Baby" describes the joys of self-isolation, while cheerful closing number "Zoom Break Up" cheekily targets our online social culture.
The title track roils with jagged guitars and resounding organ notes, with emphatic drum strikes that underscore the timely lyrics: "This ain't no hoax / I want to go home / Crusin' the Strip / is no longer hip / I wish I could book a trip…"
The subject of relationships forms the bulk of the other songs, as Muck and the Mires keep things tuneful and toe-tapping throughout the EP, not matter what the topic. The band delve into the backstory of the EP, commenting, "With our tour dates all canceled or postponed, we decided to become studio artists… like the 1967 Beatles! March lockdown gave us plenty of time and inspiration to write all the songs on Take Me Back To Planet Earth and an empty city to shoot the video of the title track. We initially set out to make a powerpop record but like everything we do, it ended up sounding like, well, Muck and the Mires. But the powerpop influence can hopefully be heard on "Zoom Breakup" and "She Blocked My Number"."