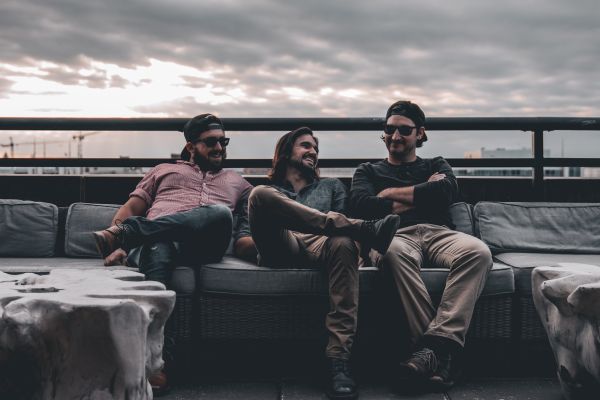 6 June 2019
The 5:55 – Photo courtesy of The 5:55
The 5:55, are a new-school indie rock band from Washington, D.C. whose super-catchy songs take on an old-school rhythm and blues influence. Today The Big Takeover has the pleasure of premiering their debut EP, The Five Fifty Five.
Tuneful and rousing tracks run the gamut from anthemic rocker "The Edge", which opens the EP, the strutting soul-pop with piquant vocals of "Slow Down", the smoothly streaming, nocturnal-vibed indie pop-rocker "Headlights", staccato-paced, but rhythmic "Marquee", and explosive alt-rocker and EP-closer "Let It Out".
The 5:55 is comprised of musicians Collin Steves (vocals, guitar), Kevin Goldman (lead guitar), Max Biskup (bass), and Ryan Steves (drums, vocals). They started performing together in Virginia, but have since moved to the D.C. region, playing loads of shows along the way, including the House of Blues, The National, Union Square Park (NYC Earth Day Fest), PIANOS NYC, DC9, Baltimore Soundstage, and at several colleges.
Singer Collin Steves told us a little about the recording process. explaining, "The record was produced by Austin Bello from Forever The Sickest Kids. There are five songs total and the thing we're excited about the most is how different the songs are from one another. Austin helped us get a tighter, more mature sound, so we hope that comes across!"
After you check out the EP, we recommend giving their "Slow Down" video a quick watch. It's another great introduction to the band.