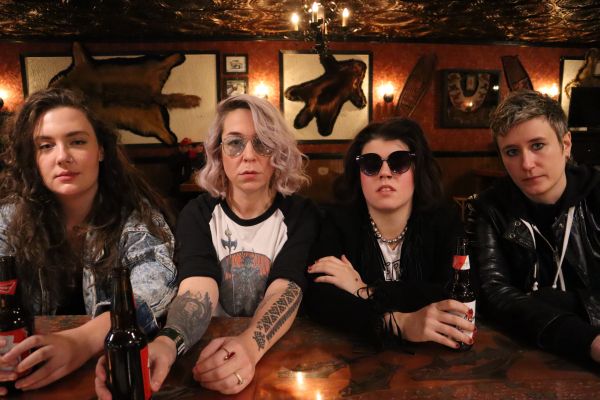 25 June 2021
The Naysayers – Photo Credit: Amber Pelland
The Naysayers are a sub-Arctic indie rock four-piece from Whitehorse, Yukon in Canada. Forged in the freezing cold, these boreal musicians blend elements of punk, pop, and alternative rock into a potent sound that feels like a punch to the gut and a warm embrace at the same time.
Led by veteran singer-songwriter Drea Nasager, her visceral lyrics, powerful vocals, and emotional intensity combine with rich melodies and unrelenting energy to create songs as spellbinding as the Northern Lights.
Nasager (acoustic guitar, vocals) is joined by Selina Heyligers-Hare on lead guitar, Paris Pick on bass, and Tara Martin on drums.
The band is officially releasing the debut self-titled album today and Big Takeover is pleased to host the premiere of the full length in its entirety.
Album opener "Queen of Nothing" is a heartfelt howler, while "Run" does just that with a propulsive guitar- and drums-driven pace. Reflective and nostalgic alt-folk number "Yesterday" radiates with wavering guitar lines, a sedate pace, and rueful exclamations.
"Tough Love" features a marching drum beat and picked guitar notes that swell into a funky groove, and "Fall" chugs along with scintillating cymbals crash and a delicate web of glistening guitars. As always, Nasager is front 'n' center with her heart on her sleeve and lyrics about tricky and tough relationships.
Rocker "Family Tree" pushes with a deep bass line, active drumming, and an unbridled Nasager letting loose with fervor. Blues-rock track "Take a Piece" lunges with a choppy drum tempo and jags of sharp guitar, as Nasager rides the crest with her emphatic vocals.
"People Like Me" is a soulful slow-burner swaying with an unhurried drum beat, low-end bass line, laid-back guitar riffs, and subdued keyboards reverberation. Nasager channels the best of the blues though her emotionally bruised vocals. Fiery album-ender "War" is a heavy, yet cathartic lament that rises on expressive rock guitar lines and impassioned vocals.
Nasager reveals some details about the creation of and meaning behind the album, relating, "It's been 6 years in the making. This is old songs and new. My best cuts as a songwriter. Most songs are recent, but there are autobiographical parts as well. Each of these songs are about my relationships with meaningful people/places/things I've encountered throughout my life in the past 5-10 years. It's meant to be listened to front to back. Out of 10 albums [that I've recorded], this is the album that I think is finally good enough. This is me at my best."
Delving into the record's themes even more, Nasager states that the overall idea is, "Taking you out of yourself, but still keep you connected to everything you can relate to. People want to see themselves in the songs and I believe I have made these moments of truth in my life, these songs, musically satisfying, emotionally relatable, and malleable as they age."
When asked about what inspired the album, Nasager comments, "I knew I had to make an album with this band. The pieces just all finally fell together. Fireworks from the start. I had been planning this album for 6 years and finally had a band where I was the driving force. Where the band saw me as the leader…. It just seemed like all the stars aligned."
Actually recording the LP was a long-term commitment due to the pandemic. Nasager explains, "We produced it with Jim Holland as our engineer. Because of the pandemic, recording was broken up over about 9 months. We tried to highlight what people like about us. Trying to capture the high energy from our live shows, but also the mastery of Selina's guitar without sounding wanky. The experience was all organized and efficient. As few overdubs as possible. Everything sounded good, but then Jonas came in as the mixing engineer and gave it a contemporary feel that completes the whole thing and made it sound great."
Asked for one final comment about the album, Nasager declares that she wants listeners to feel, "that they just found a hidden gem and they need to show it to everyone. That they can't believe this came from the Yukon. That this is something special and the songs stay with them long after listening."
Facebook
Twitter
Instagram
YouTube
TikTok
Spotify
Apple Music
Website