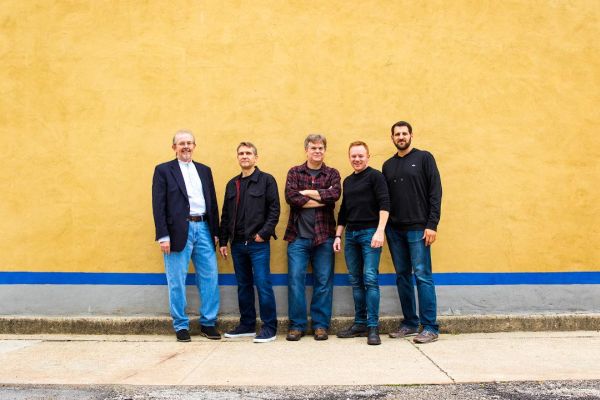 15 October 2021
The Webstirs – Photo Credit: Katie Hovland
Today Chicago-based indie pop/rock band The Webstirs release their sixth full-length album, the self-titled The Webstirs via Presmark Records and Big Takeover is pleased to host its premiere. The band have dropped five albums of clever, catchy Indie pop, and their latest follows in their footsteps – even though it boasts an eponymous title.
When asked about the name of their new album and guitarist/vocalist/keyboardist Preston Pisellini replied, "Yeah, most bands self-title their debut album, but not us. The truth is we've evolved our lineup and sound over the years and this is a unique opportunity to re-introduce the band to the world."
The Webstirs was formed in 1994 by childhood friends Preston Pisellini and Mark Winkler (keyboards, /vocals). The band's lineup then expanded to include drummer Jordan Kozer (Redwalls), bassist Gregg Juhlin (Slugs), and Doug Bobenhouse (The Sun Sawed in 1/2) on guitars and vocals.
The Webstirs had Matt Allison at the mixing and producing helm. The recording for the album differed from past LPs in that it was recorded at multiple locations, utilizing friend Andy Gerber's Million Yen Studios for basic tracks and then overdubs at Allison's Altas, as well as Doug Bobenhouse's FizzBoomPop. Some backing vocals and keyboard were recorded at band members' home studios.
The album was mastered by Justin Perkins at Mystery Room Mastering and the front cover and lyrics page feature paintings by Maryam Hassan, with layout done by Pisellini.
"For a Moment," "Lowest of the Low," "Fiction," "All is Not Lost," and "Book of Hours" were written by Bobenhouse/Pisellini/Winkler, and all other songs were written by Pisellini/Winkler.
The rousing rock- and psych-fueled power pop of the single "For A Moment" opens up The Webstirs on a dynamic tip, driving forward with urgent guitar cycles, fleet drum beats, shaken percussion, running bass line, zippy keyboard notes, and passionate vocals.
The uptempo and infectious tunes carry on from there, but spin off in different stylistic directions, like the spacey keyboards and addition of bright, yet warm horn accents on the single "Ordinary Shapes."
Piano pop ballad "Lowest Of The Low" is dramatic and heartfelt, while sweet harmonies flow through the lyrically defiant "(I Don't Want You To) Show Me The Way."
There's a bold and theatrical Queen-like thread that runs through the record, and it can definitely be found on the vibrant single "Fiction," which swirls with emphatic piano notes, crashing cymbals, pronounced bass line, rock guitar riffs, and those tuneful harmonies.
"Not Coming Back" is a kicky and pared down retro-rock number, while next-in-line "All Is Not Lost" ramps up the dramatics again, carrying a hopeful message of resilience amid life's challenges.
"Making a record the past couple years has been a tricky thing for musicians to navigate, but I'm super proud of this album, said producer and longtime collaborator Allison (Lawrence Arms/Split Single/Alkaline Trio), "Filled with the same pop hooks and sonic textures that appear on all their records, this one also benefits from the full-time addition of vocalist and guitar player Doug Bobenhouse. It is a true gem."
Order The Webstirs at Bandcamp
Website
Spotify
Apple Music
YouTube
Facebook
Instagram
Twitter