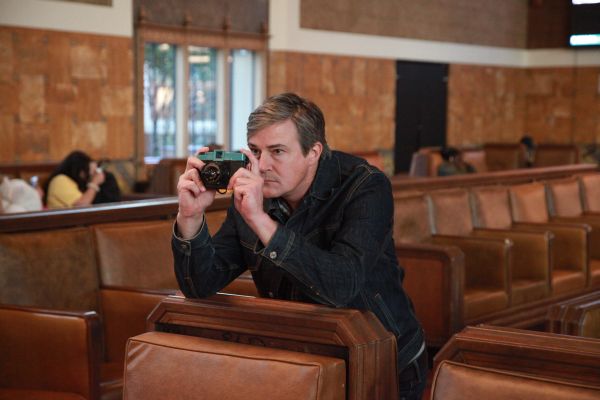 3 April 2020
Wayne Everett – Photo Credit: Terry Prine
On his new album Two Ghosts, Wayne Everett weaves together threads of ocean-haze indie-psych, delicate jangle-pop, ephemeral ambience, shimmering swirls of shoegaze, and languid ballads; all built on a foundation of tasteful, meticulously crafted songwriting. Known for his work with indie stalwarts Starflyer 59, The Prayer Chain, and The Lassie Foundation, Everett embarks on an exploration of identity on Two Ghosts: who we are, who we should be, and who helps to shape who we become.
Written and recorded over 15 years, Two Ghosts is Everett's second solo album, following the 2002 Northern Records release Kingsqueens and Big Takeover is delighted to host its premiere in full.
Two Ghosts was written, performed, and recorded in many of the places Everett has lived and traveled — nine different recording studios and apartments spanning Manhattan, Brooklyn, Los Angeles, Nashville, and Orange County — where he also performed most of the production duties. The LP was mixed by Frank Lenz (Richard Swift, The Weepies), and creative collaborators also included James Mills (Extra) and Steve Hindalong (The Choir).
"Two Ghosts captures moments from a pretty large stretch of my life," explains Everett. "Some of these songs started a long time ago with one intention but have since taken on a different character entirely. For whatever reason, I still believe in them after all this time. Other songs were finished recently and quickly. Maybe some should've stayed in the demos folder. I don't know what exactly to make of it all, and I love that. Is it a haunting, or just the voice of reason?"
Everett came up in the early-'90s post-shoegaze alternative rock scene in Southern California, playing drums with Tooth & Nail icons Starflyer 59. He both played drums and wrote for The Prayer Chain, then truly grew into his own as a songwriter with The Lassie Foundation, an LA-based band most active in the late '90s/early 2000s.
Everett wades into deep and contemplative waters, both lyrically and sonically on Two Ghosts, with erudite and searching lyrics and gently shining soundscapes. Hazy California beach harmonies ring through album opener "Pick Up The Bricks."
The laid-back guitar strum, echoed tambourine strikes, and melodic vocals on "Smallest Earthquakes" also conjure up the West Coast (specifically a Laurel Canyon-'70s vibe) as Everett drapes his gentle, but questioning vocals over the more upbeat instrumentation.
He proceeds to rock out on the restless "Blue Shadows" that shakes with jittery percussion and drums and rings out with urgent guitar lines that spiral into a fiery sky-scraping finale. The contrasting pop vocals, replete with thick layers of harmonies, ripple out with captivating allure.
Everett tackles a retro-tinged piano ballad with "Crazy Jean" as he builds a narrative about a character (real or imagined) named Jean. A pronounced drum beat and reflective piano notes rub up against phasing keyboard notes that intensify by the end of the track.
What sounds like a shrieking, alternating electronic note open "The Kite" before in moves into a more serene space on the first verse. The trippy '60s feel of certain verses is dispelled by the return of that same harsh noise – Maybe it's a wake-up call to enter into reality after experiencing a blissful dream?
Everett takes a nocturnal Western route on "Walk of Fire" with its deep guitar reverberations and accompanying acoustic guitar strum, while "Goner" spotlights Everett's yearning vocals and soft synth extensions.
"Manpower (When All The World is Singing)" is another tuneful number with a measured pace that slowly rises to a crescendo of sound, as Everett's vocals follow the curve and crests to airy heights.
Jangle-popper "Hey Skinny" is a joyful delight, chugging with a pushy bass line, tambourine sparkle, rougher guitar riffs, and a punchy drum beat. Lead single "Prisoners" ends the album on a euphoric note, reveling in bright and brisk power-pop waves that propel Everett's sweetly wistful vocals.
In light of the current crisis that has engulfed the world, Everett has reveals how his mind-set has evolved from the time of creating his album to now: "Sometimes I write songs from the point of view of a third person or conscience or some outside entity telling me what I should be doing. But in recent weeks I've learned there's nothing quite like a pandemic to shake you free of some of your existential dread. I realize that's a pretty privileged place to be coming from, as there are tons of people who live in real danger regardless of a pandemic. But I'm glad to have a better perspective now."
Bandcamp
Website
Twitter
Instagram