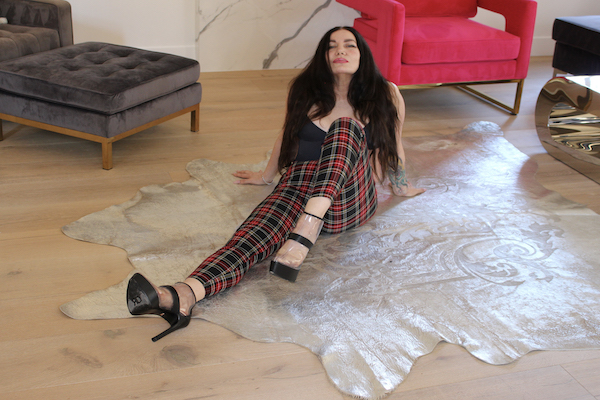 27 January 2022
Betty Moon – Photo Credit: Betty Moon
What do Royal Blood, Sade, Kate Bush, Jefferson Airplane and Depeche Mode? Well, they're all artists, of course — but they're also some of the artists who multifaceted Canadian-American singer Betty Moon chose to salute on her new collection, Undercover.
The 10-song effort includes cover tracks recorded by Moon in recent years, along with one original, "Valentine," which she wrote just in time for the upcoming holiday. Intrigued listeners can experience Moon's sultry, powerful voice atop her self-produced layers of guitars, bass, drums and keys.
Betty Moon is originally from Toronto, where she spent time building up her career and landed a major label deal that spanned many years before going solo as a songwriter and producer. Her eyes were always fixed on Los Angeles, and just over a decade ago, she relocated to the West Coast, where she heavily toured and played some of the area's most iconic venues. Moon releases her music via Evolver Music, a label and publishing company she put together to house her creative efforts, and with over 10 albums released, she assembled Undercover while preparing for the unveiling of her next studio effort. 
"I hit the studio and made _Undercover after thinking about all the great cover tracks I've recorded in recent years,"_ Moon told the Big Takeover. "This album has many of my favorite songs of all time, and I also penned some new covers to throw in the mix along with my original song, 'Valentine.' Besides the nostalgia that I vibe with these songs, I was also looking to do something different in between recording full-lengths with Betty Moon originals."
Betty Moon blends various influences of rock, pop, punk, soul and electro. While Undercover hits Spotify and Apple Music starting Friday, the Big Takeover is bringing you a preview of the stream today:
Betty Moon links:
Instagram
Website
Facebook
Spotify
Apple Music