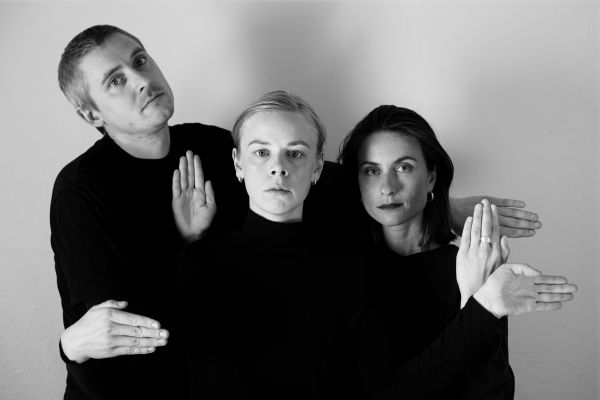 18 September 2020
Hey Elbow – Photo Credit: Daniel-Örtegren-Desai
It's no coincidence that existentialism is a Scandinavian invention. There's something about living on the doorstep of a great white abyss that prompts the question, "What does it all mean?"
From black metal's sylvan horrors and mighty Munch-ian scream, to The Knife's gnostic art-tronica, to Björk's ecologic futurism, the region's art-music has forever joined the metaphorical dots between Northern Europe's alien geography and existential unease. Sigur Ros, for all their earthly nature-worship, in truth rove the interior landscapes of the mind, while even the pop music of MØ, in its brittle, jagged forms and Andersen's sore vocals, contains a scintilla of nihilistic angst.
And so it is with cult Swedes, Hey Elbow, and their transcendent third album, We Three, which arrives today via Adrian Recordings. Big Takeover is pleased to host the premiere of the LP in its entirety.
Written as a single piece of work, this new collection focuses less on the contemporary idea of handing over a bulk of disconnected material to listeners, and instead offers up a flowing continuation that moves through a diverse field of states, moods and emotions throughout.
On paper the Malmo-located trio of Ellen Petterson (horns, electronics), Julia Ringdahl (vocals, guitar) and Liam Amner (drums) create a forward-minded form of post-rock, with a touch of dark synthwave and shades of These New Puritan's brass-laced pastoral. But such is their avant garde resolve to allow ideas and instinct and whim, rather than musical logic, guide them to completely unexpected places, not only is the end result largely sui generis, it's all but unprecedented.
But crucially, it's precisely here, in their total devotion to the musical unknown, that Hey Elbow find their existential resonance. Because when you factor in We Three's epic tone and its icy psycho-geographic atmospherics, along with its oceanic sweep and its album-spanning narrative, what you're left with is the idea of a mythical voyage in search of the creative nirvana, somewhere beyond the Arctic horizon. And to a group of true bohemians for whom art is life, this is the same as the search for life's meaning.
Self-produced by the band themselves, recorded with minimal overdubs alongside Max-Måns Wikman in Dubious, Stockholm, and mixed by Joakim Lindberg at Studio Sickan, Malmo, We Three sees the group channel a breadth of diverse and atmospheric directions that all come together to form their own signature sound.
The songs for the album were improvised in a house in the south of Sweden, in contrast with the earlier albums which were written in the rehearsal space. The band could dive into the music completely and really focus. With hours of jamming were recorded, the best ideas were chosen and given further treatment.
The band reveal, "The songs were written during plain solitude in a cabin in the countryside of southern Sweden, where we spent days just writing songs together and playing. We did everything there together [and] didn't bring anything in. Every single tone is written in that house with us three in the same room. It also reflects us as a band where we don¹t have any front person or band leader. We are We Three."
Facebook
Instagram
Twitter
Bandcamp
SoundCloud
Spotify