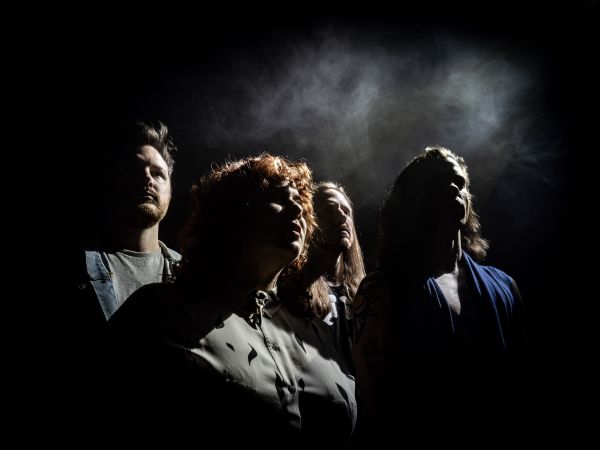 13 September 2019
Big Cheese – Photo Credit: Koon Nguy
Brooklyn-based garage rock/"grunge wave" quartet Big Cheese have cooked up a robust and rousing new album with Wild to Be Born, which is due on September 13th.
Wild to Be Born is Big Cheese's third full length. It was recorded at Holy Fang Studios in Brooklyn, produced by Oliver Ignatius (Ezra MIller, The Great American Novel, The Harmonica Lewinskies), and represents the band's self-described "grunge wave" genre.
In contrast to their previous releases, the new LP expands beyond their rock boundaries, combining their influences that range from dusky Americana to unhinged punk. Wild to Be Born takes its name from the untamed sentiment of the songs and a general feeling of being ravenous for some kind of awakening.
Formed in NYC in 2012, Big Cheese have been recording, releasing, and playing music for the last 7 years. They've taken listeners on a journey fraught with sarcasm-soaked lyrics and mock-nostalgic wails atop heavy, guitar-based walls of sound, starting with their debut LP Loose Teeth (2014), through Supersonic Nothing in 2016, and now, Wild to Be Born.
Big Cheese amps it up on the album's opening track, quickly stalking with determination through the first verse and then bursting out on an exhilarating exclamatory chorus section. It gets the blood pumping from the get-go and leads into the driving bass guitar-jumping pace of "Golden". Strict, relentless drum strikes keep the beat lively, while stinging guitars and cymbals crash add a burnished shine to the tune.
Lead single "Filthy Rich", which warns about the trappings of fame, swims in slightly twangy vocal harmonies and a subdued, country rock sound, with dual vocals singing downer lyrics like "I walk by goin' nowhere / but I'm movin' fast.". "On My Wave" picks it up with jangling guitar rock and softly to sharply winding vocals. The intensity of the guitar sound picks up as the song progresses, pushed on my the mighty drum hits.
Rampaging (and thrilling) "Nowhere Scene (Get Free)" sounds like an inflammatory cross between early Nirvana and Sonic Youth, all guitar conflagration and passionately defiant vocals shouting out, "It's a waste of time… / It's a nowhere scene / as far as I can see". Big Cheese keeps the urgency on high, diving into "Living Room" with its Kurt Cobain-like vocals, running bass line, and jagged guitar lines.
Restlessly kinetic "I'm a Sloth" is anything but, emitting a punk energy and grungy sound. The lyrics are short and edgy with vocals full of a desperate and menacing frustration, especially on the lines, "I'm fried / tongue-tied / I can't say what I mean … / I'm fallin' apart at the seams." The song circles round and round, like a rat in a cage, battered by heavy drums and on fire with deep guitar burn.
Big Cheese change the mood and tempo with the lighter, more reflective acoustic guitar number "I Won't Know". Well, that is until it blasts off with a propulsive pace and full-on instrumental press. "Blank" struts with assurance, spare at first, then bringing in the fiery to noisy guitars, high-hit cymbals, and dual raw vocals singing bleak lyrics like "I walk inside myself / and see the whole thing blank."
The band caps off the album with the comedown of "Long Way Off" that features subdued vocals and instrumentation until the grungy guitars and heavy drum beats materialize and add even more weight to the ruminative tune.
About Wild to Be Born, the band states, "This album is different from our last records, the music feels more wide-open. We stretched out into this record and I think that shows up in the music. We got born a little bit."
Catch the band live on September 21st at The Knitting Factory for their official release of Wild to Be Born.