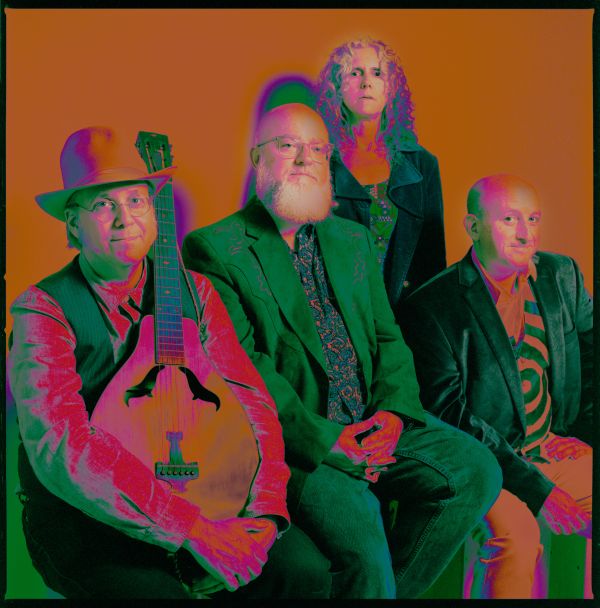 26 June 2020
The Special Pillow – Photo Credit: Jacob Blickenstaff
After twenty-five years in the music industry, The Special Pillow are right where they started: flying below the radar in Hoboken, New Jersey, creating a distinctive string-driven sound — a heady brew that encompasses concise '60s-flavored pop gems, dreamy psychedelic reveries, and a propulsive drive redolent of the antipodean indie acts of the '80s.
To commemorate their silver jubilee milestone, The Special Pillow has unveiled World's Finest, an old-school six-song EP laden with the catchy and carefully wrought songcraft that has earned them notable fans like Yo La Tengo, who covered the group's classic "Automatic Doom" in 2015.
Big Takeover is delighted to host the premiere of World's Finest today. The EP is the follow-up to the Pillow's acclaimed 2018 album, Sleeping Weird, and continues their collaboration with engineer Mitch Rackin. Featured players include bassist, songwriter, and majordomo Dan Cuddy (ex-Hypnolovewheel); charter Special Pillow member Katie Gentile (Run On, Mad Scene) on violin and viola; longtime collaborator Peter Stuart (Headless Horsemen, Tryfles) on a staggering array of guitars; and Eric Marc Cohen (Fly Ashtray, Autobody) on drums and percussion.
All the band members contribute vocals, and the celestial choir is enhanced by the dulcet tones of folk chanteuse Debby Schwartz (of P.G. Six. Psych-O-Positive, and solo renown). Multi-instrumentalist Robbie Lee supplies mellifluous embellishments on an arsenal of flutes, and ecstatic and celebratory horns on the title track are courtesy of Steven Levi and Cheryl Kingan (The Scene Is Now, 75 Dollar Bill).
Capping off the digital version of the album is a hallucinogenic remix of the single "I Woke Up" via North Carolina noisenik High Tunnels, aka Cuddy's old Hypnolovewheel colleague Dave Ramirez.
Charming, idiosyncratic, and overflowing with instant classics, World's Finest marks a new high point in The Special Pillow's storied oeuvre.
Dan Cuddy kindly revealed insightful details about each track on the EP:
"The Week in Review"
"Without consciously aspiring to an overarching concept, the World's Finest EP seems to have wound up being about self-help and self-care in song form. Sunday evenings can possess a singular combination of regret and dread that no quantity of prestige television, professional sports, beer, wine, or sangria can assuage. Perhaps the sweet vocals of Katie Gentile and Debby Schwartz, the scintillating sitar of Peter Stuart, and the groovy flute explorations of Robbie Lee can help us make it through a dark night of the soul to . . . Monday morning? Oh. Right."
"I Woke Up"
"Wish fulfillment in action, this song emerged quickly at the end of a long day of working on other things. Who hasn't dreamed that life is but a dream that we can wake up from and emerge into a better world? When and if the Age of Man does end, the human race will be very lucky to find animal friends in the Dora the Explorer/Tarzan/Mowgli/Aquaman mode. The prospect is dubious, but one can always dream."
"Serious Eyedrops"
"Most of us have friends or loved ones or selves who have faced serious health issues, and "Serious Eyedrops" is a rallying cry to not take serious challenges too seriously. A while ago, my own medical regimen involved some ultra-potent drops that, after being administered ocularly, could be tasted orally. Serious stuff, but hopefully not a serious waste of time. The prime musical catalysts for this track were some serious heroes of my musical youth who have proved to have some serious staying power, The Feelies and The Dream Syndicate. But, in the words of the immortal Bard, between thought and expression lies a lifetime. The opening bells were inspired by Herman's Hermits and "No Milk Today," and the fuzz bass part is the result of a bass summit attended by Peter Stuart, Mitch Rackin, and myself. Yes, it took three bass players to decide on the correct vibe for that one note. #teamwork."
"No Such Too Much"
"A repetitive daily routine can make us forget about how precious and fleeting life really is. Years go by at the same tempo that months once did. The second verse repurposes some lyrics from a very old Special Pillow number that never quite got off the ground, much like our protagonist, who is having a hard time being mindful of the wonders of nature in the face of midweek boredom. And yet, Katie Gentile's distorto strings, Peter Stuart's 8-string bass runs, and Eric Marc Cohen's rawk-power beat kick back against torpor and upend the dwindling hourglass."
"Monday's Puzzle"
"Daily crossword aficionados are aware that Monday's puzzle is traditionally the week's easiest. The puzzle presented here is even more basic than a simple word game: how to wake up and get out of bed. Easier said than done, and as our psychoactive coda suggests, it can be even easier to return to dreamland. The skronking, squeaking, and plonking instruments conjure the denizens of an unconscious undersea phantasmagoria, and in the end we are washed up on some friendly faraway beach."
"World's Finest"
"What makes an esoteric creative endeavor worth pursuing? What drives someone to keep on keeping on with, say, a DIY music project after decades of marginal achievement? Our title track attempts to answer those questions or at least locate the margins of the marginal. Ecstatic and celebratory horn arrangements by Steven Levi and Cheryl Kingan from The Scene Is Now turn it into a jazz funeral for indie rock, or, as one wag has put it, "Spiritualized, if they knew how to have a good time.""
Bandcamp
Website
Facebook
Instagram