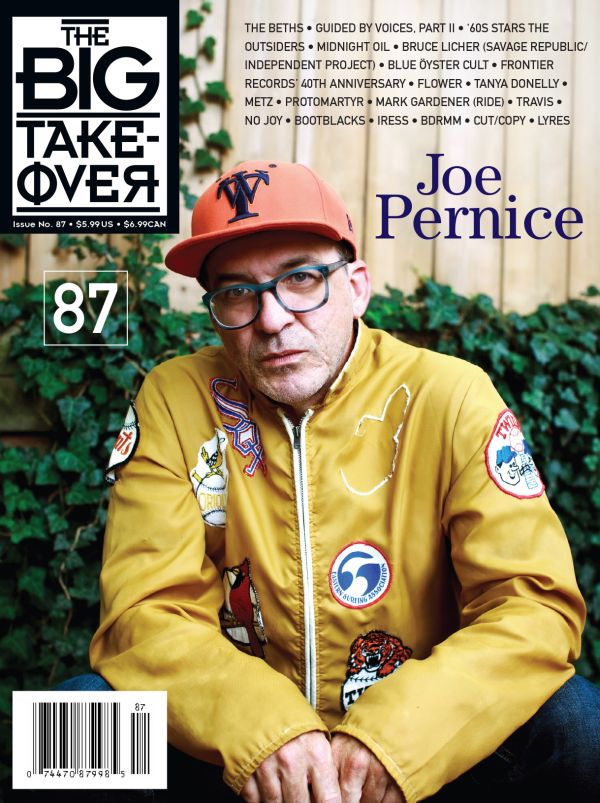 5 December 2020
Once again the big news is that Big Takeover issue #87 Fall 2020 is nearly completed from sessions in Brooklyn, NY, Helena, MT, and Oakland, CA this month!
The issue stars beloved, fantastic singer/songwriter Joe Pernice of Pernice Brothers on the cover, and features fabulous history interviews with Cleveland '60s stars The Outsiders of "Time Won't Let Me" fame, Lisa Fancher marking the 40th Anniversary of her revered Frontier Records label, the fine art letterpress album design master Bruce Licher from the bands Savage Republic and Scenic and also-incredible four-decade label Independent Project, reunited New York post-punk legends Flower celebrating their first album in 30 years, and ongoing New York institution Blue Öyster Cult.
We also have multi-page conversations with Elizabeth Stokes and Jonathan Pearce of The Beths , Robert Pollard of Guided By Voices part II, and the evergreen Peter Garrett of Midnight Oil.
Plus there are shorter chats with Throwing Muses and Belly star Tanya Donelly, Metz, Protomartyr, Mark Gardener of Ride, Travis, No Joy, Bootblacks, Iress, bdrmm, Cut/Copy, Jeff "Monoman" Conelly of Boston garage rock kings Lyres, and more!
A full description of its contents is just below.
The magazine will begin shipping any week now, so you should see it quite soon! Remember, we only come out twice a year, every Spring and Fall, so you don't want to miss one of our jam-packed 156-page issues!
(IMPORTANT!!: If you are a subscriber and you need to update your address, please tell us right away. The post office almost never forwards our issues even if you have a forwarding order in place. Quickly, send updates to me at jrabid@bigtakeover.com .
REMEMBER, since this upcoming issue #87 will soon be shipped to subscribers and those who pre-order it by itself, but will mostly be unavailable in the normal stores that carry us that are closed because of the pandemic, it is imperative if you want a copy that you order it now, so that we can put in the right number of copies for our order with the printer! It is likely we will sell out of our own office stock thereafter, and once they're gone, they're gone. And of course, it can't be impulse-bought like previous issues when you're out and about. Don't delay!
So if you want the issue, you must order it right away before the printer finishes its work, so that we can ship it directly from there in the appropriate number of copies!
You can do this by ordering just the one issue at preorder. (You can also buy any or all of our 86 back issues there that have been released over the past 40 years, too!), or subscribe if you've been meaning to, or renew your subscription if it has run out!!!! (Feel free to email me at jrabid@bigtakeover.com if you fear your subscription has run out!)
And just a reminder that there's still time for the perfect birthday, holiday, graduation, or whatever type of gift: Big Takeover magazine subscriptions and back issues! Give the gift of music appreciation and good reading to those you love! (And maybe to yourself while you're at it.)
Speaking of which, for more super gifts, here's a reminder about our t-shirts, CDs, and our other fun stuff like Big Takeover beer cozies and signed posters that might be just the thing!
That's right, Big Takeover issues, subscriptions, back issues, t-shirts in three colors, black, white, and burgundy red in thirteen sizes (including our children's sizes, 2T, 3T, 4T, and 6MO, 12MO, and 18MO baby onesies!!!!! The coolest gift ever for the kids!), and our accessories (BT beer cozies for only $5 and 12 X 18 color BT Anniversary Festival Posters for $4, which I will sign if you want me to!), as well as our related CDs (including the limited edition Springhouse CD album, From Now to OK), also make the perfect birthday or holiday gifts! Especially in this time when we are all trying to economize.
This means our t-shirts still come in three colors (black, white, and burgundy red) and are only $14 for men, $13 for women, and $10 for children's shirts and baby onesies, even including postage.
Also, all but two of our back issues are still available (if your friends like a specific band we've featured) and there's always the mega-deluxe gift, the complete set of all of our 85 issues to date, including the two that are out of print! Check the back issues page and you will see that offer.
And we are also offering used, good-quality CD copies of the three out-of-print SPRINGHOUSE CDs from 1991-1993 as well as sealed, limited edition art-package copies of Springhouse's 2008 third LP From Now to OK (See why it got an 86/100 in Paste!), as well as CDs by EVEN WORSE, LAST BURNING EMBERS, DOUG GILLARD, NON-LINEAR THINKERS and EDP!
If you want to subscribe or renew or give the gift that keeps on giving, just go to our subscribe and feel free to indicate which issue you'd like to start with (or have your friends start with); issue #85 (Vivian Girls cover), issue #86 (Guided By Voices cover), the upcoming issue #87 (Joe Pernice cover), or the Spring issue #88 (Billie Eillish cover – Ha! Just kidding. Just wanted to make sure you were still reading). It's only $20 for four issues (save 23% off the newsstand price including average sales tax), or $32 for overseas, or $26 for Canada. Or, for those in the U.S., you can send us a check made out to "Big Takeover" for $20 to the following address:
The Big Takeover
356 4th St. 2nd fl.
Brooklyn, NY 11215

Or if you want to order just issue #87, you can send us a check (or make a Paypal payment to jrabid@bigtakeover.com) for $6 to that address or order it.
Here, again, is what's in issue #87!!!!:
Interviews: Joe Pernice of Pernice Brothers (cover) * The Beths * Guided By Voices, part II * '60s stars The Outsiders * Midnight Oil * Bruce Licher (Savage Republic/Independent Project) * Blue Öyster Cult * Frontier Records' 40th Anniversary * Reunited New York post-punk legends Flower * Tanya Donelly * Metz * Protomartyr * Mark Gardener (Ride) * Travis * No Joy * Bootblacks * Iress * bdrmm * Cut/Copy * Lyres
Editorials: Rabid: "The Disunited States, and The Electoral System That Makes It Worse" * Sommer: "Rock 'n' Roll Needs To Be The Why, Not the How: Why Jack White Fails Us" * Kelson: "The Seven Best albums of the Last Decade (2010-2019) and the impact of Twitter during Covid"
CD/Vinyl/Cassette/Digital Reviews: A Certain Ratio * American Darlings * And Also the Trees * Animal Collective * Asteroid No. 4 * Albert Ayler * Bananas * Alice Bag * Bailterspace * Bats * Betwixt * Black Nite Crash * Black Watch * Blonde Redhead * Bloody Knives * Bluebells * Phoebe Bridgers * The Adam Brown * Bright Eyes * Cabaret Voltaire * Bill Callahan * Carnival Crash/Ritual Tension * Johnny Cash * Clan Of Xymox * Shirley Collins * Creedence Clearwater Revival * Cranberries * Crime * Cut Worms * Damned/Sensible Gray Cells * Deftones * Dennis Davison * Martin Denny * D.O.A. * Tanya Donelly & the Parkington Sisters * Doves * Bob Dylan * Steve Earle & the Dukes * Electorate * Roger Eno & Brian Eno * Even As We Speak * Exploding Flowers * The Fall * Flying Vipers * Fontaines DC * Foxycontin * Bill Frisell * Furious Seasons * Bobbie Gentry * Get Smart! * Gretchen's Wheel * Greg Graffin/Bad Religion * Grateful Dead * Guided By Voices * PJ Harvey * Hawkwind * Honeychain * Idles * Japandroids * Jayhawks * Jonsi *Kestrels * Steve Kilbey & Gareth Koch * Emma Kupa * L7 * L-Seven * The Last * Lemonheads * Barbara Lewis * Gordon Lightfoot * Live Skull * Lydia Loveless * Nick Lowe (with Los Straitjackets) * Lurkers * Roger Joseph Manning Jr. * Marilyn Manson * Meantime * Thelonious Monk * Moon Attendant * Thurston Moore * Mountain Goats * Moving Targets * Motörhead * Bob Mould * Muck & the Mires * Lisa Mychols & Super 8 * Willie Nelson * No Age * Angel Olsen * 100 Flowers/Trotsky Icepick/Petrified Max * Osees * Grant-Lee Phillips * The Reply * Revillos * Jonathan Richman * Rilo Kiley * Rolling Stones * Seasurfer * Sciflyer * Silversun Pickups * Slow Pulp * Slaughter & the Dogs * Smokescreens * Sparkle Division * Spits * Spoon * Tobin Sprout * Sufjan Stevens * Stray Cats * Swervedriver * Elliott Smith * Emma Swift * Taylor Swift * Television Personalities * Ten Million Lights * Richard & Linda Thompson * Throwing Muses * Johnny Thunders * Tricky * Tommy & the Commies * Toots & the Maytals * Tough Age * Claire Tucker * Twisted Nerve * Rufus Wainwright * Waterboys * Gillian Welch * Paul Weller * James Williamson & Deniz Tek * Marty Willson-Piper * Wipers * Wolfhounds * Yo La Tengo * Frank Zappa * And Hundreds More!
Lastly, thanks to our Patreon sponsors, who make our magazine and weekly radio Big Takeover Show at Real Punk Radio (all archived at The Big Takeover online) viable, without whom we'd have to stop one or both! If you'd like to join them and help support and sponsor us, it is easily done at that Patreon site, or you can always send a check to Big Takeover to our address as a kind donation. We're very grateful!
Hope you all buy the magazine now that it's out! And/or hope you subscribe, as that is still by far the best way to support the print magazines you love if you want them to keep going. It means a lot to them!
And hope you can share the gift of reading and passion for music with your family, friends, and anyone else who is interested! If we can help you, let us know!
And in this unusual time, we hope you are all well and keeping that way.
Cheers!
Jack R