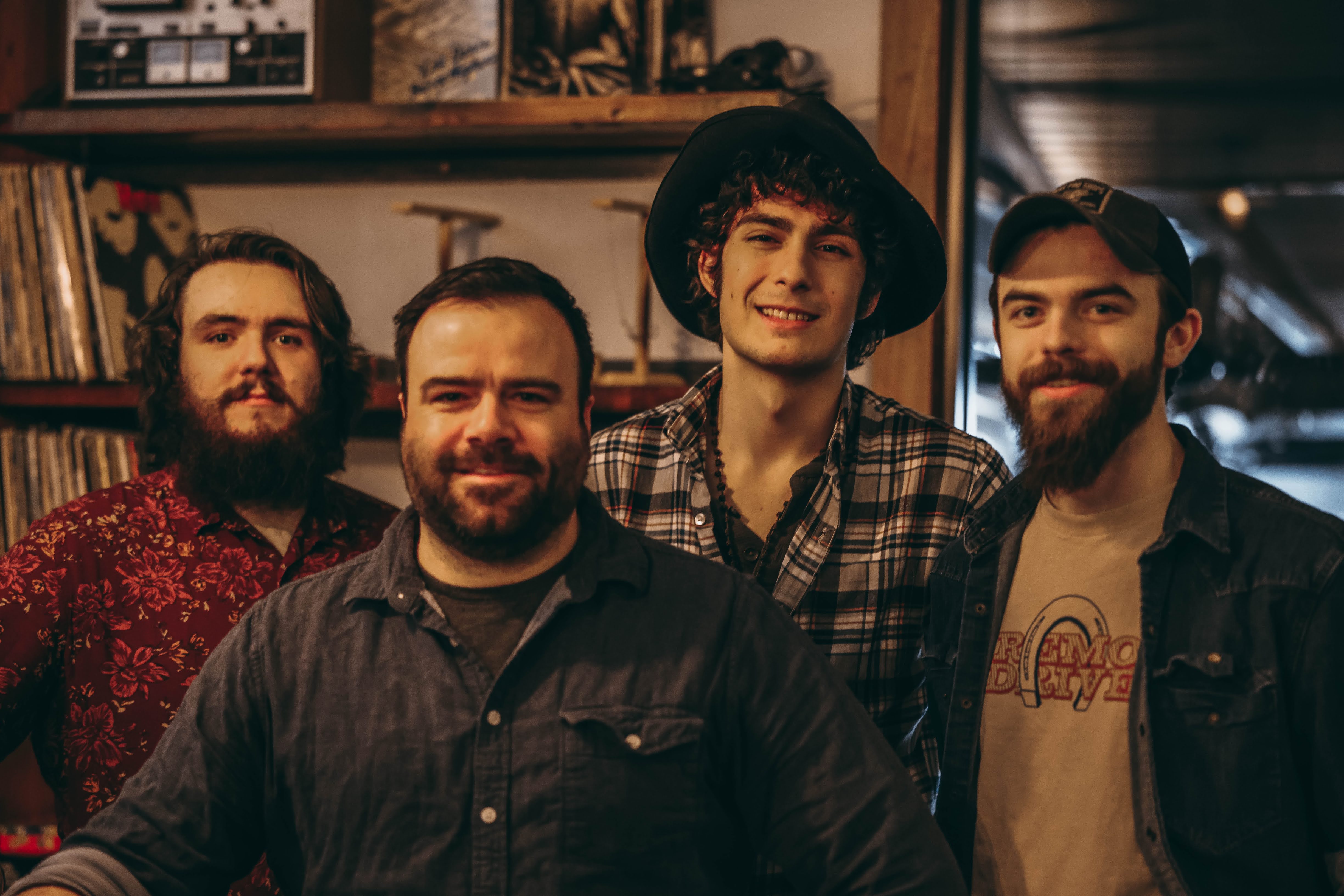 29 September 2022
The four members of Providence, Rhode Island's Jake Hunsinger & The Rock Bottom Band are self-described "history nerds to the extreme." It's no wonder this historical influence would inform a sound that often looks back to move its American roots forward in an inventive, progressive form. Jake Hunsinger (lead singer and writer), Andrew Donnelly (lead guitar), Zack Wedge (drums), and Jamie Doyle (bass) make a focused effort to understand music history to create something entirely new. His singing attempts to deconstruct and understand how country music has been sung, tracing a line from Vernon Dalhart and Jimmie Rodgers, to Hank Williams and Lefty Frizzell, to George Jones and Garth Brooks. Wedge is a jazz drummer who behaves much the same way as Hunsinger about his craft, trying to understand the cultures and history of the art of drumming as well as the people who played it. Their inspiration extends beyond musical history to a geographical and cultural blend of genres. Rollicking musical arrangements, dynamic jazz, Latin-inspired grooves, and tight hillbilly vocal harmonies support Hunsinger's high lonesome crooning to blend the traditional with the experimental. Doyle's inventive bass lines bridge the gap between Hunsinger's country writing and Wedge's blend of Latin, jazz, and New Orleans rhythms. At the same time, Donnelly's ear for harmony expands the songs into a range of lushness to high and lonesome backdrops.
Jake Hunsinger and the Rock Bottom Band releases their upcoming Americana album, Wrapped Around the Axle, on September 23 through Hobo Castle Records.
The album explores loneliness and isolation from people, complicated feelings of identity and social pressures, and the processing of pain through anger, sadness, and poor decisions, all leading to the hope of enlightened inner peace. It's not a concept album but an album of similar concepts often revolving around Plato's "The Cave."
Wrapped Around the Axle represents three years' worth of growth as a person pursuing peace of mind. The album expresses the internal conflict with the human condition, pushing and pulling between one's best and worst self. Hunsinger says, "Jake Hunsinger, at least in the context of this album, is lonely, angry, selfish, & insecure. He also tries very hard to be kind, understanding, calm, and thoughtful. When these two sides come into conflict, he gets stuck and 'wrapped around the axle.'"
The album title is also a line in "Lorelai," the lead single off the album inspired after Husinger watched Gilmore Girls with his mother. Backward pedal steel guitar hovers over jazz chords on the instrumental track, "Siddhartha," representing a spiritual journey towards peace because of or in spite of life. "Wild Horses of Wyoming" delivers a proclamation about what happens when you die or achieve peace of mind, whichever comes first. "The Day My Life Began" is a countrypolitan song that feels like a George Jones b-side with a revelatory message of hope and forgiveness. Told through a dichotomy of humor and seriousness, "Moving Without Me" is a young person's anxieties about the world around them manifest.
The album was produced by Grammy-nominated producer and engineer George Dussault, who has been with the band since their first release in 2019. Chris Brooks, Ben Richard, and Lauren King provided pedal steel, fiddle, and background vocals.
website
facebook
instagram
soundcloud
spotify
bandcamp