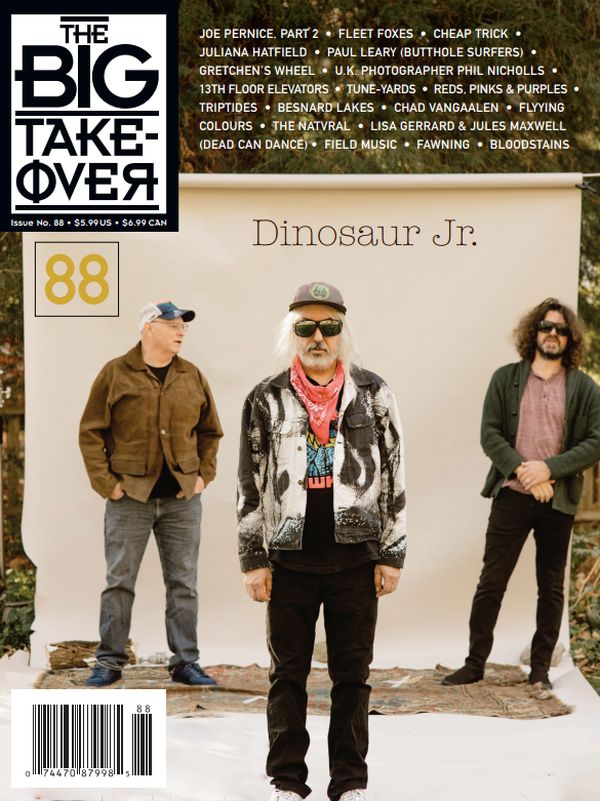 3 July 2021
Once again the big news is that Big Takeover issue #88 Spring 2021 is out on the stands now! The issue stars beloved, indie rock legends Dinosaur Jr. on the cover ('bout time!), and features fabulous history interviews with drummer Danny Thomas of Texas '60s stalwarts 13th Floor Elevators, Rick Nielsen of ageless Illinois stars Cheap Trick, Paul Leary of Butthole Surfers, and four-decade U.K. Music Photographer Phil Nicholls . We also have multi-page conversations with Fleet Foxes, Oakland's Tune-Yards , Nashville's Gretchen's Wheel, Joe Pernice of Pernice Brothers part II, and the evergreen Juliana Hatfield .
Plus there are shorter chats with Reds, Pinks & Purples, Triptides , Besnard Lakes, Chad VanGaalen, Aussies Flyying Colours, The Natvral, Lisa Gerrard & Jules Maxwell of Dead Can Dance, Field Music, Fawning, SoCal punks Bloodstains , and more! A full description of its contents is just below.
Remember, we only come out twice a year, every Spring and Fall, so you don't want to miss one of our jam-packed 180-page issues!
And since this print issue #88 is being mailed to subscribers and those who pre-order it by itself, but will mostly be unavailable at some of the normal stores that carry us that are closed because of the pandemic, it is imperative if you want a copy that you order it now! And of course, in those stores, it can't be impulse-bought like previous issues when you're out and about, so don't delay!
This you can do by ordering just the one issue at the Big Takeover store at this preorder link. (You can also buy any or all of our 87 back issues there that have been released over the past 41 years, too!), or subscribe if you've been meaning to, or renew your subscription if it has run out!!!! (Feel free to email me at jrabid@bigtakeover.com if you fear your subscription has run out!)
Or, if you would like to read it on all of your devices, the issue or subscriptions is/are also available via Flipsnack. You can now digitally subscribe, or order any of those individual issues straight from our page at FLIPSNACK
Issue #88 is at Flipsnack HERE
When you buy a digital subscription starting with issue 88, when the following issues are released, they will come to you automatically, lightning-quick, delivered into your personal Flipsnack library so you can read them anywhere on any device!
It's easy, fast, convenient, and cheap; just click on an issue and you'll see the cover page. Then click on the arrow that points rightward that takes you to the first two pages, just like the print mag, and it will ask you to buy the whole issue for $4.99 USD. (Like print subscription copies, that's a dollar less than the cover price.)
(Again, this will allow you to read it on any browser, on your desktop, laptop, phone, tablet, etc.—when hooked up to the internet, like you do when streaming music on Spotify, Bandcamp, or YouTube. After purchase, you can flip through it two-pages at a time, same as the print mag.
Purchasing via Flipsnack also allows you to read any issue instantaneously, after just a few clicks of payment info, instead of waiting for the mailman. And remember: our content in our print mag is never available on our site and vice versa.
So this is the only digital version. (And our overseas readers now have a much cheaper chance to read recent back issues without incurring crippling air mail charges.) In any case, we wanted you to remind all there is now a second option!)
And just a reminder that there's still time for the perfect birthday, holiday, graduation, or whatever type of gift: Big Takeover magazine subscriptions and back issues! Give the gift of music appreciation and good reading to those you love! (And maybe to yourself while you're at it.)
Speaking of which, for more super gifts, here's a reminder about our t-shirts, CDs, and our other fun stuff like Big Takeover beer cozies and signed posters that might be just the thing!
That's right, Big Takeover issues, subscriptions, back issues, t-shirts in three colors, black, white, and burgundy red in thirteen sizes (including our children's sizes, 2T, 3T, 4T, and 6MO, 12MO, and 18MO baby onesies!!!!! The coolest gift ever for the kids!), and our accessories (BT beer cozies for only $5 and 12 X 18 color BT Anniversary Festival Posters for $4, which I will sign if you want me to!), as well as our related CDs (including the limited edition Springhouse CD album, From Now to OK), also make the perfect birthday, or holiday) gifts! Especially in this time when we are all trying to economize.
This means our t-shirts still come in three colors (black, white, and burgundy red) and are only $14 for men, $13 for women, and $10 for children's shirts and baby onesies, even including postage.
Also, all but two of our back issues are still available (if your friends like a specific band we've featured) and there's always the mega-deluxe gift, the complete set of all of our 88 issues to date, including the two that are out of print! Check theback issues page and you will see that offer.
And we are also offering used, good-quality CD copies of the three out-of-print SPRINGHOUSE CDs from 1991-1993 as well as sealed, limited edition art-package copies of Springhouse's 2008 third LP From Now to OK (See why it got an 86/100 in Paste!), as well as CDs by EVEN WORSE, LAST BURNING EMBERS, DOUG GILLARD, NON-LINEAR THINKERS and EDP!
If you want to subscribe or renew or give the gift that keeps on giving, just go to our subscribe and feel free to indicate which issue you'd like to start with (or have your friends start with); issue #87 (Joe Pernice cover), the upcoming issue #88 (Dinosaur Jr. cover), or the Fall issue #89 (BTS cover – Ha! Just kidding. Just wanted to make sure you were still reading). It's only $20 for four issues (save 23% off the newsstand price including average sales tax), or $32 for overseas, or $26 for Canada. Or, for those in the U.S., you can send us a check made out to "Big Takeover" for $20 to the following address:
The Big Takeover
356 4th St. 2nd fl.
Brooklyn, NY 11215

Or if you want to order just issue #88, you can send us a check (or make a PayPal payment to jrabid@bigtakeover.com) for $6 to that address or order it.
Here, again, is what's in issue #88!!!!:
Interviews: Dinosaur Jr. (cover) * Joe Pernice, part 2 * Fleet Foxes * Cheap Trick * Juliana Hatfield * Paul Leary (Butthole Surfers) * Gretchen's Wheel * U.K. Photographer Phil Nicholls * 13th Floor Elevators * Tune-Yards * Reds, Pinks & Purples * Triptides * Besnard Lakes * Chad VanGaalen * Flyying Colours * The Natvral * Lisa Gerrard & Jules Maxwell of Dead Can Dance * Field Music * Fawning * Bloodstains
Editorials: Rabid: "The Riot This Time; The Two Sides Are Not the Same" * Sommer: "What My First Musical Obsessions Told Me About My Life in Music" * Kelson: "The Seven Best albums of the Last Decade (2010-2019) and the impact of Twitter during Covid"
CD/Vinyl/Cassette/Digital Reviews: Appleseed Cast * Altin Gün * A.M. Nice * Animal Collective * Greg Antista & the Lonely Streets * Arab Strap * Bad Brains * Bad Religion * Bailter Space * Chet Baker * The Band * Lou Barlow * Jon Batiste * Beachy Head * Belle & Sebastian * Art Bergman * Adele Bertei * Jane Birkin * Bitter Defeat * Bloodstains * BMX Bandits * Boyracer * Edie Brickell & New Bohemians * Cabaret Voltaire * Chills * Drew Citron * City Gates * The Clean * Cloud Nothings* John Coltrane * Conflict * Kid Congo & the Pink Monkey Birds * Alice Cooper * The Coral * Elvis Costello & the Attractions * Wayne County & the Electric Chairs * Crucifix * Dead Boys * Death Cab For Cutie * D.I. * Down By Law * Bob Dylan * Steve Earle & the Dukes * Echodrone * Jorge Elbrecht * Fleeting Joys * Fleshtones * Flyying Colours * Foo Fighters * Bob Frank * Fuzztones * Gang of Four * Marvin Gaye * Barry Gibb * Go-Go's * Gordons * Martin Gore * GospelbeacH * Grandaddy * David Gray * Guided by Voices * Guitararmy of One * Gun Club * Hangmen * Toni Halliday * Hallows * Richard Hell & the Voidoids * His Name Is Alive * Hold Steady * Iggy & the Stooges * Yusuf Islam/Cat Stevens * Bert Jansch * Janis Joplin * Kaleidoscope/Fairfield Parlour * Steve Kilbey & Martin Kennedy * Carole King * Krayolas * Ed Kuepper/Laughing Clowns/Aints * L7 * Lambchop * Daniel Lanois * Lickerish Quartet * Lilys * Love Tractor * Gary Lucas, Luxembourg Signal * Loretta Lynn * Bob Marley * Maxïmo Park * Melt Citizen * Mercury Rev * Mogwai * Mono * Mudhoney * Peter Murphy * Pauline Murray * Mute Swan * Fred Neil * Willie Nelson * New Age Steppers * Nightingales * Jack Nitzsche * NOFX * Oh-Ok * Persian Leaps * Petrified Max * Primevals * Readymades * Real Estate * Reigning Sound * Residents * Reno Divorce * Jason Ringenberg * The Roots * Sansyou * Savage Republic * Scars * Sleaford Mods * TV Smith * Songs For Snakes * Sonic Boom * Sonic's Rendezvous Band * Streetwalkin' Cheetahs * Joe Strummer * Submotile * Suburban Rebels * Justin Sullivan * Swans * Matt Sweeney & Bonnie 'Prince' Billy * Swervedriver * Tambourina * Teenage Fanclub * Deniz Tek with Scott Asheton * Telescopes * Thousand Yard Stare * Mary Timony * Too Much Joy * Tombstones in Their Eyes * Tower of Power * Tremelo Beer Gut * Triptides * TUNS * UB40 * Vapour Trails * Vibrators with Chris Spedding * Kurt Vile * M. Ward * Jane Weaver * Wedding Present * Weezer * Gillian Welch * Wipers * Bobby Womack * And Hundreds More!
Lastly, thanks to our Patreon sponsors, who make our magazine and weekly radio Big Takeover Show at Real Punk Radio (all archived at The Big Takeover online) viable, without whom we'd have to stop one or both! If you'd like to join them and help support and sponsor us, it is easily done at that Patreon site, or you can always send a check to Big Takeover to our address as a kind donation. We're very grateful!
Hope you all buy the magazine now that it's out! And/or hope you subscribe, as that is still by far the best way to support the print magazines you love if you want them to keep going. It means a lot to them – and us!
And hope you can share the gift of reading and passion for music with your family, friends, and anyone else who is interested! If we can help you, let us know!
And in this unusual time, we hope you are all well and keeping that way.
Cheers!
Jack R