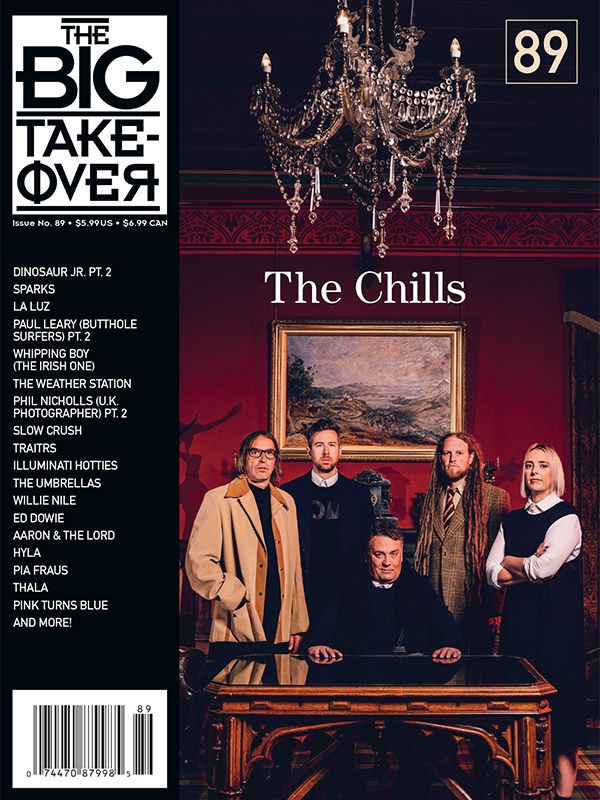 24 December 2021
Just in time for the perfect holiday, birthday, new year, or other gift, even to yourself, it's our brand new issue #89 with The Chills cover story—and, boy oh boy, is it packed with goodies!
Here's the full skinny on the new issue that's now out! It can be ordered as a standalone, or as part of a subscription starting with #89 or the previous issue #88 (Dinosaur Jr. cover) if you prefer!:
Once again the big news is that Big Takeover issue #89 Fall 2021 was completed from sessions in Brooklyn, NY and Oakland, CA and is now out! The issue stars beloved 40-year New Zealand/Flying Nun stars The Chills on the cover, and features fabulous history interviews with indie rock legends Dinosaur Jr. part 2, renowned pop/rock duo Sparks, Paul Leary of Texas shock rockers Butthole Surfers part 2, Dublin '90s post-punk icons Whipping Boy and four-decade U.K. music photographer Phil Nicholls part 2. We also have multi-page conversations with femme surf-rockers La Luz, Toronto's atmospheric folk outfit Weather Station, Belgian heavy, vespertine shoegazers Slow Crush, and compelling Canadian post-punk duo TRAITRS.
Plus there are shorter chats with Illuminati Hotties, The Umbrellas, Willie Nile, Ed Dowie, Aaron and the Lord, HYLA, Pia Fraus, Thala, Pink Turns Blue, and more! A full description of its contents is just below.
Remember, we only come out twice a year, every Spring and Fall, so you don't want to miss one of our jam-packed 196-page issues!
AND REMEMBER, this issue #89 will sometimes be unavailable in the usual stores that carry us that are closed or limited for social distancing, so it is imperative if you want a copy of the magazine that you order it from us, And of course, it is now less possible to impulse-buy like previous issues when you're out and about. Don't delay!
This you can do by ordering just the one issue #89 at preorder. (You can also buy any or all of our 88 back issues there that have been released over the past 41 years! Including the big enchilada, the complete set of all 88!!!), or subscribe if you've been meaning to, or renew your subscription if it has run out!!!! (Feel free to email me at jrabid@bigtakeover.com if you fear your subscription has run out!)
Indeed, it's the perfect new year, birthday, graduation, or whatever type of gift: Big Takeover magazine subscriptions and back issues! Give the gift of music appreciation and good reading to those you love! And maybe to yourself while you're at it!.
Again, If you want to subscribe or renew or give the gift that keeps on giving, just go to our subscribe and feel free to indicate which issue you'd like to start with (or have your friends start with); issue #88 (Dinosaur Jr. cover), the upcoming issue #89 (The Chills cover), or the Spring 2022 issue #90 (Maroon 5 cover – Ha! Just kidding. Just wanted to make sure you were still reading). It's only $20 for four issues (save 23% off the newsstand price including average sales tax), or $32 for overseas, or $26 for Canada. Or, for those in the U.S., you can send us a check made out to "Big Takeover" for $20 to the following address:
The Big Takeover
356 4th St. 2nd fl.
Brooklyn, NY 11215

Or if you don't want to use credit cards or checks but you still want to order just issue #89 or subscribe, you can send us a check (or make a Zelle, Venmo, or PayPal payment to jrabid@bigtakeover.com) for $8.50 (including postage) for #89 or $20 for a four issue subscription (you can start with #88, #89, or the next issue #90; just let us know which) to that address.
(Or, want to read the magazine digitally or give it to your loved ones that way? The new issue, and all issues #81-#88 are available for any device you like/have, and is portable, via Flipsnack! Just go to Flipsnack Big Takeover Digital Issues and Subscriptions and tap on any of the issues, and you will see an option to get one issue for $4.99 or a subscription for four issues for $15.99. A bargain, and quick and easy to order this way!)
Speaking of gifts, here's a reminder about our t-shirts, CDs, and our other fun stuff like Big Takeover beer cozies and signed posters that might be just the thing!
That's right, Big Takeover issues, subscriptions, back issues, t-shirts in three colors, black, white, and burgundy red in thirteen sizes (including our children's sizes, 2T, 3T, 4T, and 6MO, 12MO, and 18MO baby onesies!!!!! The coolest gift ever for the kids!), and our accessories (BT beer cozies for only $5 and 12 X 18 color BT Anniversary Festival Posters for $4, which I will sign if you want me to!), as well as our related CDs (including the limited edition Springhouse CD album, From Now to OK), also make the perfect birthday, or holiday) gifts! Especially in this time when we are all trying to economize.
This means our t-shirts still come in three colors (black, white, and burgundy red) and are only $14 for men, $13 for women, and $10 for children's shirts and baby onesies, even including postage.
And we are also offering used, good-quality CD copies of one of the two out-of-print SPRINGHOUSE CDs from 1991-1993 as well as sealed, limited edition art-package copies of Springhouse's 2008 third LP From Now to OK (See why it got an 86/100 in Paste!), as well as CDs by EVEN WORSE, LAST BURNING EMBERS, DOUG GILLARD, NON-LINEAR THINKERS and EDP!
(IMPORTANT!!: If you are a subscriber and you need to update your address, please tell us without fail. The post office almost never forwards our issues even if you have a forwarding order in place. Send updates to me at jrabid@bigtakeover.com)
—
Here, again, is what's in issue #89!!!!:
Interviews: The Chills (the cover) * Dinosaur Jr. pt. 2 * Sparks * La Luz * Paul Leary (Butthole Surfers) pt. 2 * Whipping Boy (the Irish one) * The Weather Station * Phil Nicholls (U.K. photographer) pt. 2 * Slow Crush * TRAITRS * Illuminati Hotties * The Umbrellas * Willie Nile * Ed Dowie * Aaron and the Lord * HYLA * Pia Fraus * Thala * Pink Turns Blue
Editorials: Rabid: "'The Problem is We Are Running Out of Hallways'; Scenes From Two Mountain West Hospitals, As a Political Party Turns Into a Death Cult * Kelson: "Josef K and McCarthy—The Unheralded Stars of British '80s Music * Lauden: "The Replacements' Sorry Ma at 40"
Live: Death Cab For Cutie * Deep Sea Diver * John Doe * Emma Swift
CD/Vinyl/Cassette/Digital Reviews: 1st Base Runner * 7 Seconds * Damon Albarn * Mose Allison * Amyl & the Sniffers * Aztec Camera * Bad Brains * Bart & Friends * Bastards of Melody * Janet Batch * Beach Boys * Beachwood Sparks * Arthur Brown's Kingdom Come * Beau Brummels * Be-Bop Deluxe * Belly * Be Positives * Beths * Bevis Frond * Karen Black * Black Swan Lane * Black Watch * Blasters * Simon Bromide * Colin Blunstone * Bomboras * Boo Radleys * Billy Bragg * Breathless * Jackson Browne * Nick Cave & Warren Ellis * Chameleons * Charlatans * Ray Charles * Checkered Hearts * Chelsea * Wild Billy Childish * Chrome * Cliff & Ivy * Clinic * Collect Pond * Shirley Collins * Alice Coltrane * John Coltrane * Connells * Josie Cotton * Couch Flambeau * David Crosby * Lucy Dacus * Db's/Peter Holsapple & Chris Stamey * John Denicola * Descendents * Donovan's Brain * Downstrokes * Bob Dylan * The Fall * Fawns Of Love * Feeders * Film School * Flamin' Groovies * Fleeting Joys * Flock Of Dimes * Fotoform * Fucked Up * Furious Seasons * Rory Gallagher * Garbage * Bobby Gillespie & Jehnny Beth * Goon Sax * Grizzly Bear * Guided By Voices * Gun Club * Steve Gunn * Robin Guthrie * Luke Haines * George Harrison * PJ Harvey & John Parish * Hawkwind * Iggy & the Stooges * Joe Jackson & Todd Rundgren * Bert Jansch * Elton John * Joy Formidable * Steve Kilbey * Lanterna * Latvian Radio * Lauds * Listening Post * Los Lobos * Low * Nick Lowe * Lusitanian Ghosts * Manic Street Preachers * Aimee Mann * Mac McCaughan * Don McGlashan * Melt Citizen * Merseybeats/Merseys * Metal Urbain * Metz * Ministry * Modern English * Modest Mouse * Mommyheads * Motörhead * Mudhoney * Muun Bato * Peter Murphy * My Bloody Valentine * Nada Surf * Naked Raygun * New Pornographers * Gary Numan * Angel Olsen * Orchestral Manoeuvres in the Dark * Outsiders * Parquet Courts * Pere Ubu * Persian Leaps * Tom Petty & the Heartbreakers * Pineapples * Pinx * Piroshka * Pointed Sticks * Pop Group + Dennis Bovell * Primal Scream * Prince * Justus Proffit * Quivers * R.E.M. * Edward Rogers * Haroula Rose * Rubinoos * Sacred Shrines * Archie Sagers * Saint Etienne * Scenics * Scientists * Seasurfer * Ty Segall * Brian Setzer * Shannon & the Clams * Skids * Sleepersound * Connie Smith * Son Volt * Sorrows * Spacehog* Space Summit * Split Single * Christopher Paul Stelling * Stranglers * Supergrass * Successful Failures * Suneaters * Super Furry Animals * SVT * Tape Waves * Tennis System * Trash Can Sinatras * Travis * Triptides * Claire Tucker * Turnsole * Twin Rains * Underwater Sunshine * U-Roy * Vapors * Alan Vega * Wallflowers * Watch Clark * Webstirs * Whimsical * Wolverton Brothers * Daniel Wylie's Cosmic Rough Riders * Thalia Zedek * And Hundreds More!
Lastly, thanks to our Patreon sponsors, who make our magazine and weekly radio Big Takeover Show at Real Punk Radio (all archived at The Big Takeover online) viable, without whom we'd have to stop one or both! If you'd like to join them and help support and sponsor us, it is easily done at that Patreon site, or you can always send a check to Big Takeover to our address as a kind donation. We're very grateful!
Hope you all buy the magazine now that it's coming out! And/or hope you subscribe, as that is still by far the best way to support the print magazines you love if you want them to keep going. It means a lot to them – and us!
And hope you can share the gift of reading and passion for music with your family, friends, and anyone else who is interested! If we can help you, let us know!
And in this unusual time, we hope you are all well and staying that way.
Cheers!
Jack R