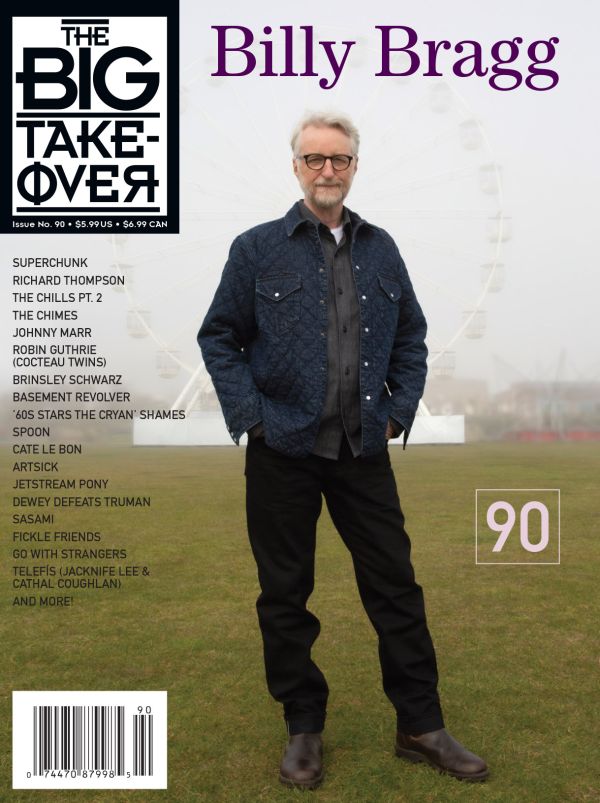 7 May 2022
Once again the big news is that Big Takeover issue #90 Spring 2022 has been completed from sessions in Brooklyn, NY and Oakland, CA! The issue stars beloved 40-year English "Bard of Barking" Billy Bragg on the cover, and features fabulous history interviews with 40-year New Zealand/Flying Nun stars The Chills part 2, indie rock icons Superchunk, ageless folk-era legend Richard Thompson, former Cocteau Twins maestro/guitarist Robin Guthrie , incredible ex- Smiths guitarist maestro/guitarist Johnny Marr, Brinsley Schwarz of the band of that name and Graham Parker & the Rumour, and '60s Chicago chart heroes The Cryan' Shames. We also have multi-page conversations with West Coast popsters The Chimes, and compelling Hamilton, Ontario Canadian band Basement Revolver.
Plus there are shorter chats with Spoon, Cate Le Bon, Artsick, Jetstream Pony, Dewey Defeats Truman, Sasami, Fickle Friends, Go With Strangers, Telefís ( Cathal Coughlan and Jacknife Lee ), and more! A full description of its contents is just below.
The magazine will begin shipping any week now, so you should see it quite soon! Remember, we only come out twice a year, every Spring and Fall, so you don't want to miss one of our jam-packed 188-page issues!
(IMPORTANT!!: If you are a subscriber and you need to update your address, please tell us right away. The post office almost never forwards our issues even if you have a forwarding order in place. Quickly, send updates to me at jrabid@bigtakeover.com)
REMEMBER, since this upcoming issue #90 will soon be shipped to subscribers and those who pre-order it by itself, it is imperative if you want a copy of the magazine that you order it now, so that we can put in the right number of copies for our order with the printer! It is likely we will sell out of our own office stock thereafter, and once they're gone, they're gone. Don't delay!
So if you want the issue, you must order right away before the printer finishes its work, so that we can ship it directly from there in the appropriate number of copies!
This you can do by ordering just the one issue at preorder. (You can also buy any or all of our 89 back issues there that have been released over the past 42 years!), or subscribe if you've been meaning to, or renew your subscription if it has run out!!!! (Feel free to email me at jrabid@bigtakeover.com if you fear your subscription has run out!)
And just a reminder that there's still time for the perfect Father's Day (sorry we're too late for Mother's Day!), Christmas, Chanukah, other holidays, birthday, graduation, or whatever type of gift: Big Takeover magazine subscriptions and back issues! Give the gift of music appreciation and good reading to those you love! (And maybe to yourself while you're at it.)
Speaking of which, for more super gifts, here's a reminder about our t-shirts, CDs, and our other fun stuff like Big Takeover beer cozies and signed posters that might be just the thing!
That's right, Big Takeover issues, subscriptions, back issues, t-shirts in three colors, black, white, and burgundy red in thirteen sizes (including our children's sizes, 2T, 3T, 4T, and 6MO, 12MO, and 18MO baby onesies!!!!! The coolest gift ever for the kids!), and our accessories (BT beer cozies for only $5 and 12 X 18 color BT Anniversary Festival Posters for $4, which I will sign if you want me to!), as well as our related CDs (including the limited edition Springhouse CD album, From Now to OK), also make the perfect birthday, or holiday) gifts! Especially in this time when we are all trying to economize.
This means our t-shirts still come in three colors (black, white, and burgundy red) and are only $16 for men, $15 for women, and $12 for children's shirts and baby onesies, even including postage.
Also, all but two of our back issues are still available (if your friends like a specific band we've featured) and there's always the mega-deluxe gift, the complete set of all of our 89 issues to date, including the two that are out of print! Check the back issues page and you will see that offer.
And we are also offering used, good-quality CD copies of the three out-of-print SPRINGHOUSE CDs from 1991-1993 as well as sealed, limited edition art-package copies of Springhouse's 2008 third LP From Now to OK (See why it got an 86/100 in Paste!), as well as CDs by EVEN WORSE, LAST BURNING EMBERS, DOUG GILLARD, NON-LINEAR THINKERS, and EDP!
If you want to subscribe or renew or give the gift that keeps on giving, just go to our subscribe and feel free to indicate which issue you'd like to start with (or have your friends start with); issue #89 (The Chills cover), the upcoming issue #90 (Billy Bragg cover), or the Fall 2022 issue #91 (Ed Sheeran cover – Ha! Just kidding. Just wanted to make sure you were still reading). It's only $22 for four issues (save 23% off the newsstand price including average sales tax), or $34 for overseas, or $30 for Canada. Or, for those in the U.S., you can send us a check made out to "Big Takeover" for $22 to the following address:
The Big Takeover
356 4th St. 2nd fl.
Brooklyn, NY 11215

Or if you want to order just issue #90, you can send us a check (or make a PayPal payment to jrabid@bigtakeover.com) for $9.00 (including postage) to that address or order it.
Here, again, is what's in issue #90!!!!:
Interviews: Billy Bragg (on the cover) * Superchunk * Richard Thompson * The Chills pt. 2 * The Chimes * Johnny Marr * Robin Guthrie (ex-Cocteau Twins) * Brinsley Schwarz * Basement Revolver * '60s stars The Cryan' Shames * Spoon * Cate Le Bon * Artsick * Jetstream Pony * Dewey Defeats Truman * Sasami * Fickle Friends * Go With Strangers * Telefís
Editorials: Rabid: "Big Lies Eat Democracy (From Here to Russia) * Kelson: "The "Twee" Myth of the Legendary C86 NME Tape * Lauden: "Power-Pop Now"
Live: The Beths * Brian Jonestown Massacre and Mercury Rev * Dream Syndicate * Eyelids * Guided By Voices * Bob Mould * Wet Leg * X and The Avengers * SXSW Festival 2022
Cd/Vinyl/Cassette/Digital Reviews: 1st Base Runner * American Darlings * A.M. Nice * Amoeba Teen * Animal Collective * A Place to Bury Strangers * Bad Brains * Bambara * The Band * Band of Horses * Anton Barbeau/The Loud Family with Anton Barbeau * Beach House * Beirut * Andy Bell * Belle & Sebastian * Jorge Ben * Best Coast * Big Thief * Bloc Party * Blossom Toes * Blushing * Breathless * Bright Eyes * Builders and Butchers * Buzzcocks * Bye Bye Blackbirds * Calexico * Mike Campbell & The Dirty Knobs * Cakekitchen/Graeme Jeffries * Zachary Cale * Chris Campbell * Cassels * Cat Power * Cathedral Ceilings * Cheap Star * Chime School * Christian Death * Circle Jerks * Citified * Charming Disaster * The Clean/Stephen * Ornette Coleman * Come * Elvis Costello & the Imposters * Martin Courtney * Cripples * Curse of Lono * Cutthroat Brothers & Mike Watt * Daisy Glaze * Karen Dalton * Deerhoof * Defecting Grey * Martin Denny * Des Demonas * Destroyer * Dickies * Diesel Park West * Dils * Donovan's Brain * Dream Syndicate * David Duchovny * Electric Prunes * El No * The Embarrassment * Roger Eno * Bill Evans Trio * Ex Norwegian * Ex-Vöid * Fabulous * Marianne Faithfull * Fàshiön * Father John Misty * 50 Foot Wave * Flamin' Groovies * Fontaines DC * Fucked Up * Gentle Cycle * Girlpool * Great Lakes * Groundhogs * Guided By Voices * Steve Gunn * Aldous Harding * The Harmony Motel * Pj Harvey * Hawkwind * Colin Hay * Michael Head & the Red Elastic Band * High Violets * The Holdout * Hoodoo Gurus * The Inflorescence * Jeanines * Jesus & Mary Chain * Kids On a Crime Spree * Killing Joke * The Knack * Kramer * Krayolas * Fela Kuti * Laibach * Lauds * Leatherface * Lilli Lewis * Linda Lindas * Loop * Love Tractor * Loyal Seas * Lumineers * Luna * M83 * Paul McCartney & Wings * Mercvrial * Moldy Peaches * Mommyheads * Mono * Suzi Moon * My Life With the Thrill Kill Kult * Ivan Nahem + Ex-Tention * Narrow Adventure * Graham Nash * Willie Nelson * Joan Osborne * Painted Shield/Eddie Vedder * Pavement * Orville Peck * Pere Ubu * Oscar Peterson Quartet * Petrified Max * Justin Courtney Pierre * Nick Piunti & the Complicated Men * Pointed Sticks * Ricky Rat * Rave-Ups * Reds, Pinks & Purples * Swami John Reis * The Residents * Rolling Blackouts Coastal Fever * Naiose Roo * Haroula Rose * Sacred Cows * Savage Republic * Sea Power * Shiva Burlesque * Shout Out Louds * The Smile * Sonic Youth/Thurston Moore * Spaceface * Jon Spencer & the Hitmakers * Spindrift * Spiritualized * Stereophonics * Cat Stevens * Superchunk * Mark Stewart * The Syn * Deniz Tek * Thirsty Curses * The Times * Tombstones in Their Eyes * Peter Tosh * Track Star * Triptides * Troggs * Tyrannosaurus Rex * Underlined Passages * Urge Overkill * U.K Subs * U2 * Vibrators * Warpaint * Waterboys * Weather Station * Wednesday * Wet Leg * Widowspeak * Hank Williams * Astrid Williamson * Amy Winehouse * Wipers * Jah Wobble * Frank Zappa * and Hundreds More!
Lastly, thanks to our Patreon sponsors, who make our magazine and weekly radio Big Takeover Show at Real Punk Radio (all archived at The Big Takeover online) viable, without whom we'd have to stop one or both! If you'd like to join them and help support and sponsor us, it is easily done at that Patreon site, or you can always send a check to Big Takeover to our address as a kind donation. We're very grateful!
Hope you all buy the magazine now that it's coming out! And/or hope you subscribe, as that is still by far the best way to support the print magazines you love if you want them to keep going. It means a lot to them – and us!
And hope you can share the gift of reading and passion for music with your family, friends, and anyone else who is interested! If we can help you, let us know!
And in this unusual time, we hope you are all well and staying that way.
Cheers!
Jack R