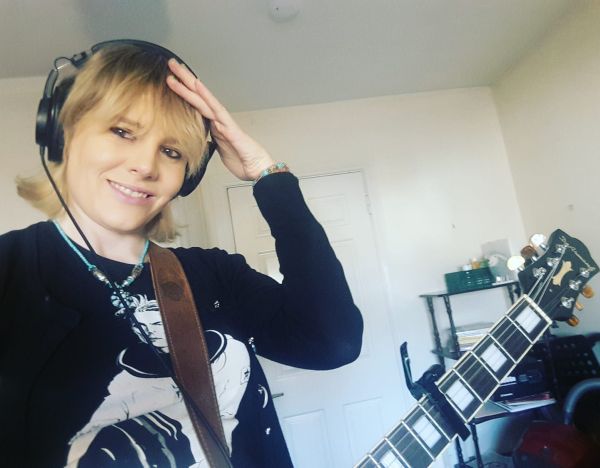 10 August 2021
Keeley – Photo Credit: Keeley
Several months ago, we introduced you to a unique and trailblazing artist from Ireland, named Keeley.
Now we have the pleasure of presenting you the new single 'You Never Made It That Far' from their debut 'Brave Warrior' EP.
This is the final video clip from this release – with film footage that is equally as dark as the lyrics themselves, which concern the final days (or even hours) of Inga-Maria Hauser, a German tourist who was murdered in Northern Ireland in 1988. No stranger to this dark thematic material, Keeley's entire debut EP is dedicated to the young subject of what was practically a cold case murder.
The electronica soundscape against which the vocals are juxtapositioned is a novel idea. The band has more of that up their sleeve though. The recently released EP put out by the London-based Undertones-backed indie record label Dimple Discs, this release follows on from the success of two previous singles. Currently the EP is doing well, with press attention covering dozens of countries and airplay in an even greater number.
The Lush-esque focus track 'The Glitter and The Glue' has received multiple spins on BBC 6 Music's Steve Lamacq show, play on SiriusXM in the USA (including legendary DJ Rodney Bingenheimer's show), as well as sitting at #1 on the Radio Indie Alliance Chart (a coalition over a hundred radio stations broadcasting on four continents) for several weeks now.
For the past five years, Keeley has been publishing 'The Keeley Chronicles' blog, dedicated to the harrowing and mystifying case mentioned earlier. She also works closely with Northern Irish police, senior politicians and Inga's legal representatives in Northern Ireland to advance and resolve this notorious case. In this way and also through her music, she is keeping the memory of Inga Maria Hauser's beautiful and mysterious soul alive.
On August 11 (9pm GMT), Keeley will be live-streamed from The Workman's Club as part of the 2021 Dublin Quays Festival via the Festival's YouTube channel and Facebook. This is the band's first live appearance of 2021 and the first with new drummer Tim O'Donovan. The festival takes place until August 29 at four different venues, featuring 16 new and established Irish acts, including fellow Dimple Discs artists Sack and Eileen Gogan, as well as The Pale, Bitch Falcon, A Ritual Sea and Birds Of Olympus.
Then, on October 13, Keeley performs as headliner at Whelan's Main Room for the first time in 2021 with support from label-mate Dragon Welding (The Wolfounds' Andy Golding). Tickets can be obtained HERE
Dimple Discs is a London label with deep Irish music connections. Founded in 2018 by The Undertones guitarist Damian O'Neill and former Stereolab publicist Brian O'Neill, it has grown to encompass such artists as Cathal Coughlan (The Fatima Mansions, Microdisney), Eileen Gogan, Kev Hopper, Dragon Welding, Nick Haeffner, Telefis, Baby Shakes and SACK.
'Brave Warrior' is now available everywhere online HERE. Fans can look forward to a full-length album in 2022, as Keeley is already recording it at Darklands Audio in Dublin, where Fontaines D.C. also recorded their first album.
CREDITS
Keeley – Vocals & Guitars
Alan Maguire – Keyboards, Guitars & Programming
All songs written by Keeley
except You Never Made It That Far by Keeley/Kiang
Published by Copyright Control
Produced and engineered by Alan Maguire
Mixed by Alan Maguire and Keeley
Recorded in Portobello, Dublin
Mastering by Anthony Chapman, London
Photography and art direction by Keeley
Front cover image by Maaike van Liempt
Keeley logo by Gav Icon Hodgins
Layout by Bruce Brand at Arthole
This record is dedicated to the memory of Inga Maria Hauser – the bravest warrior (1969-1988).
Also enjoy her previous single 'Never Here Always There' and the full debut EP below:
Keeley
Bandcamp
Twitter
Facebook
Instagram
Soundcloud
Youtube
Spotify
Dimple Discs
Bandcamp
Facebook
Twitter
Proper Music
Discogs