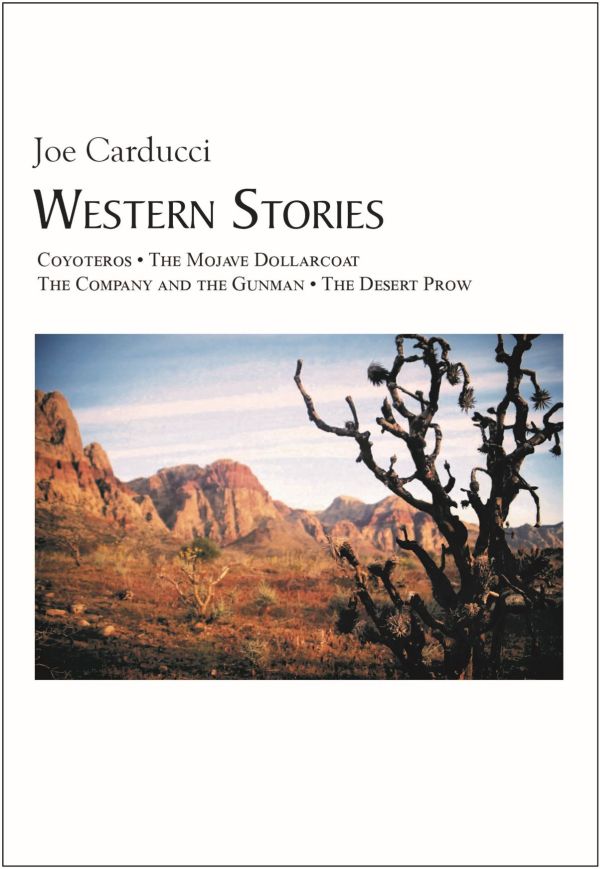 13 September 2021
Joe Carducci – Western Stories
Former SST Records co-owner and the author of critically acclaimed book Rock And The Pop Narcotic, Joe Carducci has announced the release of his newest collection of screenplays titled Western Stories.
For the last few years, Carducci has been constantly working. His recent book STONE MALE. A Requiem For A Living Picture came out in 2018. Taking a historico-analytical approach, Carducci described the formation and the development of male archetype in the cinematography.
Carducci relates that the situation pushed him creatively and he got the inspiration for four screenplays that became Western Stories itself: The Company and the Gunman – The Overland Stagecoach Co. and Jack Slade, The Mojave Dollarcoat, Coyoteros, and The Desert Prow.
"I'd spent much of the 25 years since publishing Rock and the Pop Narcotic (1991) studying movie westerns and other action films going back to 1898, so I think these Westerns in this new book are rather well-informed classically-styled westerns. I was also able to write a screenplay last year during COVID times about the late music photographer Naomi Petersen," says Carducci.
"She started with me at SST in 1982 and moved to DC in 1988 and covered the east coast bands until the mid-'90s. I was able to use the work I had done in my memoir of Naomi and SST, Enter Naomi (2007), and her brother allowed me to edit her journals to work as voice-over, which meant I didn't have to make up her voice – it's her! I'm working on a script for filmmaker James Fotopoulos currently, about pre-Columbian visitors to the Americas and thinking through an idea for a new book."
For the most part, Carducci follows the same approach and work ethics has been with him since he started Systematic Record Distribution, and later on, when he became a partner at SST Records.
Carducci states, "At SST I used to tell myself and whoever might overhear, "Lose a day, lose a week; lose a week, lose a month." Point being: Do it! I can't say that I was dying to run another company after Systematic Record Distribution, the record labels Optional, Thermidor, SST, O&O-Upland, and the video-releasing company Provisional, but at least Redoubt Press is publishing my own work."
Western Stories, like all of Carducci's writing-related output, is getting released through the author's imprint – Redoubt Press. Commenting on the DIY-nature of a publishing company, Carducci admits, "Learning to write without editors and publishers and distributors involved in the conception of the books is a true advantage content-wise. How could I wait for a never-come deal to write Rock and the Pop Narcotic or Enter Naomi? They would not have been written if I was that kind of "professional"."
Redoubt Press Website