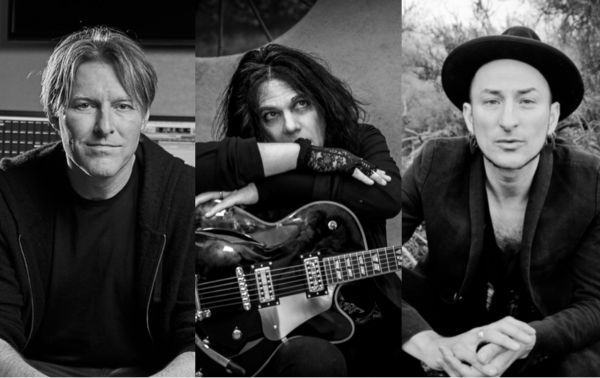 1 December 2020
Tyler Bates, Michael Ciravolo of Beauty in Chaos, and Rafe Pearlman Photo courtesy of Beauty in Chaos
While much of the Western world has slowed to a turtle pace and even the City of Angels has been forced into lockdown hibernation, Los Angeles-based alt rock / post-punk collective Beauty in Chaos has been uber-active this year, releasing a steady stream of albums videos.
From their new album Out of Chaos Comes springs forth a fantastic behind-the-scenes styled video for their latest video single 'Temple of Desire (Box Cutter Mix)'. Created by film composer Tyler Bates (and former Marilyn Manson lead guitarist) and featuring Rafe Pearlman on vocals, this is effectively the second single from the new long-play, out now on vinyl, CD and digitally via 33.3 Music Collective.
This release features re-envisions by an amazingly talented and diverse cast of producers, artists and DJs. Apart from Tyler Bates, the cast of masterminds behind this collection of tracks includes Roger O'Donnell (The Cure), Tim Palmer, Kitty Lectro, Ashton Nyte, Paul Wiley (Marilyn Manson), Julian Shah-Tayler (The Singularity), MGT, John Fryer, Bentley Jones, Johnny Indovina (Human Drama), Statik (Collide), Nick Perez (Holy Wars), Luxury Noise, Kevin Kipnis (Purr Machine) and The Phoenix Supernova, among others.
Apart from being an established producer, Tyler Bates also scored the music for Guardians Of The Galaxy, John Wick, and The Watchmen (among other films). He explains: "Music is very personal to me, so it's rare that I remix or re-imagine another artist's music. But after decades of sharing our musical experiences through friendship, I was thrilled when Michael urged me to create a new expression of 'Temple of Desire' that is truly my own. The original song is already amazing, so the bar was a high mark to reach, but Rafe Pearlman's evocative lyrics and soulful vocal performance inspired me to explore a new dimension for this track. I love both versions!"
Bates' 'Box Cutter Mix' takes the song in a more condensed and esoteric direction than the original version, which appeared on The Storm Before The Calm LP. The new version also features producer Michael Rozon (Ministry) on keys and Gil Sharone (Marilyn Manson) on drums. Directed by Vicente Cordero of Industrialism Films, this video was filmed on location at Tyler Bates' Abattoir Studio in Studio City, CA.
"I always strive so that each of our videos has a different look and feel. I love the simplicity of this video, which is further accented by Vicente's use of black & white. It is certainly the polar opposite of our last video 'A Kind Cruelty' (The Sinistrality Mix)'," says Michael Ciravolo, curator of Beauty in Chaos.
"I've known Tyler since his days in Pet and he quickly became one of my best friends. Along with BIC producer Michael Rozon, Tyler is one of the best all-around musicians I know. It has been a joy to watch him become one of the biggest composers in film and television. I give them both all the credit of introducing Rafe Pearlman to our BIC Family. I didn't know what to expect from Rafe in this video as a performer, but he proved to be quite expressive and engaging. I think this video captures an element of fun in making music. Hell, even the name of the remix is a bit of an inside joke! About the next video, it will be out before the holidays and the pendulum will swing 180!"
The full 27-track collection (available on CD) is deep and diverse and includes a few surprises. Ashton Nyte's gorgeous acoustic version of 'The Outside', Cinthya Hussey (whose beautiful painting also graces the cover) does a beautiful rendition of 'The Delicate Balance Of All Things', and an acoustic/mellotron drenched 'Memory Of Love' from Human Drama's Johnny Indovina. You will even find some new and fantastic guitar moments from The Mission's Simon Hinkler, Richard Fortus (Guns N' Roses), Mark Gemini Thwaite (Peter Murphy. The WonderStuff) and Nick Johnston.
Out Of Chaos Comes… is now available on vinyl (8 tracks), CD (14 tracks) and digitally (27 tracks). The full digital version is included with an LP / CD purchase. Limited-edition colored vinyl also includes an exclusive cover-art poster, signed by the many of the artists involved. It can be ordered in its various formats at Beauty in Chaos WEBSITE
VIDEO CREDITS
Rafe Pearlman: vocals
Michael Ciravolo: guitar
Tyler Bates: guitar, synth, guitarviol
Tish Ciravolo: bass
Gil Sharone: drums
Video directed by Vicente Cordero / Industrialism Films
Single remix created by Tyler Bates
Song written by R. Pearlman / M. Rozon / M. Ciravolo
Get a taste of the new album with this appetizing teaser:
Have a listen to the full album here
Keep up with Beauty in Chaos
Website
Bandcamp
Facebook
Twitter
Instagram
SoundCloud
Blog