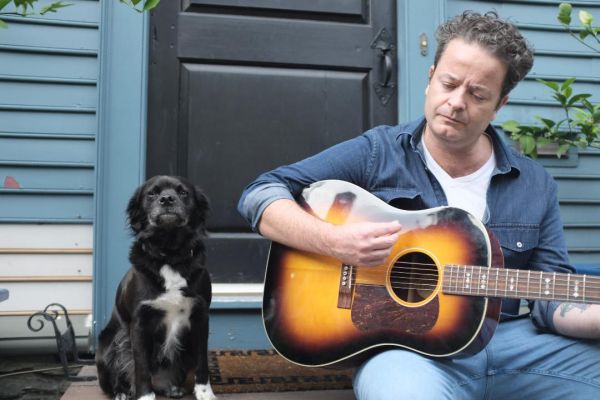 28 July 2021
P.J. O'Connor – Photo Credit: Mimi Forer
NYC-based troubadour P.J. O'Connor first made a name for himself as a sticksman and percussionist, starting out with jammy Long Island punksters The Bogmen (signed to Arista Records and produced by Talking Heads' legendary Jerry Harrison), and then in the dance/punk scene with Radio 4 (DFC, The Juan McLean).
After being a session guy for various alt-rock artists like Gordon Gano from Violent Femmes, O'Connor packed up his guitar and busked across Ireland by himself.
Upon return, he collected the eclectic bouquet of songs he had written and transformed them into his debut solo album, Television's Golden Age, which exudes a quirky but heartfelt, poetic craftsmanship that would make both Tom Waits and Tom Verlaine proud.
Big Takeover is happy to share with you today O'Connor's newest video for "Summer Squall," which is his third release from the album, and also his third collaboration with Emmy® Award-winning cinematographer Chris Cassidy (Dennis & Lois, Keanu Reeves).
The song grounds itself in a rootsy percussive beat that builds up to gorgeous harmonies and a graceful, lilting banjo courtesy of Billy Ryan (The New Pornographers), which provides the perfect backdrop for O'Connor's sweetly plaintive voice as he sings with an honest self-awareness born from experience.
O'Connor explains further about his inspiration behind the song as well as the vivid, New York-centric video, stating, ""'Summer Squall' is a story of finding appreciation for those rare moments when we are neither worried about the future nor frustrated with the disappointments of the past. We're simply expressing the peace and serenity of just living in the moment."
"Ultimately, the song and video are about a city dweller's first breath of fresh air after taking a trip to the ocean shore. The challenges and burdens of life give way to the beautiful collision of nature and inspiration, resulting in a new feeling of hope while both honoring the past and learning to let it go."
The striking, but almost soothing visuals reflect New York's colorful ocean bays while also telling the story of a painter who is coming to grips with having lost a loved one long ago in the 9/11 terror attacks, eventually finding herself in a place of gratitude.
The video was filmed on location at 3 World Trade Center in the city, as well as at Jamaica Bay and Broad Channel on Long Island.
Scenes of a jauntily attired O'Connor in a small boat rowing near the ocean shores are an earthy, but equal balance to the soaring city shots awash in dreamy sunlight. And the abstract painting is real, too, although not actually being done by the actress on screen (Chrisie Penna), but created by NYC-residing fine artist Kerry Irvine.
All in all, "Summer Squall" is a refreshing, poignant video and song for those of us who might like a bit of catchy, cool melancholy to balance out these steamy and sun-drenched days.
And if you happen to be in NYC tonight, head on down to Rockwood Music Hall and catch the video release party for "Summer Squall" with O'Connor performing songs from Television's Golden Age at 7pm on Stage 2.
Stream/download "Summer Squall" HERE
Stream/download Television's Golden Age HERE
Website
Instagram
Facebook
Twitter
Spotify
YouTube