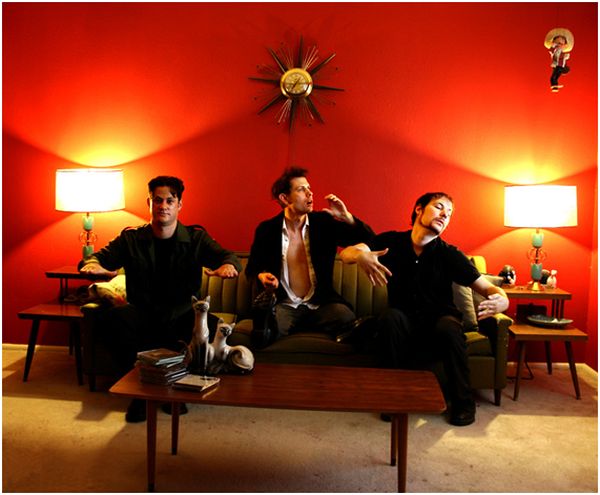 26 November 2019
Audra – Photo Credit: Jaymz Todd
Glam-infused post-punk outfit Audra have released their new long-play Dear Tired Friends. This is the first album in 10 years for the Arizona-based band, once a fixture on Projekt Records.
The album deals heavily with loss and letting go. It's about shedding the past and moving on from tired relationships and situations, about closure and slamming some doors shut. Dear Tired Friends is a testimony of the effect the last decade had on each band member.
Formed in 1991 in Mesa, Arizona, Audra is primarily Bart and Bret Helm – two brothers originally hailing from Chicago – joined by drummer Jason DeWolfe Barton. This album also includes a guest appearance by Mike VanPortfleet of Lycia on lead guitar for the song 'Planet of Me'.
Comprised of 10 tracks, this album was mastered at The Cage Studios in Coventry, UK by Martin Bowes of Attrition, well-known for his work with Nine Inch Nails, Psychic TV, and Steven Severin of Siouxsie & the Banshees. Earlier, Audra ran a successful Indiegogo campaign to assist in the production costs of the CD and vinyl editions. Mixing was completed in July 2019.
What started as a 4-song EP recording session quickly turned into something much larger for Audra. When assembling demos for this release, the brothers discovered a virtual time capsule – the song 'Wish No Harm', which they had recorded on cassette tape with a Fostex 4-Track tape machine back in 1993. In June 2018, Bret finally completed the song, adding lyrics and melody to the original demo. 26 years later, the song would be released as the first single off 'Dear Tired Friends'.
"Our music is informed by all of the bands that we grew up with – the stark landscapes of post-punk mixed with the tribal grandeur of early Jane's Addiction and the poetic eclecticism of Lou Reed's Velvet Underground," says Bret Helm. Audra's sound and aesthetic have also been influenced by Joy Division, David Bowie, U2, James and Tom Waits.
This is Audra's first release since their 2009 album Everything Changes. It is also the band's first foray into DIY production and distribution. The band's first two albums – Audra (2000) and Going to the Theatre (2002) – were released through Projekt Records.
Audra has collaborated with Grammy-nominated producer Robb Vallier and Robin Wilson (Gin Blossoms), as well as recording in his studio Uranus Recording. They have toured or otherwise performed with Peter Murphy, The Mission UK, AFI, She Wants Revenge, Gene Loves Jezebel, New Model Army, and Nitzer Ebb.
Audra's Bret Helm also made guest appearances with the dark cabaret band Black Tape for a Girl on two albums, several compilations and dozens of live shows. He also recently recorded the Pretty Haunted Things album with dark folk collective Unto Ashes, also performing for the headline slot at 2019's illustrious Wave Gotik Treffen Festival in Leipzig.
Released digitally on August 23, 'Dear Tired Friends' is also available on limited edition CD (300 copies) and vinyl (100 black, 50 smoky and 150 clear copies) as of October 18th of this year. Copies can be ordered directly from Audra's own Bandcamp.
TRACK LIST
01. Tired Friends
02. Wish No Harm
03. Another Fallen Petal
04. Drinking Yourself To Sleep
05. Sunglass
06. Planet Of Me
07. Sliding Under Cars
08. Fireflies
09. 1987
10. Falling
CREDITS
All lyrics by Bret Helm
Bret Helm – Vocals, Bass, Guitar, Synth
Bart Helm – Guitar, Synth
Jason DeWolfe Barton – Drums, Percussion
Mike VanPortfleet of Lycia (Projekt Records) – guest lead guitar on 'Planet of Me'
Album mastering by Martin Bowes at The Cage Studios (Coventry, UK)
Engineered and mixed by Joshua Rozenboom at SER Soundworks in Chandler, AZ
Assistant Engineer: Cortez Rodriguez
Keep up with Audra
Website
Bandcamp
Facebook
Twitter
Instagram
YouTube
Spotify
iTunes