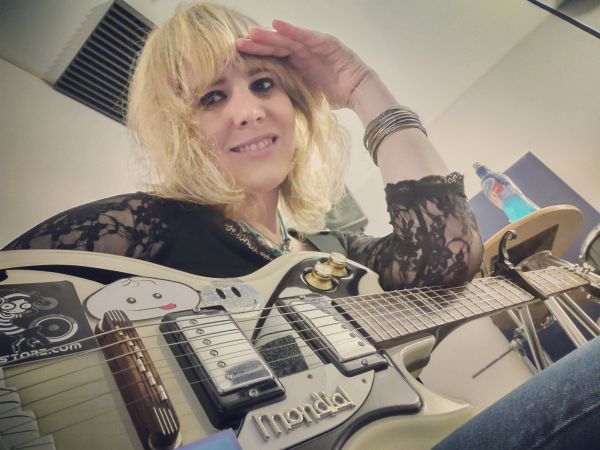 18 May 2021
Keeley – Photo Credit: K. Moss
While she may have taken the Irish indie scene by storm in the past half-year, a feat that is remarkable considering the lack of backing by any label and also the impossibility of artists' touring at the moment, Irish psychedelic power pop artist Keeley and her outfit has announced that they have signed to Dimple Discs, an independent label based in London, but with strong roots to the Irish underground music scene.
It's no wonder that the bridge across the channel is being built in this way, considering how incredibly talented and unique Keeley has turned out to be in a universe of less brilliant stars.
Keeley is certainly a refreshing discovery. It's only a matter of time before she's conquering earbuds and capturing hearts on this side of the Atlantic.
Dimple Discs was founded in 2018 by Damian O'Neill of The Undertones and Brian O'Neill. Although it initially was intended as a vehicle for Damian's solo projects, it has since expanded to include such artists as The Undertones, Cathal Coughlan, Kev Hopper, Eileen Gogan and Nick Haeffner with forthcoming archive material from '80s and '90s alternative rock legends Microdisney and The Fatima Mansions.
The label has stated, "We are thrilled to have Keeley joining us as she is an exciting new talent – we were hooked from the opening bars of "The Glitter And The Glue". Welcome to the family, Keeley!"
What to expect from Keeley – the release of her debut Brave Warrior EP on June 18 digitally, plus a physical release for this to occur in autumn 2021 and the subsequent release of her debut long-player coming in 2022, which is currently being recorded at Darklands Audio in Dublin, where modern Irish rock legends Fontaines D.C. also recorded their first album.
Hailing from Dublin and fronted by vocalist and guitarist Keeley, the band includes Marty Canavan on keyboards, Martin Fagan on bass, and Pete Duff on drums.
For this EP, the quartet worked with a team of qualified experts. Produced and engineered by Alan Maguire, who mixed it together with Keeley, this EP was mastered by Anthony Chapman (Franz Ferdinand, DEVO, Cathal Coughlan, Jesus Jones, Wolfhounds).
Lead track 'The Glitter and the Glue' is a blistering buffet of psychedelic rock, post-punk, and the fuzzier, more frantic end of the dreampop spectrum. The shortest, fastest, and most ecstatic explosion of energy released by Keeley to date, this is a hook-laden, melodic monster of a song with very unusual lyrical content.
Against a romping drum beat, choppy guitar jags, and sweeping pace, Keeley sings in an intriguingly androgynous and almost dispassionate tone. The track is highly catchy and restless, stirring up a moody state of flux in the listener. And the cryptic lyrics about the life of a mysterious person ("What a life / What a mess") sparks fanciful imagery in the mind.
The single is already receiving Irish airplay from Newstalk FM, Radio Nova, 98FM and has now been added to the playlists of Dublin City FM, KCLR 96FM and 8Radio.
The Brave Warrior EP demonstrates the multi-faceted songwriting smarts of one of Ireland's most talked-about emerging bands, ranging from this upbeat lead track to more spacey, darkly-dreamy electronic offerings, drenched in drama and soaked in sadness. Keeley pursues an unusual conceptual thread, conceived several years ago, focusing on German tourist Inga Maria Hauser, whose murder in Northern Ireland in 1988 remains unsolved.
For the past five years, the band's frontwoman and songwriter Keeley has been publishing a blog with a devoted global following – 'The Keeley Chronicles' – documenting the many facets of this unique, harrowing and mystifying case, correcting the falsely published details of Inga's life and piecing together what really happened in the final days on her trip. By working in close quarters with Northern Irish police, senior politicians and Inga's legal representatives in Northern Ireland in concerted efforts to advance and resolve this notorious case, she is keeping the memory of this beautiful and mysterious soul alive.
"Inga is the subject of everything I write. From the moment I first read about her exactly five years ago now, her cause became a burning obsession for me. Since that day I haven't written a song about anyone or anything else… I consider myself a concept artist and my purpose is to give Inga a voice," says Keeley.
In October 2020, Keeley released the debut single 'Last Words', topping Newstalk FM's airplay chart, getting playlisted by RTE Radio 1 and 8Radio, and attracting support from radio in multiple countries. Picked by legendary broadcaster Tom Dunne as one of his 'Top Tracks of 2020', it was listed at #12 in Radio Nova's 'Top 15 Irish Songs of 2020' and, upon its release, she became the subject of full-page articles in the Belfast Telegraph and Derry Post newspapers, a frankly unheard-of feat for an indie artist on their debut single.
The Brave Warrior EP can be pre-ordered, with 'Glitter and The Glue' being offered for immediate download, via Bandcamp
Also visit 'The Keeley Chronicles' HERE
TRACK LIST
1. The Glitter and the Glue (2:30)
2. Last Words (3.10)
3. Never Here Always There (2.30)
4. You Never Made It That Far (3.30)
CREDITS
Keeley – Vocals & Guitars
Alan Maguire – Keyboards & Programming
All songs written by Keeley, except 'You Never Made It That Far' by Keeley/Kiang
All songs published by Copyright Control
Recorded, produced & engineered by Alan Maguire in Portebello, Dublin
Mixed by Alan Maguire & Keeley
Mastering by Anthony Chapman, London
Front & rear cover artwork by Maaike van Liempt
All photography & inner sleeve artwork by Keeley
Keeley logo – Design: Gav Icon Hodgins. Idea: Keeley
Layout by Bruce Brand at Arthole, London
This record is dedicated to the memory of Inga Maria Hauser – the bravest warrior (1969-1988)
KEELEY
Bandcamp
Twitter
Facebook
Instagram
Soundcloud
YouTube
Spotify
DIMPLE DISCS
Bandcamp
Facebook
Twitter
Proper Music
Discogs