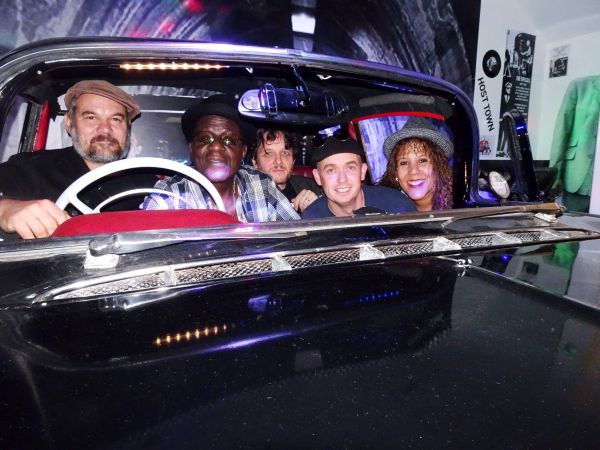 23 June 2020
Photo Credit: Christine Staple
Most commonly associated with the musical movements he began in the UK in the 70s and then again in the 80s, and his links to Trojan Records and 2Tone Records, Neville Staple is back again with a new single. This time with a more dub offering verging on 'Ghostown' territory, From The Specials – Neville Staple Band presents their new 'LOCKDOWN' single.
Otherwise known as The Original Rude Boy, Neville Staple was founder and co-frontman of The Specials, Fun Boy Three and Special Beat. In this new offering, he and his ever-talented wife Sugary Staple, A delight for reggae and ska fans. The new single 'LOCKDOWN' is about being made to stay home during the 2020 Covid-19 Lockdown. Written by Dr. Neville Staple, Sugary Staple and Steve Armstrong, the lyrics reflect how many people feel about the virus and about staying safe and in one place.
"Sugary came up with the idea to write a song about the lockdown, which, at first, was a very fast-stomping ska track. We then realized that it was too fun and happy a tune for the theme. Most of us have been quite down about the whole virus thing, so we decided to take it on a more sweet but moody 2Tone reggae route, in a similar vein to 'Ghost Town', with some music we had worked on previously with Sledge (Steve Armstrong)," says Neville Staple.
The dynamic ska duo used the internet to send files back and forth among the band members – from home to home to home. Due to social distancing rules, the video for this song was recorded and filmed on band members' regular home equipment.
"It wasn't easy. I had to collate a whole bunch of recorded snippets from the band, mostly done via phones and tablets. But as a part-time actress and filmmaker, I really do enjoy editing and producing videos and this one was great fun," says Sugary Staple.
"Even Neville, who's more used to being in front of a camera, got involved in some lighting and camera filming techniques. We do not have a professional recording studio set up in our new home or anything, so it was quite funny doing the vocals. We had all kinds of distractions and interruptions going on, with deliveries arriving, my disabled son to look after, mum calling out for cups of tea and even a neighbor hacksawing in his garden, lol! But we got it after a few retakes."
Neville, who was awarded an honorary doctorate from Arden University last year, said the couple and their band had so many shows and tours postponed due to Covid-19, including UK Festivals and a European and South American Tour, along with Sugary's acting work and her own 'Skamouth Festival' dates being moved. Hence, they decided to do a lot of extra charity work and some new songwriting. They've also been doing some special DJ recordings for people sick in hospitals or in isolation, personally dedicated to them.
Flooded with thousands more requests from people and charities than usual, Sugary and Neville decided that this Lockdown song would be used to highlight the work of Zoe's Place, a charity run for terminally ill babies and toddlers. As ambassadors for this charity, Sugary said, "charities like these really do suffer at a time like this, as the focus is on other things. But the work they do at Zoe's Place is like one of a kind and so very special. They step in when families really do need the support, providing 24-hour high quality, one-to-one palliative, respite and end-of-life care for children aged 0-5 years. A heart-breaking time for anyone involved. We must not lose a charity like this – it is too important and so we will be supporting this, along with other charities we are patrons or ambassadors to, with this single. We also dedicate this song to all those who have been affected by Covid-19."
The 'Lockdown' track is available digitally across the net and on 7″ vinyl EP in a strictly limited edition of 250 as part of a special gift set with a CD of rare tracks, fridge-magnet, keyring and protective face-mask. It's available to order HERE
From The Specials – The Neville Staple Band
Website
Facebook
Bandcamp
Twitter
Spotify
iTunes
Amazon